Florida Keys Snorkeling Tour

Description
Florida Keys Snorkeling Tour Photos (1)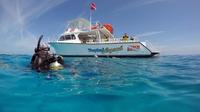 Animals are something that have been around before humans and will always live on the planet that we call home which is something that makes us even more interested in them.
When you are going into the water for the first time doing anything there is always a class that has to be taken so that there is proof that you know what your doing. When this is done there is more information about the animals that will come into contact with you and what to do if one is not as nice as they should be when they are in the water. This is their home after all. Snorkeling is something that is fun and should be done the right way which is why the tour guide makes sure that you know how to be safe in the water.
There is tons of animals that live in the sea and this is something that might make a person even more interested in going under and is something that might make them wonder even more when they go home. This is also something that you don't get to do every day when there is no water around so make sure that there is photos that are being taken when you are in the water with all of the colors. This can be done with the whole family as long as there is information about how to be safe when they are in the water.
Again this is something that a person will never get to experience if they live in a place that has no water and is something that you should do if you really want to.
Take a plunge into the shimmering blue Southern Florida waters on this 2-hour snorkeling excursion in the Florida Keys. Learn some proper safety techniques, hear about the rich sea life you may encounter, and get some snorkeling tips from your guide. Then dive in, exploring under the water to see ample amounts of sea life. Enjoy your time frolicking in the water with the fish and see all that there is to see in the sea.

This unique experience is fun for the whole family and especially good for those who yearn to get an insider's glance at what goes on beneath the surface of the ocean.

Pickup & Return:
Smuggler's Cove Resort and Marina.
Departure Times: 11:30 AM daily. We will start off with a gear sizing session then depart to your tour from the grassy area. Please allow 10-15 mins to find parking before your tour start time. You should be receiving a confirmation text message from our tour guide before your tour with additional meeting details

Includes:
Tour guide, mask, snorkel, fins

Does not include:
Gratuities (optional)
Wet suits are not included, but available to rent

Additional Information:
Confirmation will be received at time of booking
Confirmation text will be received 30 min. to an hour prior to the start of the tour.
Please bring some water and sunscreen