All Inclusive Water Adventure Excursion in Key West

255 Front St Key West, Florida 33040
1-800-987-9852
Description
All Inclusive Water Adventure Excursion in Key West Photos (1)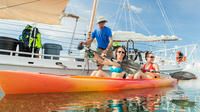 Go out to play and have fun in Key West, Florida. Sign up for the Combo Cruise with Kayaking and Snorkeling, Key West Sunset Champagne Cruise or the Bugeye Backcountry Schooner Eco Tour.
The Combo Cruise with Kayaking and Snorkeling is four hours and thirty minutes in the morning or afternoon. Arrive thirty minutes before the 9:00 A.m. and 9:30 A.m. departure.There are various departure times for the afternoon. You can Snorkel and watch the Jellyfish, Sponges, Sea Stars, and a variety of marine animals. Take the Kayak and glide through the canals of the Mangroves. Included are Snorkeling equipment, beverages and snacks.
Key West Sunset Champagne Appetizers Cruise is two hours aboard a sixty-nine-foot Catamaran. Guests are served Appetizer's, Champagne, Wine, Beer, Sangria, and soda.
Arrive 30 minutes before the 6:30 p.m. departure.
Bugeye Backcountry Schooner Eco Tour is six hours aboard the seventy-two-foot Appledore Star. Arrive 30 minutes before the 10: A.m. departure at the Key West's Historic Seaport. Tour the Mangroves in the Kayak with the guide. Snorkel and see the Sponges and colorful Reefs.
Continental Breakfast of Fresh Fruits, Quiches, and Pastries is served.
Buffet Lunch has tasty, Key West's Pink Peel Shrimp, Fried Chicken, Assorted Cheeses, and Meats from the Deli. The Open Bar offers Sangria, Beer, Wine, and Soda on the return trip to Key West.
The Sunset Cruises are romantic and the Sailboat Cruises are exciting. Snorkel into the world of the Sea Creatures. Kayak leisurely through the Mangroves and watch the land animals. After you've walked, shopped and ate on the Key West Seaport, plan your day for tomorrow.
On this excursion you will start out sailing out into the refuge on a 65 foot schooner. Along the way you will learn about the history of the area and you will see on a chart where you are going. Once in the refuge you will receive your gear for snorkeling and get expert tuition on how to snorkel if needed.

After snorkeling, a full lunch is served and then you'll head even further out into the refuge for some kayaking. Once there you will set out on a small informative kayak tour and see a variety of different birds and marine life.

From there you will make your way back to the boat and begin your journey home with time to relax and soak in the day.

Pickup & Return:
Margaritaville Resort and Marina, Key West.
Departure Times: November to Mid-March 9:30am
Mid-March to November 10am

Includes:
Local taxes
Buffet lunch
Unlimited beer, wine and soft drinks
All activities
Professional guide

Does not include:

Additional Information:
Confirmation will be received at time of booking
Minimum drinking age is 21 years
Book Now!