All Day Peacock Bass Fishing Trip Near Key Largo

Mile Marker 17 Miami, Florida 33034
1-800-987-9852
Description
All Day Peacock Bass Fishing Trip Near Key Largo Photos (1)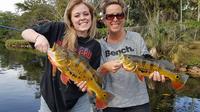 Fishing is a wonderful past time for many people, and for others a great way to bond with either friends, or family. But fishing passes can get expensive, and many times you may just not know where to go to fish. Well the all day Peacock Bass Fishing Trip in Key Lago solves all of those problems. With the fishing pass you are told where you are allowed to fish, and you have the entire day to do so. If you have all the fishing gear that you need already great but, if by chance you need anything at all you are able to get rentals at an additional cost but it is minor. This fishing pass is great for those that are natives or tourists to the area as it is a great learning experience about the area, and the fishing that can be done in the area.
Boat fishing here is really the best because you will be able to get out to the deeper parts of the water where you will likely be able to catch more fish. However, there is dock fishing available which is great for first time fishers or those that are just not as sure about going on a boat for whatever reason. With dock fishing you don't have to have a boat which saves a huge expense, and you still get to have all the great experiences of fishing that you are looking for.
You are sure to have a blast as you fish with ease in the Miami urban canals and lakes that support excellent populations of butterfly peacock and large-mouth bass. Never worry about rough seas or seasickness on this trip. Tour is suited for first-timers, experienced anglers, families and children of all ages and is handicap friendly. While out on the water, all the boats have coolers on board with ice and bottled water to keep you hydrated. There's plenty of space to bring sandwiches or your own favorite beverage. Non-alcoholic or alcoholic beverages in cans are permitted.
Fishing for butterfly peacock bass is usually good all year around; it's never out of season. So when planning a fishing trip, consider doing something unique and fun for the whole family. Once your boat docks, this will conclude your trip. You are guaranteed success with a NO FISH, NO PAY policy from your tour operator, making this tour an easy and enjoyable decision.

So, come on let's go fishing. Booking on Viator makes it easy and guarantees you a memorable adventure!


Pickup & Return:
Aerojet Canal, Mile Marker 17, Miami.
Departure Times: 7am

Includes:
Itinerary
Professional guide
Private tour
Cooler, ice and bottled water
All fishing equipment
All safety equipment

Does not include:
Food and specialty drinks
Fishing Licenses
Live bait

Additional Information:
Confirmation will be received at time of booking
All Day Peacock Bass Fishing Trip Near Key Largo: 1 Or 2 Anglers
A Peacock Bass Fishing trip for 1 or 2 anglers
All Day Peacock Bass Fishing Trip Near Key Largo: 3 Anglers
3 anglers
All Day Peacock Bass Fishing Trip Near Key Largo: 4 Anglers
4 anglers
Book Now!