Canoe Tours in Kauai, HI
Enjoy the stunning backwaters of Kauai, HI with one of the canoe tours offered in the area. One of these adventures are perfect for sightseeing and having an amazing adventure along the way.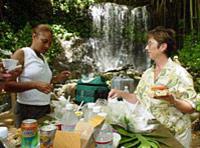 Kayaking on Kauai is healthy and educational because a guide will explain the history of the area and its ecology as you paddle towards Mt. Wai'ale'ale to enjoy a picnic lunch and hike through the amazing scenery that Kauai offers.
Available 110 days between Jun 23, 2018 & Dec 31, 2018
View Schedule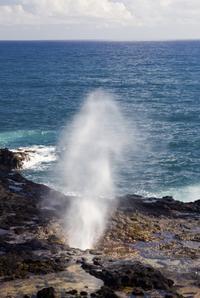 You will leave Kauai South Shore in a kayak and go past Sprouting Horn a salt water blowhole. You will stop at a beach and see Queen Emma's summer house, see reefs, and sandy beaches. After paddling seven miles you will stop for lunch, at a bay where you will get to snorkel or walk the beaches.
Available 28 days between Sep 18, 2018 & Dec 27, 2018
View Schedule
The Na Pali Coast Sea Kayak tour in Hawaii allows visitors the opportunity to enjoy a kayak experience like no other. Some of the most majestic sites are along the kayak path that makes for an a beautiful unforgettable adventure.
Available 6 days between Aug 7, 2018 & Sep 11, 2018
View Schedule
The Hanalei Bay Kayak and Snorkel Tour is a 5-hour adventure kayaking to various snorkeling sights, taking in the beauty of the island, both above and under water; all equipment and snacks are provided.
Available 161 days between Jun 22, 2018 & Dec 31, 2018
View Schedule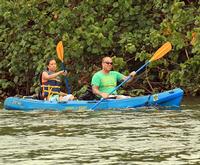 The Wailua River Kayak and Hike Adventure is a great way to relax on the island and see some of the natural wonders of the area; it is one of the most beautiful canoe tours that can be experienced.
Available 162 days between Jun 22, 2018 & Dec 31, 2018
View Schedule
Jun 28
12:15 PM
12:15 PM
12:15 PM
>
The Hidden Valley Falls Kayak and Kauai Hike Adventure is a two mile adventure kayaking through the Hule'ia National Wildlife Refuge, and then hiking back through the refuge on foot.
Available 158 days between Jun 23, 2018 & Dec 31, 2018
View Schedule
During a guided Wailua River Kayak Adventure your guide will tell you the story of the ancient peoples who plied the waters of the Wailua centuries ago and once ashore you'll hike through a rain forest to a 120' waterfall.
Pricing and schedule are currently unavailable.