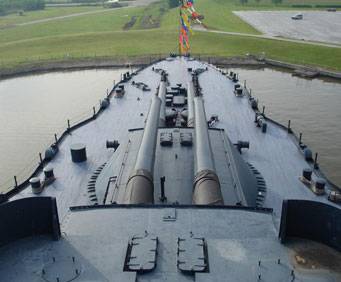 Battleship Texas in Houston, TX
3527 Battleground Rd
Built in 1914, the Battleship Texas holds a distinct place in the history of the nation for the significant role she has played in World War II and today, stands tall at the San Jacinto Battleground State Historic Site Complex at LaPorte in Texas.
This historic ship was commissioned on the 2nd of March, 1914, and built by the expert hands of the Newport News Shipbuilding and Dry-dock Co. Decommissioned in 1948, the ship garnered an awe-inspiring array of accolades, which include the World War I Victory Medal, the Iwo Jima Operation medal and the World War II Victory Medal for her irreplaceable contributions and the dedication of her brave, patriotic staff.
Today, the Battleship Texas Foundation commemorates these accomplishments, while also rallying tirelessly to preserve and educate visitors about this ship and the heroism, the pride and courage that is almost synonymous with her service all through her active duty. Present-day visitors to the Battleship Texas can avail of valuable insights into the history of this ship through docent-guided tours, while also browse through the comprehensive array of literature that the Battleship Texas Foundation Library stores.
The Foundation also conducts a number of events and promotional activities to allow participants an even more intimate experience aboard the ship and learn little-known aspects of her long and glorious years. From here, you can also stop by at the San Jacinto Monument and Museum which were built in memory of the San Jacinto Battle, where Texas fought their independence from Mexico.
You can visit the Battleship Texas from 10 am to 5 pm, all through the week, and explore the ship on a self-guided tour through the compartments above and below decks. Admission is charged at about $5 per person with special discounts for children and seniors. If you are planning to visit in a group, you can also call ahead to avail of even further discounted group rates.