Cobra Exotic Supercar Experience at Grandsport Speedway

Description
Cobra Exotic Supercar Experience at Grandsport Speedway Photos (1)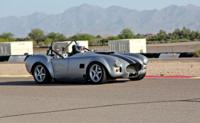 If you consider yourself a car fan, Cobra Exotic Supercar Experience at Grandsport Speedway is the place to go. This supercar experience is a one of a kind way to experience speed, sounds and smells that make supercars the thrilling experience they are known for.
Enjoy an extreme and unique experience by choosing your own favorite exotic car. Choices in the supercar fleet range from the Aston Martin Vanquish, Corvette C7, Ferrari, McLaren, Audi R8, Porsche, Lamborghini and the popular Shelby Cobra Spec Racer. You'll receive an in depth 20 safety education course from an expert instructor before heading out to tour the track. You'll enjoy professional tips like car placement, braking points, and visual cues before jumping behind the wheel of these adrenaline pumping machines. Your coach will be at your side the entire time from start to finish so you'll feel safe but still get the full experience.
Start to finish, this experience runs roughly 2 hours. Once you are on the track you are given 5 full laps and also have the option to add more laps around the track. All vehicles except the Audi and Cobra are Automatic/Paddle shifters. For this popular event, reservations are required for all guests.
If you have always wanted to know what it felt like to climb behind the wheel of one of these powerful vehicles, Cobra Exotic Supercar Experience at Grandsport Speedway provides just that opportunity. Live out a fantasy as you speed around the track in one of these classic cars.
During this Exotic Supercar Experience you can enjoy, the speed, the sound, the smells and the thrill of a very special Exotic Supercar all on the racetrack! No experience is required. We will teach you what you need to know!

You can choose your favorite World Class exotic car for an Extreme Experience from our unique Exotics Racing Supercar fleet including Aston Martin Vanquish, Audi R8, Corvette C7, Shelby Cobra Spec Racers, Ferrari, Lamborghini, McLaren and Porsche.

After a 20 minute educational classroom orientation session your instructor will take you on a track tour and give you some tips on car placement, visual cues, braking points, the racing line and more. Then it is your turn to take the wheel and drive your adrenaline pumping lapping Session(s) in the Exotic Supercar with the racing coach at your side. The complete experience from start to finish will be around two hours, and what a ride!

The smiles and high fives show us that we and the cars are doing our jobs and creating your memories! You can always add more cars and laps once you are at the track. All the cars are Automatic/Paddle shift except the Audi and Cobras.

Pickup & Return:
Grandsport Speedway.
Departure Times: Please contact the local operator after booking to schedule your time.

Includes:
Instruction and five lap Supercar Experience

Does not include:

Additional Information:
Confirmation will be received at time of booking
Reservations required
Child rate applies only when sharing with 2 paying adults
Book Now!