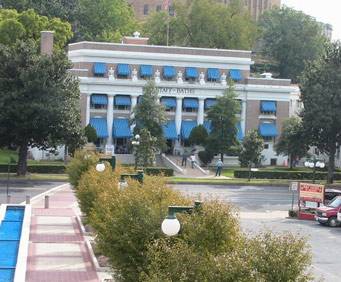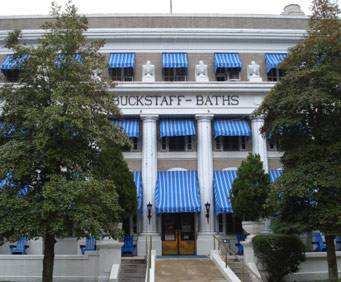 Buckstaff Bathhouse Company in Hot Springs, AR
509 Central Avenue Hot Springs National Park, AR 71901
Since 1912, the Buckstaff Bathhouse Company in Hot Springs, Arkansas, has provided its services to locals and visitors.
The bathhouse is especially known for its thermal waters offering therapeutic value to those with sore muscles and aches in their body. This is the only operational bath house hotel Hot Springs National Park, making it a landmark for locals and visitors.
The Buckstaff Bath House has an extensive program with experienced personnel. The individual tubs have all the supplied linens and even a bathing suit if you prefer. The first floor provides services and tubs for the men to bathe in, and the second floor is dedicated to the men. Massages and general bathing are all part of the offerings at the Buckstaff Bath House.
Services and packages include the Whirlpool Mineral Bath, which provides visitors with a hot Pack, Sitz Bath, Vapor Cabinet, Needle Shower and Tub Bath. Also, the Loofa Mitt, Traditional Bathing Package and Moisturizing Paraffin Treatment is available.
Guests that stay at the Buckstaff Bath House can also receive a full body massage and rub that old skin off with manicures which include soaking cuticles and removal, trimming nails, hand massages and nail buffing. pedicures, French manicures and options for facials are also available. Many thousands of visitors come to the bath houses every year, and they participate in all of the services that the Buckstaff Bath House offers them. Chemical analysis are done by companies to keep the water safe. Visitors are welcome during all open hours.