Hot Springs Hotels with an Indoor Pool
View all 5 Hotels with Indoor Pool
Whatever the weather, sometimes you just want to slap on a bathing suit and jump into the pool. There are some lodging options that allow this! At these Hot Springs AR hotels, you can utilize the indoor pool no matter what the season after a fun day of adventures.

Hot Springs Hotels with an Indoor Pool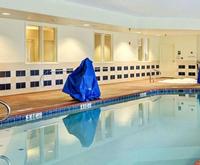 Rating:





The Comfort Suites Hot Springs offers a heated indoor pool for guests to enjoy that is heated and that is surrounded by windows to allow the sunlight to stream through. Rooms in the hotel are designed so that they feel like home for guests. They include comfortable bedding and beds, a microwave, a refrigerator, and free cable television. The fitness center is open 24 hours a day for guests who want to exercise while they are at the hotel. Free breakfast is served each morning.
Indoor heated pool is open from 7 AM to 11 PM daily.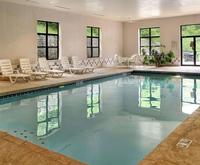 If you're looking for an indoor pool at your next getaway, then look no further because the Comfort Inn located in Hot Springs, AS has an indoor pool where you and the kids can swim and have a good time during those winter months. The hotel provides free breakfast, WiFi, fitness center, and an on-site restaurant. The attractions are the Buckstaff and Quapaw Bath Houses, the Hot Springs Mountain Tower, and the Hot Springs National Park which is minutes away from the hotel. Your room provides you with a coffeemaker, an iron, free local calling, high-speed internet, and cable tv.
Indoor heated pool is open from 8 AM to 10 PM daily.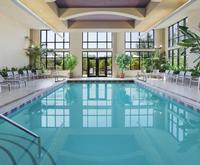 Rating:





Customer Rating:





Room was fantastic....
Lee Porter
Yukon, OK
The Embassy Suites is the place to be when looking for an indoor pool because it's near some great attractions and has great amenities to accommodate your needs. Embassy Suites provides free parking, an indoor pool, fitness center, and a business center, so you can take a dip in the refreshing indoor pool before you get your day started. You'll be right across the street from the Hot Springs Convention Center. Your room provides you with a comfortable bed, modern furniture, and a high-definition television.
Indoor pool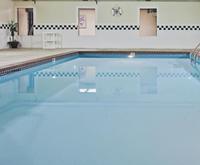 The Country Inn & Suites by Radisson is located near Hot Springs. While guests swim in the heated indoor pool, they have stunning views of the mountains and the trees in the area because of the windows surrounding the pool. A fitness center is located near the indoor pool for guests who want to exercise when they aren't exploring the city or spending time in their rooms. There is also a business center that includes a fax machine and a printer along with access to a computer.
Indoor heated pool and hot tub is open from 7 AM to 10 PM daily.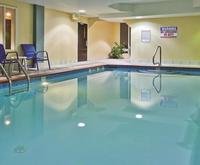 Swim all year in the heated indoor pool at LaQuinta Inn & Suites or workout in their fitness center. Eat a free continental breakfast in the lobby of the hotel daily. Let the children play outside on the playground. This pet friendly hotel is non-smoking and has plenty of free parking. There is a business center open for guests that need computers, printers, and fax machines. Rooms come with free WiFi, refrigerators, and a coffeemaker. A few miles away are Italian, Greek, deli, tacos, seafood, vegetarian eateries.
Indoor heated pool is open from 9 AM to 10 PM daily.
View all 5 Hotels with Indoor Pool