Hilton Head Island, SC Hotels with an Outdoor Pool
View all 15 Hotels with Outdoor Pool
These hotels provide a fun activity during the heat with an outdoor pool! Browse through the following hotels on Hilton Head Island that feature this wonderful amenity. Take a quick dip after a day of sightseeing to relax with the family before retiring for the evening.

Hilton Head Island, SC Hotels with an Outdoor Pool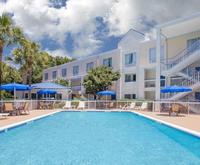 Rating:





When searching for a hotel with an outdoor pool, the Days Inn Hilton Head in Hilton Head Island, South Carolina is the perfect choice. Features of the hotel include an outdoor pool, business center, fitness center and a complimentary continental breakfast. Other amenities such as free Wi-Fi and free parking are also included. The rooms come with microwaves and refrigerators, a coffee maker, comfortable beds, and cable TV. Restaurants in the area include Hilton Head Diner, Sea Grass Grille and Bullies BBQ. Nearby attractions include the Coastal Discovery Museum, pirate ship adventures and tours for kayaking, dolphin watching and paddleboarding.
Outdoor pool is open from 7 AM to 10 PM daily.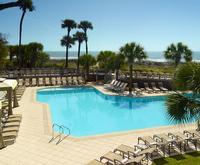 Pamper yourself in luxury at the Omni Hilton Oceanfront Resort that's right alongside the beautiful beach. If you're looking for a vacation spot with an outdoor pool, this is the one because if you don't feel like putting your feet in the sand one day, then you have the option to have fun in the sun in the outdoor pool. The resort amenities are on-site restaurants, three outdoor pools, whirlpool hot tubs, a spa, fitness center, golf courses, and much more. Enjoy all the accommodations that this resort has to offer during the vacation you'll never forget.
Outdoor heated pool and hot tub is open from 8 AM to 10 PM daily.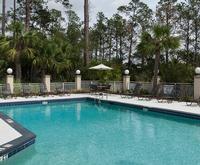 Rating:





Located less than a mile from the world-renowned gold courses of Hilton Head resides the Hilton Head Garden Inn. To complement the stunning outdoor pool is a bar and restaurant and a sprawling fitness center. The scrumptious hot breakfasts and cocktails may be enjoyed before taking a dip in the pool and the scenery from the sun deck is the envy of surrounding hotels. The discerning traveler certainly will not be disappointed when they book a room at Hilton Head's finest.
Outdoor pool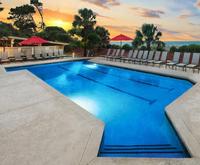 Rating:





Hilton Head is the place to be, as far as I'm concerned. Where do I stay? I stay at Marriott's Monarch at Sea Pines. This hotel has everything I need including free Wi-Fi, microwaves and refrigerators in every room, a hot tub, a fitness center, and my favorite, an outdoor pool. There's nothing like relaxing in the outdoor pool at Marriott's Monarch at Sea Pines. Plus, I have kids, and the pool has a kid's splash pad. My children love it.
Outdoor pool and hot tub is open from 8 AM to 10 PM daily.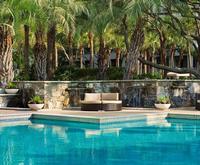 The Westin Hilton Head Resort and Spa is a hotel built on the beachside of the Hilton Head Island, giving you quick access to the beaches. The resort features many different amenities such as outdoor pools, tennis courts, restaurants, fitness center, and more to create a comprehensive experience. Each room is also built with customers in mind as they all have TVs that feature in-room movies and video games, coffee maker, iron, and more. You won't have to worry about being far from everyone else too as you're simply 10 miles away from Tanger Outlet Mall, an outlet mall featuring many different retail stores.
Outdoor pool and hot tub is open from 7 AM to 11 PM daily.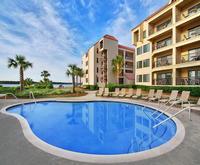 The Marriott's Harbour Point and Sunset Pointe at Shelter Cove are two properties ran by the same hotel chain and are located on Hilton Head Island, South Carolina. Both properties feature crystal clear water, heated outdoor pools. The pools are perfect for enjoying after a day of sightseeing or playing a round of golf. The hotels also have onsite business centers, fitness facilities, whirlpools, and a market shop. Guestrooms are equipped with internet access, kitchenette, separate dining and living spaces, television, and DVD player. There are onsite grills for cooking and firepits for enjoying an evening outside.
Outdoor pool is open from 8 AM to 11 PM daily.
View all 15 Hotels with Outdoor Pool