Hilton Head Island, SC Hotels with Hot Tubs or Whirlpools
View all 12 Hotels with Hot Tub / Whirlpool
Enjoy relaxing in a hot tub or whirlpool while you're on vacation in Hilton Head, SC. Relaxing in a warm tub can be just the right way to end a day filled with activities and sightseeing. Take a look at these great hotels with hot tubs or whirlpools and find the one that fits you!

Hilton Head Island, SC Hotels with Hot Tubs or Whirlpools
The Westin Hilton Head Island Resort & Spa is a comforting place to stay for your entire family. Take a swim in one of the 3 outdoor pools and late on sit in one of the hot tubs onsite. Pamper yourself in the spa or enjoy the fitness center and get your workout on the tennis court. There are many fun activities to do for all ages just a short drive away. The restaurants offer a wide varieties of breakfast, lunch and dinner menu cuisine to choose from for any appetite.
Outdoor Hot Tub is open from 6 AM to 10 PM daily.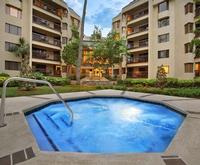 Rating:





The Marriot Heritage Club Hotel is a family attraction because of all the activities in the surrounding area. Come take a load off in the hot tub and relieve work stress and relax. The hotel amenities are an outdoor pool, whirlpool, fitness center, arcade game room, complimentary high-speed wireless internet, and so much more. Nearby attractions are Pirates of Hilton Head, Cinnamon Bear Country Store, beautiful beaches, and other great attractions and your room comes with a full kitchen, whirlpool bathtubs for a relaxing soak, spacious rooms, cable tv, high-speed wireless internet, washer/dryer, writing and work desk, and fireplace.
Outdoor Hot Tub is open from 8 AM to 10 PM daily.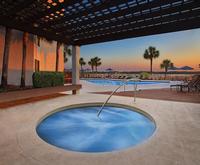 Marriott's Harbour Point and Sunset Hotel has a hot tub that relieve stress from a long day of work. Visiting the Head Island area will put near some great attraction which are Shelton Cove, Island Dolphin Tour, Island Creek Cat Tour, and much more. There will be always be something to do during your vacation. Enjoy the amenities which are a full fitness center, outdoor pool, market shop, and a business center. Relax in your room with amenities such as a full kitchen, a safe for your valuables, cable tv, microwave, and other great features to enjoy.
Outdoor Hot Tub is open from 8 AM to 10 PM daily.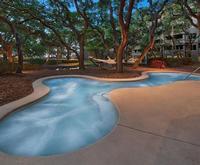 Rating:





Visiting the Marriott's Grande Ocean Hotel is a great vacation spot that will accommodate you with a hot tub to relax in. You're near the main attractions which are the Adventure Cove Family Fun Center, The Coligny Shopping Center, and multiple golf courses which are just minutes from the hotel. The Marriott has some amazing amenities which are a fitness center, cable tv, laundry service, on-site restaurant and much more, so you don't have to leave the hotel you can stay inside and enjoy all the amenities.
Outdoor Hot Tub is open from 7 AM to 10 PM daily.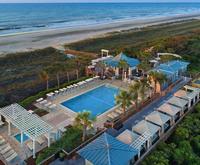 Rating:





When my family and I go to Hilton Head Island, we stay at Marriott's SurfWatch. One of the things I love about the hotel is that its located by the ocean. But another thing I love about the hotel is their hot tub/whirlpool. I don't have a hot tub or a whirlpool at home. So getting the opportunity to take advantage of the experience at Marriott's SurfWatch is at the top of the list for me. I usually go to their indoor or outdoor pool, and then I treat myself to the whirlpool hot tub.
Outdoor Hot Tub is open from 6 AM to 10 PM daily.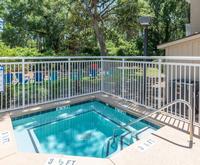 Rating:





Relaxing on this trip just got a whole lot easier thanks to the outdoor hot tub. Besides the hot tub that is waiting for you, there are other hotel amenities to enjoy such as the outdoor pool, fitness center, business center, and the complimentary hot breakfast. There are many attractions within a short drive of the hotel, which include the Harbor Town Lighthouse, Coligny Beach, and the Harbor Town Golf Links. The guest room amenities include fully equipped kitchens, fireplaces, cable television, and complimentary internet access.
Outdoor Hot Tub is open from 8 AM to 10 PM daily.
View all 12 Hotels with Hot Tub / Whirlpool