Hershey, PA Hotels with an Outdoor Pool
View all 6 Hotels with Outdoor Pool
Hershey, PA Hotels with an Outdoor Pool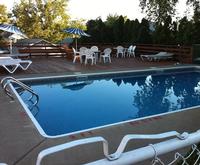 Rating:





The fun does not have to stop after spending a day in Hershey seeing the sights and enjoying the chocolate, and this is when having a hotel with an outdoor pool is important. The Cocoa Country Inn at Hershey is a great choice because the outdoor pool is large enough for the family to enjoy splashing around, and there are plenty of lounge chairs for relaxing after a long day. The hotel also offers guests free parking, internet access, complimentary tea and coffee, and an onsite restaurant. Guest rooms are equipped with internet access, coffee maker, microwave, and refrigerator.
Outdoor pool is open from 9 AM to 10 PM daily.

Rating:





Your hotel stay at the Knight's Inn will be plenty of fun for the family with a free breakfast that includes coffee, tea, juice, and many food options. Your room will have amenities like a mini-fridge, microwave, free Wifi, cable TV, and you can hop in the outdoor swimming pool. Take your family to Chocolate World to taste chocolate or have a scream on a rollercoaster at Hershey Park. Your family can also explore Hershey Gardens, Hershey Story, Hershey Trolley Works, ZooAmerica, Dutch Wonderland, Pennsylvania Renaissance Faire, and Lancaster's Dutch Country giving your family plenty to do on your vacation.
Outdoor pool is open from 8 AM to 10 PM daily.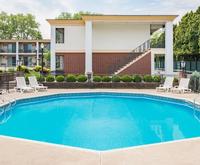 Exclusive Online Offer: Save up to 10%
Click for More Information


Rating:





The Howard Johnson Inn Hershey Pennsylvania is located on East Chocolate Avenue in Hershey Pennsylvania. This hotel is decorated with a modern twist and it will definitely wow you the minute you walk in the door. The staff here will deliver five star service to you from start to finish. As a guest here you will also get to enjoy free Wi-Fi, complimentary hot breakfast, free parking, an outdoor heated pool and there are also microwaves and refrigerators in all of the rooms. There is an onsite fitness center that is open and available to all guest twenty four hours a day.
Outdoor pool is open from 8 AM to 10 PM daily.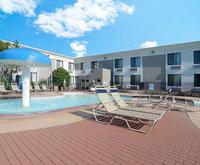 Rating:





The outdoor pool is just one of the appeals of the Red Lion Inn and Suites in Hershey. This hotel is conveniently located just a 17-minute drive from Hersheypark, which features an array of family-friendly rides and other entertainments. The hotel features casual rooms with comfortable beds, a choice of hard or soft pillows, complimentary WiFi, flat-screen TVs, desks, coffeemakers, and pull-out sofas. Guests may also enjoy the on-premises restaurant serving American fare, an indoor pool, tennis courts, and fitness center at this pet-friendly hotel.
Outdoor pool and hot tub with a separate kids pool available for small children is open from 10 AM to 10 PM daily.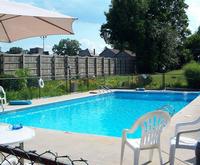 This Rodeway Inn and Suites is located in Hershey a little over two miles from Hershey Park, which is a great place for people of all ages to visit especially families. This inn offers some great bonuses for the guests to choose to partake in, such as access to a business center, a complimentary continental breakfast, the chance to make free local calls, use of free parking, use of Free Wi-Fi, access to an in-room safe, use of an outdoor pool, and use of voice mail.
Outdoor pool is open from 11 AM to midnight daily.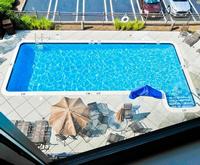 A heated outdoor pool and low-key comfortable rooms in a location convenient to Hersheypark and other area attractions are some of the highlights of the Hampton Inn Harrisburg-East. In addition to being convenient to "The Sweetest Place On Earth," the hotel is also just nine miles from Harrisburg International Airport. Rooms offer free WiFi, desks, coffeemakers, custom-designed beds, mini fridges, and microwaves for guests' convenience and comfort. This family-friendly hotel provides hot breakfast or to-go bags, gym, laundry facilities, and business center.
Outdoor pool and hot tub is open from 7 AM to 11 PM daily.
View all 6 Hotels with Outdoor Pool