Hershey, PA: Hotels with Indoor Pool
View all 17 Hotels with Indoor Pool

Hershey, PA: Hotels with Indoor Pool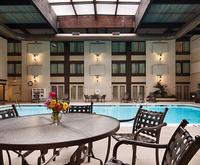 Best Western Premier The Central Hotel and Conference Center has it all from delicious breakfast, lunch, dinner, comfortable beds and the best amenity of all that everyone enjoys, an indoor pool. This pool is availabe for all ages from children to seniors, come and enjoy your vacation in the beautiful city of Hershey, Pennsylvania. After enjoying Hersheypark, Gardens and Stadium come and relax at Best Western indoor pool with towel service available. Do not wait any longer and make your reservation now!
Indoor heated pool is open from 10 AM to 10 PM daily.
Located just 12 miles from family-friendly attraction Hersheypark, Hilton Garden Inn Harrisburg East combines convenient location with comfortable rooms. In addition to offering a cooked-to-order breakfast and an American restaurant, the hotel is also convenient to a wide range of area restaurants that offer a host of dining options. Rooms are comfortable spaces decorated in contemporary decor and offer custom-designed beds, premium cable channels, free WiFi, microwaves, and mini fridges. In addition to offering an indoor pool, the hotel also offers an outdoor pool, whirlpool, and fitness center for guest relaxation and recreation.
Outdoor pool is open from 7 AM to 10 PM daily.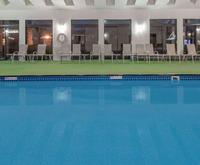 Rating:





Travelodge Hershey- The benefits of staying at this hotel- Having an indoor pool at your hotel will automatically make your stay there that much more enjoyable and hassle free. An indoor pool is great in any weather condition and it is the perfect way to relax after a long day of exploring and learning new things. The Travelodge Hershey is the perfect hotel to stay at with your family because it has an indoor pool that will allow your family to enjoy a good swim after your day out exploring. This hotel is also conveniently located near fun attractions for your family.
Indoor pool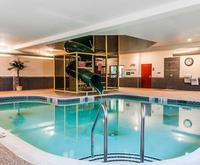 Rating:





Customer Rating:





MainStay Suites in Grantville, Pennsylvania serves as one of the best hotels in Grantville, providing guests with top of the line service. For one, this hotel is perfect for groups of all sizes, with amenities suited for families, including spacious rooms, appliances in each room, free parking, complimentary Wi-Fi, hot breakfast, an indoor pool, and more. Guests to the MainStay Suites in Grantville frequently praise the proximity of the hotel to local business offices, quality fine dining, and excellent shopping centers. What truly sets this hotel apart from the competition are their dedicated staff members who consistently offer spectacular service.
Indoor heated pool is open from 7 AM to 10 PM daily.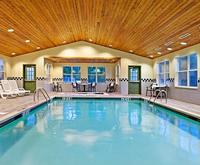 Rating:





Customer Rating:





The Country Inn & Suites By Carlson Harrisburg / Hershey is located on Jonestown Road in Harrisburg Pennsylvania. This hotel offers rooms in the style of suites so it will give you a feel of being at home. The rooms offer separate seating areas and kitchenettes area available upon request. As a guest here you will get to enjoy free Wi-Fi, complimentary hot breakfast, free parking, hot tub, an indoor heated pool that is open all year round and there are also microwaves and refrigerators in all of the rooms.
Indoor heated pool and hot tub is open from 8 AM to 10 PM daily.
Located just a few miles from the town known as "The Sweetest Place On Earth," Hilton Garden Inn Hershey- Hummelstown offers a convenient location, comfortable rooms, and a heated indoor pool in a family-friendly setting. When not out and about enjoying Hersheypark, Hershey Gardens, and other area attractions, guests can relax in rooms that feature free WiFI, premium cable channels, microwaves, mini fridges, and desks. A heated indoor pool is one of a number of amenities offered at this family-friendly hotel; there is also a whirlpool, on-site American restaurant, fitness center, and more.
Indoor heated pool and hot tub is open from 6 AM to 11 PM daily.
View all 17 Hotels with Indoor Pool