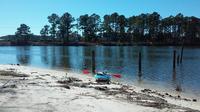 Gulf Shores Romantic Getaway Package
For a truly romantic getaway, the Gulf Shores Romantic Getaway Package is sure to impress your sweetheart as you both are whisked away for a stunning vacation.

Create This Package in 3 Easy Steps:
1. Choose Dates & Times for Your Activities
2. Select Your Lodging from Over 7 Hotels
3. Confirm & Checkout
Details

2 Nights' Lodging in your choice of over 7 hotels.

Bon Secour National Wildlife Refuge Kayak Tour

Prices Starting at:
Ages 19 and Up: $206.00
Ages 18-19: $71.50
Ages 0-17: $55.00
Description
Gulf Shores is a fantastic place to relax on your vacation, and this package offers great value. You will get two nights of lodging in your choice of hotel and the Bon Secour National Wildlife Refuge Kayak Tour.
The Bon Secour National Wildlife Refuge Kayak Tour will take guests for an amazing experience in the National Wildlife Refuge to see some impressive wildlife in their native habitats, such as dolphins swimming around. See the Great Blue Heron, Osprey, blue jay, eastern bluebird, and so many more!
The choice of hotels is great for picking out which features and amenities matter the most to you on your vacation. Make sure you get the best hotel in the area. Whether you want a heated indoor pool to relax in, a hot tub or a hot breakfast each morning, you can guarantee that your stay is perfect.
The Gulf Shores Romantic Getaway is the perfect way to escape from the everyday hustle and bustle. You can make sure that you have a great time by selecting your hotel for your two nights' stay.