Gulf Shores Hotels with an Outdoor Pool
View all 6 Hotels with Outdoor Pool
Enjoy the excellent Gulf Shores, AL summer weather at one of these hotels. An outdoor pool provides entertainment for both adults and children at a convenient, on-site location.
Gulf Shores Hotels with an Outdoor Pool
The Econo Lodge Inn & Suites hotel is the perfect place to stay for a relaxing time away from the stresses of life. Located right near the waves of Gulf Shore Beach we are also a pet friendly environment, so feel free to bring a furry, four-legged friend along. For our guests who would rather not venture out into the Gulf we have a spacious outdoor pool just for you! Enjoy quality time relaxing, tanning and swimming away from the rough waves of the Gulf! We look forward to servicing you at the Econo Lodge Inn & Suites hotel!
Outdoor pool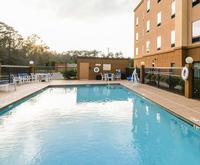 Rating:





We here at the Hampton Inn Foley try our best to provide ou clients with the best and proper service. Out of our many services our outdoor pool is a popular hit with our clients. The outdoor pool is very spacious and you can have a great time with your family and your friends in our swimming pool. You can enjoy various facilities that we offer when you are at the pool. If you are someone who can't swim we have life jackets for you and in case there is any kind of trouble we have our rescue team on the standby.
Outdoor pool is open from 6 AM to 10 PM daily.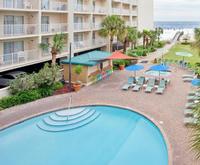 This hotel is a great place to take your whole family as you can spend it enjoying many amenities as well as going to the beach. You will be right in front of the best sites in the area and when you are hungry you can go to the nearby restaurant and have some delicious meals that will leave you with a big smile on your face. This hotel also features a comfortable outdoor pool so you can cool off from the hot sun and really maximize this family-friendly vacation. Make your stay in tropical paradise one for you to remember.
Outdoor heated pool and hot tub is open from 8 AM to 10 PM daily.

Rating:





Eat a wonderful and delicious continental breakfast before browsing the Internet on the free Wi-Fi you have access to when you state this amazing hotel while you are in Gulf Shores Alabama. You also get to stay near the water park which means whenever you are ready to go have a great time it will be there waiting for you and you will get there quickly. If you are a busy traveler, you have the ability to access a computer room with the printer and fax machine so you can get work done on the go and you never have to miss out on anything.
Outdoor pool is open from 9 AM to 10 PM daily.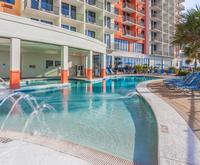 We here at the Hampton Inn and Suites try to provide the best care and facilities to our guests. We have an outdoor pool facility that are available to our guests. We make sure that our guests can enjoy a nice time with their family or their friends. The pool is very spacious and you can enjoy a beautiful view when you are swimming. For those who can't swim, we provide a life jacket and our team is always alert in case there is any danger. We make sure that the water of the pool is cleaned regularly for the proper health of the customers.
Outdoor heated pool and hot tub is open from 9 AM to 10 PM daily.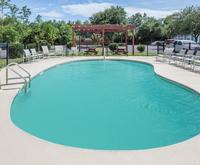 Enjoy the outdoor pool on your visit to the Gulf Shores in Alabama where you can enjoy the sunshine almost all year-round. There is complimentary continental breakfast that you can enjoy with your family and friends as this is a place that everyone can stay in. You also get free Wi-Fi which means you are able to stay connected with the world no matter where you are in the hotel and you can check-in or look at work that you need to get done. You will be closely beach which means you can go enjoy the water and spend time with your family on this vacation.
Outdoor pool is open from 10 AM to 10 PM daily.
View all 6 Hotels with Outdoor Pool