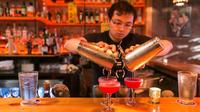 Washington DC Weekend Getaway
Take a break from your everyday life by going on the Washington DC Weekend Getaway package, which includes two nights' lodging at your choice of hotels as well as the Total DC Evening Tour: Art & Cocktails.

Create This Package in 3 Easy Steps:
1. Choose Dates & Times for Your Activities
2. Select Your Lodging from Over 92 Hotels
3. Confirm & Checkout
Details

2 Nights' Lodging in your choice of over 92 hotels.

Total Dc Evening Tour: Art & Cocktails

Prices Starting at:
Ages 19 and Up: $265.00
Ages 0-19: $152.22
Description
Relax and unwind with your two nights' lodging in the DC area. Options range from lodging close to the White House to a more cozy setting in the DC suburbs, so everyone can find what they need!