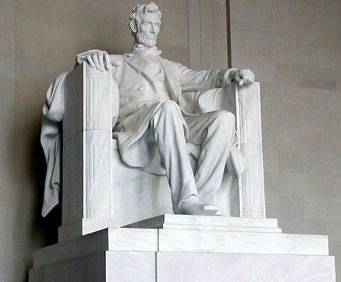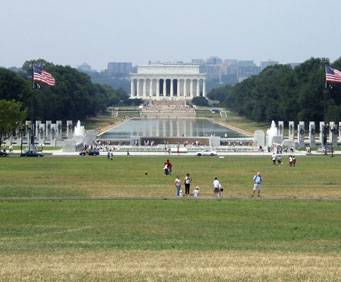 Lincoln Memorial in Washington, DC
2 Lincoln Memorial Cir NW Washington, DC 20037
The following tours visit Lincoln Memorial:
7/22/2019 - 12/31/2019
The DC Twilight Tour is a great way to experience all of the a href="https://www.
7/21/2019 - 12/31/2019

There are few cities that are more beautiful by moonlight than a href="https://www.
The following tours go by Lincoln Memorial:
Lincoln Memorial is a Tour Stop / Pick Up for the following tours:
7/21/2019 - 11/27/2019
11/29/2019 - 12/24/2019
12/26/2019 - 12/31/2019

The Narrated Hop-On Hop-Off Trolley Tour is an adventure that allows you to see the a href="https://www.
The Lincoln Memorial is an American national monument built to honor the 16th President of the United States, Abraham Lincoln.
It is located on the National Mall in Washington, D.C. across from the Washington Monument. The architect was Henry Bacon, the sculptor of the primary statue – Abraham Lincoln, 1920 – was Daniel Chester French, and the painter of the interior murals was Jules Guerin. Dedicated in 1922, it is one of several monuments built to honor an American president.
The building is in the form of a Greek Doric temple and contains a large seated sculpture of Abraham Lincoln and inscriptions of two well-known speeches by Lincoln, The Gettysburg Address and his Second Inaugural Address. The memorial has been the site of many famous speeches, including Martin Luther King's 'I Have a Dream' speech, delivered on August 28, 1963 during the rally at the end of the March on Washington for Jobs and Freedom.
Like other monuments on the National Mall – including the nearby Vietnam Veterans Memorial, Korean War Veterans Memorial, and National World War II Memorial – the memorial is administered by the National Park Service under its National Mall and Memorial Parks group. It has been listed on the National Register of Historic Places since October 15, 1966. It is open to the public 24 hours a day. In 2007, it was ranked seventh on the List of America's Favorite Architecture by the American Institute of Architects.