Greater Washington DC Area, DC: Hotels with Indoor Pool
View all 29 Hotels with Indoor Pool
Indoor pools can add to the luxury of your stay as you relax in your Washington DC hotel. There are many memorials that are awaiting your views, but be sure to get a swim in before exploring. Make a vacation out of it and find other fun things to do in the area!

Greater Washington DC Area, DC: Hotels with Indoor Pool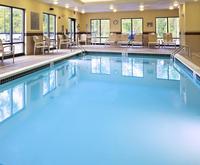 Rating:





Customer Rating:





IT WAS A PLEASURE(AND VERY EASY) TO RESERVE THE HOTELS,TOURS ETC. WITH YOUR STAFF. ALL WERE VERY HELPFUL. HOTEL MANAGER HELPED US TO SECURE TRANSPORTATION TO D.C. FOR OUR 3 DAY STAY.
THEODORE BERGEN
WEST MILFORD, N.J.
Take a swim in a nice and warm indoor pool that is climate controlled so you can go whenever you please then come home so comfortable room with complimentary Wi-Fi and delicious breakfast that will hit all the right spots. You will be able to see all the attractions that Washington DC has to offer with close access to the Metro system which means you are able to go where you want in a timely manner and then you will come home and be able to rest up and think about all of the fun things you just did in the area.
Indoor pool is open from 7 AM to 11 PM daily.

Rating:





Customer Rating:





Hilton Alexandria Mark Center Hotel is newly renovated and the perfect choice for a hotel with an indoor pool, because it's nearby some amazing attractions which are city tours, monuments, and award-winning dining halls. The Hilton is right next to 43 acres of the botanical preserves and four miles from the Pentagon, and less than 15 miles from The White House. Not only does the indoor pool is included, but there's also free high-speed internet, cable with pay per view, coffee maker, room service, and so much more.
Indoor pool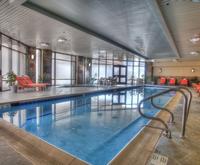 Rating:





The Hyatt Dulles Hotel in Herndon, VA features an indoor pool that is heated that guests can enjoy throughout the year. Guests will see that the indoor pool is designed with modern touches, such as warm accent colors on the walls and on the floor. Comfortable lounge chairs are placed around the pool that can be moved to different positions. There is a restaurant on the property where guests can get breakfast and lunch. The hotel provides transportation to and from the airport for guests.
Indoor heated pool is open from 7 AM to 10 PM daily.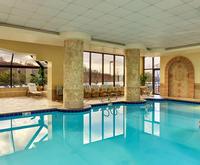 Rating:





Customer Rating:





Awesome breakfast, large spacious rooms. The towel service could have been better and the pool was a bit small but it was very nice overall.
Vivian Lawson
Chesterfield, MI
The Embassy Suites Tysons Corner can be found in Vianna, which puts it right outside of Washington DC. This establishment is in close proximity to the local airport. Some of the special things that this establishment offers its guests to enjoy during their stay include a bar or lounge, a business center, a continental breakfast, a crib is needed for an additional fee, a fitness center, a gift shop, Wi-Fi, hot tub or whirlpool, indoor pool, laundry service, on-site restaurant, and room service.
Indoor pool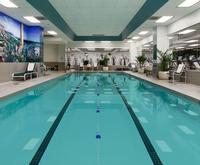 Rating:





When looking for a hotel with an indoor pool, the Fairmont Washington, D.C. located in Washington, District of Columbia, is a good choice. The hotel features an indoor heated pool, a fitness center, a hot tub, a meeting facility and an on-site restaurant. Each room offers guests cable TV as well as a microwave and refrigerator. Local attractions include the National Museum of Natural History, Einstein Planetarium IMAX, and the National Air & Space Museum. Shoppers can go to the nearby Macy's or Arena Stage Mall while foodies can eat at nearby Blue Duck Tavern or Bread & Chocolate.
Indoor pool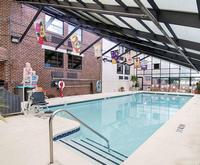 Rating:





If a heated indoor pool is essential to a great hotel experience than look no further than the Comfort Inn University in Fairfax, VA. The hotel is conveniently located near Washinton, DC, and other area attractions. The indoor pool is large enough to get some strokes in for a fun workout or just for family fun. Other amenities include a fitness center, a game room, a hot continental breakfast, a free daily copy of the Wall Street Journal, and a gift shop on site. Room amenities include internet access, microwave, refrigerator, and a coffee maker.
Indoor pool is open from 7 AM to 11 PM daily.
View all 29 Hotels with Indoor Pool