Washington DC Hotels with Hot Tubs or Whirlpools
View all 14 Hotels with Hot Tub / Whirlpool

Washington DC Hotels with Hot Tubs or Whirlpools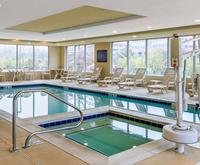 Rating:





Comfort Suites Manassas is conveniently located near the Dulles Expo and Convention Center as well as restaurants and activities that appeal to everyone. The hotel offers free breakfast, an indoor pool and hot tub and an on-site restaurant. The suites also offers an in room refrigerator and microwave. Everything is convenient and perfect for relaxation, enjoying local events and other adventures. The rooms also offer a free newspaper, wifi and free parking. The suites offer a package deal for travelers that are looking for comfort and affordability.
Indoor Hot Tub is open from 6 AM to 10 PM daily.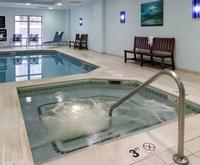 Guests can relax in the hot tub while staying at the Hampton Inn Washington, DC. The hot tub is located indoors next to the indoor pool so that guests don't have to go outside. Steps lead into the water for the safety of guests as they get in and out. The hotel also offers free breakfast each morning that includes fresh fruits and waffles. Rooms include a microwave and a refrigerator as well as free Wi-Fi and cable television so that guests are comfortable during their stay.
Indoor Hot Tub is open from 9 AM to 10 PM daily.

Rating:





The Fairmont Hotel in Washington, DC has a hot tub where you can relax and get rid of day of stress, everything is in the reach when you choose to visit the Fairmont Hotel. The hotel provides a fitness center, indoor pool, on-site restaurant, and a business center. Your just minutes away from the main attractions like the Einstein Planetarium IMAX and the Lockheed Martin IMAX at the National Air and Space Museum. You can do a little shopping and eat at the finest restaurants, then after a day of exploring the city, you can relax in the hot tub.
Indoor Hot Tub is open from 8 AM to 10 PM daily.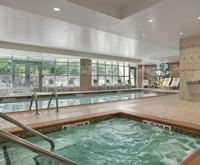 The Homewood Suites by Hilton features an indoor hot tub beside the indoor pool where guests can relax after a long day of exploring the city. Large windows allow guests to view the outdoor pool area and some of the other amenities of the property. A shuttle is provided to areas within a few miles of the hotel so that guests don't need to use their own vehicles. There is a spa located inside the hotel that features exercise equipment including a weight bench and a treadmill.
Indoor Hot Tub is open from 9 AM to 10 PM daily.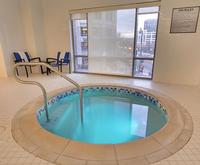 Rating:





Customer Rating:





Embassy Suites Washington, DC, is located conveniently near many attractions. There is a continental breakfast that is cooked to order for every guest. Inside the room, guests will find many amenities. Among many amenities of the hotel are a Whirlpool and hot tub, an ATM, a concierge desk, and much more. Some room amenities include cable television and high-speed Internet. The high-speed Internet is available for a nominal fee. If guests need to get some shopping done at the Verizon center is nearby. There are also microwaves and refrigerators and all rooms. Guests will find ample free parking available at this hotel.
Indoor Hot Tub is open from 8 AM to 10 PM daily.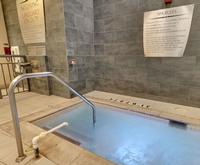 The Embassy Suites in Alexandria, Virginia is the best location when looking for a hotel that includes a hot tub because everything is within reach so you don't have to leave. The hotel provides great amenities like shuttle services, a cooked to order breakfast, indoor pool, and a fitness center. If you do decide to leave the hotel and want to explore the city, you're within walking distance from the Amtrac Train Station which will get you around to the main attractions. Just know that after a day of fun the hot tub will be available so you can relax.
Indoor Hot Tub is open from 7 AM to 11 PM daily.
View all 14 Hotels with Hot Tub / Whirlpool