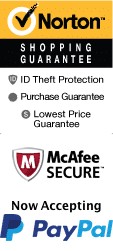 Pentagon Tours
The Pentagon Tour program began in May of 1976, in support of the BiCentennial celebration, and was intended to last through July 4, 1976. Due to overwhelming internal support and public demand, the tour program has continued ever since and is the perfect historical tour during your stay in the area. Pentagon Tours are free and offered 9 am - 3 pm weekdays, excluding federal holidays. The tour is approximately one hour and covers one and one-half miles. The tour guide for the tour is from a group of 30 hand-picked active duty personnel from the National Capital Region's military ceremonial units. The narrative of the tour consists of 20 pages of script which detail 20 items of interest, including the mission of the Department of Defense and each service branch. Highlights along the tour include colorful displays and historic photographs of significant moments in military history and the 9/11 Memorial Chapel.
Visit Pentagon Tours
Built in the summer of 1941 during World War II, the Pentagon was constructed as a headquarters and office building for the Department of Defense. Here, the building is used as the world's largest office building and employs more than 20,000 military and civilian employees. The Pentagon is on the National Register of Historic Places as well as registered as a National Historic Landmark.
Learn about touring other Washington DC buildings for more fun activities during your vacation in Washington DC in these articles:
Requesting Pentagon Tours
Visitors who are wishing to take a guided tour of the Pentagon must make a reservation in advance. Each visitor must be approved per Washington rules to enter the Pentagon. Reservations will not be accepted for tours within thirteen days or for more than 90 days away from your trip itinerary. Each Pentagon visitor will need to abide by tour guide lines as well as the security information, which includes presenting identification as well as agreeing to being searched for prohibited items. There is also no photography allowed inside the Pentagon, so tour visitors should be aware of that. As you visit the Pentagon, you can also choose a private tour option at the time of reservation. Once you receive approval, keep the following tips in mind:
The Pentagon is the headquarters of the United States Department of Defense. It is located in Arlington VA but has six Washington DC zip codes. The unique design of the Pentagon, a five-story (plus two basements), five-sided building consisting of five concentric pentagons, was built in only 16 months.
Reservations are required and may only be requested by submitting an application, available at https://pentagontours.osd.mil/
Requests must be submitted at least 14 days and not more than 90 days prior to your requested visit. They make no exceptions to this rule.
Arrive 60 minutes before your tour to allow sufficient time to be processed through security and check in prior to your tour start time.
There is no public parking at the Pentagon, so Pentagon tour participants should plan to use the metro station near the Pentagon City Mall.
Of course, you can not have a scheduled tour on federal holidays.
You must present your confirmation e-mail, and valid, current, government-issued, picture identification.
Many items are prohibited, its best to leave everything at your hotel. Even items that aren't prohibited will delay the security screening process considerably.
Photography is forbidden both inside and outside the Pentagon.
For more information, check out these tours: