Washington National Cathedral Admission Ticket

Description
Washington National Cathedral Admission Ticket Photos (1)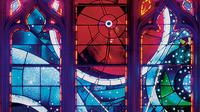 The Washington National Cathedral has been the topic of literature, and it has hosted some of the biggest events of American history. It is a place that you must see to believe because it is so large and so majestic. You get to come inside and tour it for yourself, and they have staff members who let you in on the history of the building.
The Washington National Cathedral is a place where you can take nothing but beautiful pictures. You must use this tour as a way to get out of the loud city because everything in here is reverent and quiet. You might have time to pray, and they have a candle altar where you could light something for the people that you have lost.
The National Cathedral also has services every week, and you might actually walk in during a service. You need to see how majestic this place is, and you can hear the organ ringing in the halls if you come in when it plays. You might plan to attend a service at another time, and your admission tickets lets you walk around for as long as you like.
The National Cathedral have set up something that allows you to tour or simply come to a mass.
You must bring your kids so that they can see this place, and it might be part of a small pilgrimage for you to the nationa's capitol. You can finally see this subject of so much literature and religious thought.
President Theodore Roosevelt witnessed the laying of the Cathedral's foundation Stone in 1907, 83 years later, President George H.W. Bush attended its completion in 1990. Every visitor to our Nation's Capital is encouraged to explore the must-see details of the Cathedral's Dramatic Art and Architecture, including:
Exquisite stained glass windows and statues, showing sacred events connecting humanity with the divine, as well as a celebration of our nation's proud history
The Canterbury Pulpit, which has featured speakers including U.S. presidents, evangelist Billy Graham and the Dalai Lama, and is where Dr. Martin Luther King Jr. delivered his final Sunday sermon
President Woodrow Wilson's Tomb, which features a crusader's sword to symbolize his valiant battle for peace following World War, as well as stained glass windows commemorating his life
The Space Window, a stained glass window that includes a moon rock presented to the Cathedral by Apollo 11 astronauts Buzz Aldrin, Neil Armstrong and Michael Collins


Pickup & Return:
Washington National Cathedral.
Departure Times: Monday-Friday: 10am to 4pm
Saturday: 10am to 3pm

Includes:
Self-guided brochures are available at the Welcome Desk.
Cathedral admission includes a complimentary Highlights Tour (when available) led by a professional guide.

Does not include:
An audio tour may be purchased at the Cathedral (subject to availability) at an additional charge
Parking fee

Additional Information:
Confirmation will be received at time of booking
As a living and active community of faith, the Cathedral's schedule and ability to welcome visitors are subject to unexpected changes. When planning your visit, it's your responsibility to check our touring interruptions.
Wheelchair accessible
Book Now!