Washington Dc National Mall and Capitol Hill Private Tour

Description
Washington Dc National Mall and Capitol Hill Private Tour Photos (1)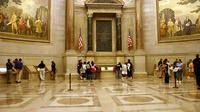 If you are looking to have fun and have an adventure then you will love the archives. You will really get to see Washington DC in all its beauty and you will get to enjoy a wonderful time you. This is the capital city of the country and you will get to see and do a lot as the explore a new and exciting world that will leave you speechless. You'll get to see the National Mall as well as a lot of other new and interesting places as well. This will be five hours of intense fun and action as you get to see everything that the city has to offer. You will get to see beautiful architecture that is important American history and you will get to experience the declaration of independence as well the Constitution and many other important documents that came with the founding of the country. If you are looking for something special then you are in the right place. You'll get to see founding fathers like Alexander Hamilton and learn about what they stood for.
This will be a wonderful adventure for you and you will have the time of your life as you get to explore a really unique world and it will be very interesting and insightful. If you are looking to really discover something special then you have come to the right place and you will be able to really have fun.
If you are looking to learn about politics as well as learn about the history of the country then you will love being in the archives and you will love the capital your building as well. This will be a very magical and insightful tour for you.
Start at the Archives, a neoclassical building that acts as a temple to American history. Once inside. Your expert guide will introduce you to the Declaration of Independence and the Constitution while observing the original documents. These papers, alongside the Bill of Rights and the Federalist Papers, are all signed by the prominent statesmen and founding fathers like Alexander Hamilton. Moving to the Public Vaults Exhibits, you'll come face to face with letters from George Washington and John F. Kennedy. You'll even see the Emancipation Proclamation, which, in 1863, led to the abolishment of slavery. Finally, in the Rubenstein Gallery, you'll examine more historical documents like the Magna Carta of 1297, written well before the United States was even conceived, yet pivotal in influencing the other documents that you'll experience in the Archives. By the end, you will have witnessed firsthand the humble documentation that created the world's most powerful country.
Afterwards, we'll talk politics and history as we trace Washington DC's evolution from a swamp to the capital of one of the world's most influential nations. Explore the City Upon a Hill with a knowledgeable guide who will show you Capitol Hill — the place where it all happens in the United States. Learn about the main buildings including the Capitol and the Supreme Court. Visit the magnificent exteriors while popping inside the Main Reading Room of the Library of Congress, as well exploring Thomas Jefferson's library and inspecting a real Gutenberg Bible. The tour may include a visit to a courtroom and tickets may be available for a tour of the Capitol's interior.


Pickup & Return:
Meet your guide on the corner of 9th Street NW and Constitution Ave.
Departure Times: 10am

Includes:
Private tour
Transport by private vehicle from National Archives to Capitol Hill
Lunch break
Walking tour

Does not include:
Gratuities (optional)
Hotel pickup and drop-off
Food and drinks, unless specified

Additional Information:
Confirmation will be received at time of booking
A maximum of 8 people permitted per tour allowed
A moderate amount of walking is involved

Notes: National Archives and other attractions or museums in DC may be subjected to occasional closures without previous warning from the museum management. When this occurs, we will provide guests with an appropriate alternative if the museum opening time is delayed more than 1h from the tour starting time. In these cases we are unable to provide refunds or discounts. Appropriate dress is required for entry into some sites on this tour. No large bags or suitcases are allowed inside the museum, only handbags or small thin bag packs are allowed through security. Due to increased security measures at many attractions some lines may form on tours with 'Skip the Line' or 'No Wait' access. Some specific rooms inside the museum are subjected to a very quiet or restricted right to speak inside, in this cases your guide will provide the information about this places before entering the specific rooms where this rule applies. Some collections may vary along the year.
Washington Dc National Archives Building and Capitol Hill Private Tour: 10am Private Guided Tour
PrivateWalking Tour & Museum Tour;Professional Tour Guide Exclusively For You;Skip-The-Line Entry to the National Archives;Private Transportation Included Between Tour Locations If Necessary
Washington Dc National Archives Building and Capitol Hill Private Tour: Save! Book Semi-Private 10am
Semi-Private 8 Guest Maximum: Semi-Private Walking Tour & Museum Tour; "Semi-Private"Means Group Size Is Never More Than 8 Guests Maximum
Book Now!