Washington Dc Georgetown Walking Tour

Description
Washington Dc Georgetown Walking Tour Photos (1)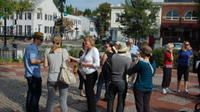 This is going to be a friendly and wonderful walking tour for you. It will be something special and you will have the time of your life. If you are someone who wants to enjoy the streets and have the time of your life then you will love this great adventure. You will have a friendly and professional guide who will take you around and truly show you everything there is to see. You are going to really have fun and enjoy yourself. You will get to really enjoy the streets with this adventure as there are so many things for you to see and do on this tour. If you are looking for a friendly experience that will make you enjoy Washington DC even more then you have come to the right place as this will be the perfect tour for you to really see some of the best neighborhoods in the world.
You will get to see many marvelous architectures from a different time. Such as the Victorian era as well as a lot of other errors as well. You'll also be able to see where John F. Kennedy lived and a lot of new and interesting places that span all of history. If you are looking for a wonderful adventure that will really put you at the heart of the history of the country then you will love this place even more. It is going to be a special time for you and one that you will never forget.
This is going to be a wonderful opportunity for you to venture into Georgetown neighborhood and travel to time as you experience a lot of new and interesting types of houses.
To put it simply, a walk through Washington's tony Georgetown neighborhood is a venture through time — of 200-year-old mansions and their eccentric owners, of fortunes in trade won and lost, of marvelous architecture from Federal to Victorian, of the once-bustling freedman community Herring Hill, of political intrigue, of green preservation and urban renewal. And of course no one can mention Georgetown without the Kennedys. In the 1950s John F. Kennedy and his wife Jacqueline almost single-handedly turned the neighborhood into the city's politically fashionable place to live. Your guide will point out the houses of the movers and shakers, as well as the remarkable historic properties here that are open to the public (and yes, The Exorcist steps.) This two-hour, two-mile tour winds up in Georgetown's shopping and restaurant district just in time for lunch. Or if you're on a roll, your guide can point you to the C&O Canal, the historic and bucolic waterway. (Be prepared to climb a hill or two.)

On this walking tour of Washington, D.C.'s Georgetown neighborhood you will see the house where budding chef and cookbook author Julie Child once lived. Learn about the Federal-style architecture that defines Georgetown and hear about the oldest African American church in Washington, D.C. Find out the location of one of Georgetown's original manor houses. See where Senator John F. Kennedy and wife Jacqueline lived when he was elected U.S. President and peer down the eerie 'Exorcist Steps.'

Meet your guide at the little park located at 28th Street and Pennsylvania Avenue, NW to begin your walking tour through the Georgetown Historic District. The walk will travel approximately two miles through the residential portion of Georgetown, concluding at the Francis Scott Key Park. From the park, you can quickly walk to any number of cafes and restaurants for lunch or head to the breathtaking Georgetown waterfront to see another aspect of the neighborhood. Be prepared to walk up or down a hilly street or two.

Pickup & Return:
In Georgetown neighborhood near 28th Street and Pennsylvania Avenue NW.
The walk concludes at Francis Scott Key Park (intersection of 35th and M Streets, NW) about a half mile from the original start point. Ending point is in the heart of the Geogetown commercial district, close to a variety of cafes, restaurants and shops.
Departure Times: 10am

Includes:
Professional guide
Walking tour

Does not include:
Gratuities (optional)
Hotel pickup and drop-off

Additional Information:
Confirmation will be received at time of booking
Wheelchair accessible
Book Now!