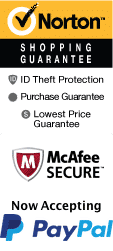 YOUR PEACE OF MIND IS OUR TOP PRIORITY
Should you need to cancel at any time, you have up to 48 hours from your vacation start date to do so for a 100% future travel credit.
DC After Dark

50 Massachusetts Ave NE Washington, DC 20002
1-866-267-5732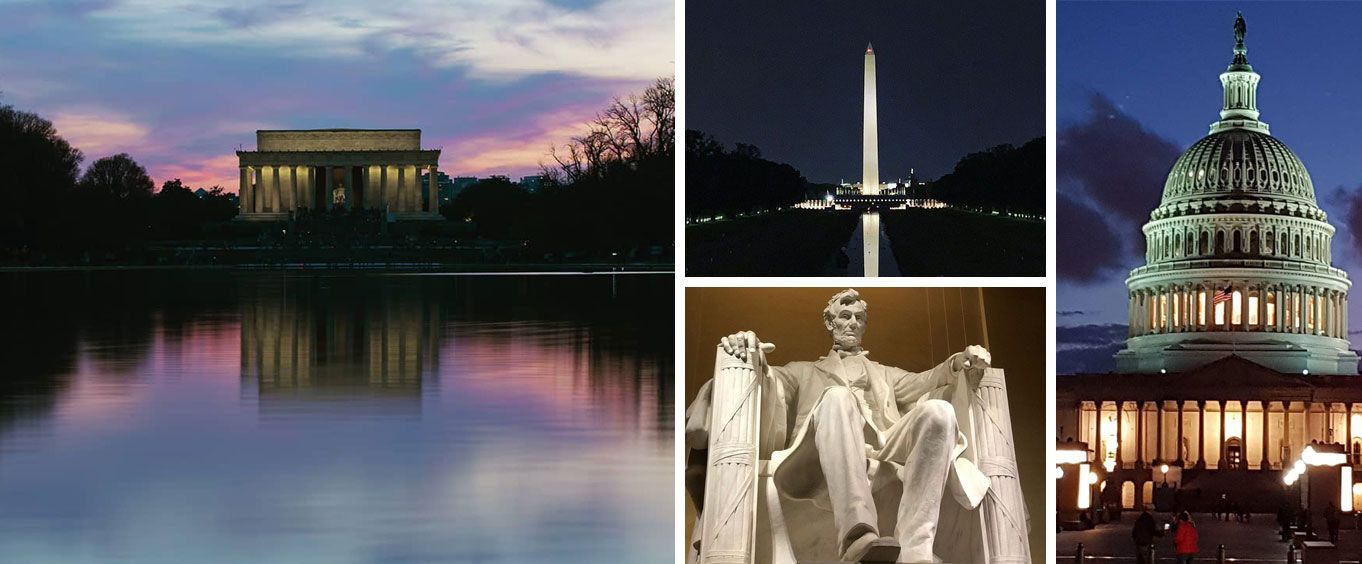 Description
The DC Twilight Tour is a great moonlight tour to experience all of the historical DC landmarks while basking in the unique light of the wondrous and brilliant moon. Each of the historical monuments in DC have their own unique spotlights, and even the Capitol Building has an ethereal greenish glow about it. This three-hour tour meets and ends at Union Station, and from there, you will be transported aboard a comfortable charter bus to each of the historical monuments and buildings. The tour will stop at several locations, allowing you time for a self-guided tour at each stop, and between the stops, you will have the opportunity to see several other illuminated areas from the comfort of your bus. Keep your eyes peeled as you are treated to some of the finest looks at landmarks, monuments, and more in the United States capital city.
Detailed Tour Itinerary

You will meet your tour in Union Station on the bus level of the parking garage inside the Greyhound Building. Please arrive approximately 30 minutes before your departure time, and get ready for your moonlit tour through Washington, D.C. for spectacular sights of the beautiful monuments and governmental buildings!

Stop at
Jefferson Memorial
Beautifully lit up for the night, the Jefferson Memorial is dedicated to Thomas Jefferson, an American Founding Father and the third president. This neoclassical building was designed by architect John Russell Pope and built from 1939 to 1943. The bronze statue of Jefferson was added only a few years later.

Stop at
Martin Luther King, Jr. Memorial
Located near the Tidal Basin, the Martin Luther King, Jr. Memorial was opened in the fall of 2011 to honor Dr. King. Although he isn't the first African-American honored with a memorial, his is the first near the National Mall and only the fourth non-president to be memorialized in such a way.

Built to honor the 16th President, the Lincoln Memorial is in the form of a Greek Doric temple with a large seated sculpture of Abraham Lincoln. While you're admiring the statue on your evening tour, make sure to read the inscriptions of two well-known speeches by Lincoln, The Gettysburg Address and his Second Inaugural Address.

Stop at
Vietnam Veterans Memorial
This national memorial honors U.S. service members who fought in the Vietnam War, those who died in service in Vietnam and Southeast Asia, and those who were unaccounted for during the war. While you're there, make sure to take in all three separate parts; the Three Soldiers statue, Vietnam Women's Memorial, and Vietnam Veterans Memorial Wall, the best known part of the memorial.

Stop at
Korean War Veterans Memorial
Located in West Potomac Park, the Korean War Veterans Memorial was built to commemorate those who served in the Korean War. This memorial serves as a place of reflection for visitors as they walk through the 19 stainless steel statues that form a squad on patrol.

Stop at
Iwo Jima Memorial
Especially beautiful at night, this memorial, known officially as the U.S. Marine Corps Memorial, honors Marines who have fallen in the line of duty. Take in the different aspects, especially the statue of the flag raising on Iwo Jima, one of the most well-known events from World War II.

Admired for its beautiful gardens and extensive offices, the White House can be seen fully lit up on this tour, which offers stunning views of the building and grounds. Inside the complex is the Executive Residence, West Wing, East Wing, Eisenhower Executive Office Building, and Blair House, a guest residence.

See the U.S. Capitol located on Capitol Hill, where legislators conduct their daily business. Each year, more than 3 million visitors from around the world visit the Hill to explore this living museum of American history and see democracy at work. On this tour, you will have fantastic sights of this majestic building, lit up for stunning views up close and from afar.

Drive By
The Reflecting Pool
West of the U.S. Capitol, located at the eastern end of the National Mall, the Reflecting Pool is six acres in size and occupies over half of the Union Square area. The Capitol Building and the Ulysses S. Grant Memorial are reflected into the pool, especially beautiful as the lights of the Capitol at night shimmer on the top of the pool.

Drive By
The Kennedy Center
Located along the Potomac River, the Kennedy Center produces and presents theater, dance, ballet, and orchestral, chamber, jazz, popular, and folk music, in addition to multi-media performances for all ages. At night, this beautiful structure is aglow with lights.

Drive By
Washington Monument
Built to commemorate once Commander-in-Chief and first American President George Washington, the Washington Monument is an obelisk on the National Mall, reaching a height of over 555 feet, making it the world's tallest obelisk as well as the world's tallest stone structure. At night, the obelisk is lit with hundreds of lights and has a stunning reflection in the Lincoln Memorial Reflecting Pool.

Drive By
Federal Triangle
This historic area is occupied by 10 large city and federal office buildings and is therefore called the Federal Triangle. These office buildings are a part of the Pennsylvania Avenue National Historic Site, made even more beautiful by the lights at night.

Drive By
Pennsylvania Avenue
After dark, Pennsylvania Avenue lights up with the glow of thousands of lights along this street that joins the White House and U.S. Capitol Building together on America's Main Street. This street is part of the National Highway System and is often the location of official parades and processions, as well as protest marches.

Drive By
Georgetown University
Located in one of the oldest neighborhoods in Washington D.C., Georgetown University is ideally situated on the Potomac River, and the Georgetown area is known for its historic beauty, thriving community, and upscale shops, restaurants, and cultural venues. The university and area will be beautifully lit for your evening tour.
Stops may change due to traffic, weather, maintenance, etc.
Be sure to wear comfortable shoes and clothing for exploring each stop. You will also want to be sure you have your camera and video camera ready to capture each of these illuminated historical sites. Make a vacation out of it and find other fun things to do in the area! Have a blast in DC.
Reviews

Ronda Hinzman
WV
✓
Verified Traveler





"We were very pleased"
We were very pleased with our dc after dark tour. Our entire family had a fantastic time and our tour guide was very knowledgeable about the dc area, the buildings, and the monuments. Thank you so much!

Marie Vallette
NY
✓
Verified Traveler





"Seeing the Washington Monument at night just took my breathe away."
Seeing the washington monument at night just took my breathe away. See the monument lite up against the dark sky was so beautiful. Our bus driver, bob was especially great. He had a sincere love for the city.

Jean Clarke
TX
✓
Verified Traveler





"It was amazing. "
Our guide, douglas, was absolutely wonderful! His insight and the information he shared was magnificent. It was amazing. You could tell he really enjoys his job and takes pride in making sure everyone knows as much as they can about the places we stopped. His favorite - the fdr memorial - was not on my must see list, but after hearing douglas' narrations i was extremely impressed. I would love to have all my tours with douglas. He should be commended for his dedication and passion he has for the dc memorials.

Virginia Hoffman
CA
✓
Verified Traveler





"He made my trip not only entertaining, but informative, fun, and very comfortable"
Our our guide, wayne, was absolutely delightful!! I had fallen earlier that day and was quite disabled. He made my trip not only entertaining, but informative, fun, and very comfortable thanks!!
Frequently Asked Questions for DC After Dark :
Is there any walking involved?

The tour will make short stops at select monuments for everyone to walk around and take pictures.

Approximately how long does the Twilight Tour last?

It is approximately 3 hours.

For what ages is the tour appropriate?

Appropriate for all ages.

What type of dress & footwear are recommended?

Comfortable casual attire.

Where does the Twilight Tour depart from?

The tour departs from the Bus Terminal Level at Union Station located at 50 Massachusetts Ave NE Washington, DC 20002

Is photography / video recording allowed on the Twilight Tour ?

Both photography and video cameras are permitted.

Is the Twilight Tour handicap accessible?

Yes.