Total Dc Tour: Dc Unveiled & Music History

Description
Total Dc Tour: Dc Unveiled & Music History Photos (1)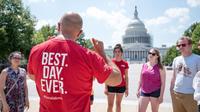 Washington DC is a place where music comes to play even though you might not think of it as a music hub. It is still a place where people have gotten their big break. You must come on a tour that explains the most important locations in the city, lets you see live music, and brings you to the historic buildings where it all happened.
The person who plans to come to the city to see the history must set aside some time for the music. You are coming on a tour where the guide answers your questions, knows the music of this area, and wants you to enjoy it all. They point to the places that might be fun to hear live music in, and they also show you great places to get a bite to eat.
The purpose of this tour is to let you see a new side of DC that you have not seen before. The people on the tour are taking pictures because they want to remember the places to visit, and you must take notes on your map so you know where to go when the tour is over. You are planning a full tour of this city using the tour guide's help.
Consider how you might take in more music, get something to eat, and have a drink at the end of the day after taking this comprehensive tour.
Ready to take on a fun-filled day on the National Mall? This total DC history tour combines two of our favorite tour experiences (Washington DC Unveiled and Museum of American History Through Music) into one exciting adventure.
First, skip the crowded National Mall sidewalks and slide into our all-electric Red Roadsters to be guided around by a local. We'll take you back to the city's origins as we work our way to the beautiful Capitol Building and through the Smithsonian area. Next, we'll breeze past the Washington Monument, Tidal Basin and Jefferson Memorial before stopping at the FDR, MLK and Lincoln memorials so you can hop out and explore on your own.
Finally, we'll take you past the famous White House before bringing you to the Smithsonian Museum of American History for the second leg of your journey through history.
Your local guide will help you boogie your way through American history starting with the Star-Spangled Banner and the origins of the National Anthem before dancing you past some of the world's most famous jazz, soul, salsa, and R&B tunes. You'll explore the importance of music and the hidden messages in songs that were used in political movements and times of struggle and you may discover that you've accidentally transmitted a secret code every time you've whistled your favorite tune.
Finally, you'll end your American history journey by discovering how past rhythms and beats have made their way into nightclubs, bars, and onto the radio with the invention of electronic music equipment. As an added bonus — we'll give you a chance to make a beat of your own! Who knows, maybe you're America's next top DJ!


Pickup & Return:
L'Enfant Metro stop. We'll meet at the corner of 7th St. and Maryland Ave.
South lobby of the American History Museum, 1300 Constitution Avenue NW, Washington, DC 20560.
Departure Times: 10am

Includes:
Local English-speaking guide
Transportation in an all-electric 7-passenger Red Roadster vehicle

Does not include:
Food and drinks
Souvenirs
Tips/gratuities for your guide

Additional Information:
Confirmation will be received at time of booking
Please dress appropriately for the season and weather conditions and wear comfortable walking shoes as much of the tour is outside.
Peaceful demonstrations, a mainstay of life in Washington, may slightly alter routes, but they also add to the enrichment of the experience!
This is a child-friendly tour. Children between the ages of 4 and 11 inclusively are permitted at the child rate. Children under the age of 4 are permitted to join this tour free of charge. Please note they will be required to sit on a parent or guardian's lap due to limited space in the Red Roadster. Please inform us at the time of booking if you're bringing a child under the age of 4 in the special requirements section.
A maximum of 12 people per tour
Book Now!