Total Dc Evening Tour: American Art & Monuments by Night

Description
Total Dc Evening Tour: American Art & Monuments by Night Photos (1)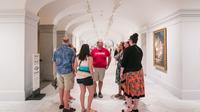 Are you ready to have the most fun night of your life? If yes, then I have the best news for you. We have combined our most fun tours. Both the American art adventure and monuments into one memorable night. This tour will take about five hours. This tour also includes a local English –speaking guide transportation in an electric red roadster vehicle which can accommodate seven passengers.
The tour will commence at the American Art and National Portrait Gallery where you will get to learn about critical American artists and heroes in our country's history. We will talk about the local janitor's masterpiece and discuss the American dream.
You then get into our all-electric Red Roadsters to be guided around wealthy nation's capital at night. Trust me when I say it is as fresh as it sounds. Our guides will give you some tips on how to explore your city when you are alone. You will drive across the Smithsonian area, Jefferson Memorial and also around many other adorable places. You also get an opportunity to alight and view places like the white house, Lincoln Memorial, and many other places firmly. You know can already imagine how fun this will be.
The pickup point will be the National Portrait Gallery and American Art Museum in Washington DC. The departure time is at 5.00pm.A paper or an electronic ticket may be provided for this activity. It is essential to dress appropriately and wear comfortable shoes since there will be a lot of walking to do. Confirmation will be received at the time of booking.
You know this will be fun. Hurry now and make a reservation and have a memorable night that you will live narrate to your next generation.
Ready to take on a city full of history and art? We've combined two of our most amazing Washington tours (Smithsonian American Art Adventure and Monuments by Night) into one fun-filled evening. First, you'll head into the Smithsonian American Art Museum and National Portrait Gallery where we'll teach you about important American artists and some of the unsung heroes in our country's story.
We'll talk about a local janitor's 14-year masterpiece, which was found by chance in his garage, we'll discuss the American dream, check out the original Singer sewing machine and get to know the key figures and power players of US history.
Next, skip the crowded sidewalks and slide into our all-electric Red Roadsters to be guided around our beautifully lit nation's capital at night.
Our guides will take you back to the city's origins and give you some tips for exploring the city on your own. We'll work our way through the Smithsonian area, discussing the best exhibits in each. Then we'll breeze past the Washington Monument, the Jefferson Memorial and around the tidal basin.
You'll also have the opportunity to hop out and explore on your own at the FDR, MLK and Lincoln Memorials. Finally, feast your eyes on the White House before heading to your next adventure.


Pickup & Return:
The National Portrait Gallery & Smithsonian American Art Museum, 800 G St NW, Washington, D.C. 20001.
Smithsonian Metro stop, 12th and Independence Ave. SW, Washington, DC.
Departure Times: 5.00 PM
You can present either a paper or an electronic ticket for this activity.

Includes:
Local English-speaking guide
Transportation in an all-electric 7-passenger Red Roadster vehicle

Does not include:
Additional food and drink
Souvenirs, tips and gratuities for your guide

Additional Information:
Confirmation will be received at time of booking
Dress appropriately for the season and weather conditions and wear comfortable walking shoes as much of the tour is outside.

Peaceful demonstrations, a mainstay of life in Washington, DC, may slightly alter our route, but they also add to the enrichment of the experience.

This is a child-friendly tour. Children between the ages of 4 and 11 inclusively are permitted on this tour at the rate listed above. Please select 'child' above when booking. Children under the age of 4 are permitted to join this tour free of charge, but please note they will be required to sit on a parent's or guardian's lap due to limited space in the Red Roadster. Please inform us at the time of booking if you're bringing a child under the age of 4. You can do so in the special request box on the checkout page.

For your Urban Adventure you will be in a small group of a maximum of 12 people.
Book Now!