The National Mall and National Gallery of Art Private Tour

Description
The National Mall and National Gallery of Art Private Tour Photos (1)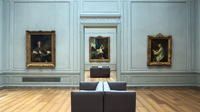 The best option for you to choose for your vacation time is having that crucial point of visiting the National Gallery. It is one of the areas that you will find most of the arts having preserved for you to come and learn. Some of the greatest things from the historian who will make sure that they have offered the best information concerning this area to you and a small group that will come along with you in this place. The place is said to be the only area in America that has a collection of all forms of them, and for this reason, it is the remarkable thing for you to beat in the convenient hours of your vacation and holidays.
It takes about two and half hours that will enable you to have fun at this place and enjoy everything that comes with alongside in this venue. It is one of the areas where you have that chance to learn more of the history that do concern the artwork and anything good that you will probably find here impressive for you to learn more about it correctly here.
There very known great historians and other professionals who will be responsible of ensuring that you have been able to understand a brief history that concern the artwork and how the whole thing usually was done in this national gallery in the American State. It also a fascinating area where you can decide to take up your photos with an excellent professional photographer that you might choose to come up here within this private trip to this destination of arts.
Meet for this 5-hour tour at Lafayette Park a little before 10 a.m.

Begin outdoors by discovering Washington DC's vast collection of outdoor monuments. This tour is one of the best ways to visit DC's iconic sites, including the White House. We'll explore the history of the nation's capital, as well as the monuments and memorials of the National Mall that feature figures like George Washington and Abraham Lincoln. Your engaging private guide will share the stories about the major players and events in American history that have earned memorials on the Mall, including the Korean War, World War II, and Vietnam. They'll even divulge the intricate symbolism woven into these structures. You'll be treated to many photo opportunities along the way, so keep your camera handy.
After a break for lunch, move to the National Gallery of Art, and follow your guide through one of America's best collections of artwork produced by Renaissance artists, French Impressionists, and great American painters. See works from Claude Monet, Raphael, Gilbert Stuart, Vincent Van Gogh, and Edgar Degas, as well as more modern artists like Picasso, Pollock, Warhol, and O'Keefe, as you learn what's really behind the creation of some of these pieces. Your private guide leads the way through the halls of the museum, telling stories, and stopping at famous works of art. Some pieces you'll see on this tour include Ginevra de' Benci by Leonardo da Vinci, Self Portrait by Vincent Van Gogh, and Woman with a Parasol by Claude Monet. Listen as your guide fills you in on the techniques behind some of the paintings, as well as some of the history and scandals that happened because of them.

Please note: A minimum of two people per booking is required.


Pickup & Return:
Lafayette Park
Departure Times: 10am

Includes:
Private guide
Walking tour
Transport by private vehicle from walking tour to museum
Lunch Break Between

Does not include:
Gratuities (optional)
Hotel pickup and drop-off
Food and drinks, unless specified

Additional Information:
Confirmation will be received at time of booking
A maximum of 8 people permitted per tour allowed
A moderate amount of walking is involved

Notes: National Gallery and other attractions or museums in DC may be subjected to occasional closures without previous warning from the museum management. When this occurs, we will provide guests with an appropriate alternative if the museum opening time is delayed more than 1h from the tour starting time. In these cases we are unable to provide refunds or discounts. Appropriate dress is required for entry into some sites on this tour. No large bags or suitcases are allowed inside the museum, only handbags or small thin bag packs are allowed through security. Due to increased security measures at many attractions some lines may form on tours with 'Skip the Line' or 'No Wait' access. Some specific rooms inside the museum are subjected to a very quiet or restricted right to speak inside, in this cases your guide will provide the information about this places before entering the specific rooms where this rule applies. Some collections may vary along the year.
The National Mall and National Gallery of Art Private Tour: 10am Private Guided Tour
Private Walking Tour & Museum Tour;Professional Tour Guide Exclusively For You;Duration 5 - 5.5 Hours (Including Lunch Break);Tour Will Run, Rain Or Shine
The National Mall and National Gallery of Art Private Tour: Save! Book Semi-Private 10am
Semi-Private 8 Guest Maximum: Semi-Private Walking Tour & Museum Tour; Semi-Private" Means Group Size Is Never More Than 8 Guests Maximum
Book Now!