Small-Group Combo Tour: Arlington National Cemetery and the National Museum of American History

Description
Small-Group Combo Tour: Arlington National Cemetery and the National Museum of American History Photos (1)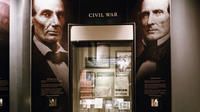 There is no place like home is one of the most famous lines uttered in motion picture history. That line and Dorothy's red slippers are also well known from the legendary movie the Wizard of Ox. Now when a person visits the Arlington National Cemetery and the National Museum of American History they will get the opportunity to see those red slippers.
When people are looking at touring either one of these spots they should take the small group combo tour which hits both places. While on the tour they will be led by a expert tour guide and they will begin their journey at the Arlington Cemetery Welcome Center. From their they will go see some of the famous tomb housed there like the tomb of President John F Kennedy and hall of fame boxer Joe Louis. From there they can see the tomb of the unknown soldiers, and if they are really lucky they will be able to witness a changing of the guard which is famous worldwide.
They can continue and look at the memorials dedicated to the space shuttle that exploded included shuttle Columbia and Challenger. After that they will have a break for lunch and then the adventure continues by going to the museum. There they will be able too see George Washington sword, and the actual banner that was the inspiration of the Star Spangled Banner.
This combo tour is great for people who want to know more about the United States or who love history period. People who take this tour will remember it for ever, because of all the great things they will see and the knowledge they will gain.
Start at the Arlington National Cemetery, a sobering reminder of the realities of war. It's a beautiful tribute to over 400,000 service members and their families buried there. Learn about the more famous tombs, like those of President John F. Kennedy or of military genius General William Sheridan. We'll even explore a few surprising graves, like that of famed boxer Joe Louis. The cemetery is even home to memorials commemorating the disasters of space shuttles Columbia and Challenger.
Along with a few carefully selected residents like Audie Murphy, your engaging guide will take you to the Tomb of the Unknowns, you may even witness a Changing of the Guard ceremony. Walk these hallowed grounds to learn how the home of Robert E. Lee, whose Arlington House we'll visit, became one of the country's largest national cemeteries.
After a break for lunch, follow your guide to the National Museum of American History. From a ragtag group of colonists to one of the world's super powers, the United States has made quite a name for itself. The National Museum of American History traces this path through a unique collection of objects including the actual banner that inspired the country's national anthem. Learn about the first president, George Washington, while viewing his sword and discover how Hollywood has helped shape this country when you check out Dorothy's ruby red slippers. Visit the extensive collection of first ladies' gowns to the Greensboro lunch counter that embodies the Civil Rights Movement. This tour will help you to understand the exciting and oftentimes controversial history behind this vast country.
Highlights of this tour combination generally include:

· Tomb of the Unknowns
· Gravesite of John F. Kennedy
· Arlington House, home of Robert E. Lee
· George Washington's Sword
· The Star Spangled Banner
· First Ladies' Gowns
· Dorothy's Ruby Red Slippers


Pickup & Return:
Meeting Point: by the gates of the Arlington Cemetery Welcome Center
Departure Times: 10am

Includes:
Small-group tour
Transport by private vehicle, from Arlington National Cemetery to National Museum of American History
Walking tour
Lunch Break between tour

Does not include:
Gratuities (optional)
Hotel pickup and drop-off
Food and drinks, unless specified

Additional Information:
Confirmation will be received at time of booking
A maximum of 8 people per tour allowed
A moderate amount of walking is involved
Minimum numbers apply. This tour will not run without a minimum of 2 guests to meet requirements. In the event of this occurring, you will be offered an alternative or full refund.

Notes: American History Museum and other attractions or museums in London may be subjected to occasional closures without previous warning from the museum management. When this occurs, we will provide guests with an appropriate alternative if the museum opening time is delayed more than 1h from the tour starting time. In these cases we are unable to provide refunds or discounts. Appropriate dress is required for entry into some sites on this tour. No large bags or suitcases are allowed inside the museum, only handbags or small thin bag packs are allowed through security. Due to increased security measures at many attractions some lines may form on tours with 'Skip the Line' or 'No Wait' access. Some specific rooms inside the museum are subjected to a very quiet or restricted right to speak inside, in this cases your guide will provide the information about this places before entering the specific rooms where this rule applies. Some collections may vary along the year.
Small-Group Combo Tour: Arlington National Cemetery and the National Museum of American History: 10am Semi-Private Guided Tour
Semi-Private Walking Tour & Museum Tour; "Semi-Private"Means Group Size Is Never More Than 8 Guests Maximum; Professional Tour Guide; Tour Will Run, Rain Or Shine
Small-Group Combo Tour: Arlington National Cemetery and the National Museum of American History: Upgrade As Private Tour 10am
Private Walking Tour & Museum Tour; Professional Tour Guide Exclusively For You; Duration 5 - 5.5 Hours (Including Lunch Break); Private Transportation Included Between Tour Locations