Self-Guided Washington Scavenger Hunt

Description
Self-Guided Washington Scavenger Hunt Photos (1)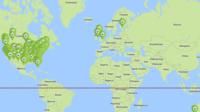 For a great fun way to spend an afternoon with friends and family why not go on a Self-Guided Washington D.C. Scavenger Hunt. Using your mobile device you and your friends will travel around the city learning about its history, its scandals, its mysteries, and a little about yourselves. It's like a pop trivia quiz and sightseeing tour all in one. The best part is that you set the pace and can, therefore, enjoy more time at each location than you would with a regular tour.
Meet at 1100 Pennsylvania Avenue NW to get started. You will receive instructions as to how to check in, access the hunt materials on your mobile device and begin your hunt. You may begin your scavenger hunt at any time during your scheduled day. You must participate on the that you have scheduled, however. Once you are underway its time to make your way through the city, and explore the history of the nation's capital. You will get to see the old city and how it has changed over the decades to be the bustling metropolis that it is today.
It's a race against not only the clock but other teams who are hunting that day. At each location, you will have the chance to answer trivia questions or upload a photo of an artifact. Solve each clue and move on quickly to the next location. This is more than just a scavenger hunt, it's a race to the finish and may the best team win!
PLEASE NOTE THAT THIS IS A SELF PACED SELF GUIDED TOUR. YOU WILL NOT HAVE ACCESS TO A TOUR GUIDE DURING THIS ACTIVITY. There is a moderate amount of walking involved on this tour so please wear comfortable shoes. Price does not include transportation between destinations. You must have access to a smartphone or a mobile broadband-enabled tablet to participate in this activity. All taxes and fees are included. Food and beverages are not included in the price.
This adventure will take you through the heart of the city and let you see how it has changed over time, while also having fun. This hunt has been evolving over time to be as entertaining as possible, while showing you as much as possible.

Your goal is to race against the clock to finish the hunt as quickly as possible. You will be given a series of clues. Each clue will help you find the next clue. In essence, instead of a scavenger hunt, this is a scavenger race and quest.

When you are ready to start your hunt, purchase your tickets, gather your hunting party, and head to the starting location.

Participants are not required to reserve a set time in order to begin the scavenger hunt.

Pickup & Return:
1100 Pennsylvania Avenue Northwest, Washington, D.C., DC 20004, United States.

Includes:
All activities
Local taxes
Walking tour

Does not include:
Transportation to/from attractions

Additional Information:
Confirmation will be received at time of booking
A moderate amount of walking is involved