On Location Tours Featuring Washington DC TV and Movie Sites
Description
On Location Tours Featuring Washington DC TV and Movie Sites Photos (3)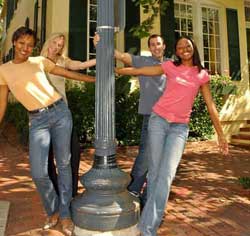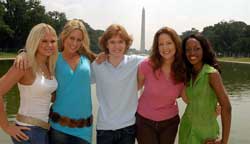 With an On Location Tour you'll experience more than 30 locations featured in some of your favorite Hollywood movies including True Lies, The Exorcist, Forrest Gump and Wedding Crashers in 3 fun-filled hours as you either drive by or take a break to get out of the bus and explore. You'll take to the streets of DC aboard a luxury coach bus with an actual area actor/actresses as a guide to help distinguish the many important aspects of each site. Along the way, you'll also get the chance to experience clips from the various movies and television shows that are featured along the tour.
Enjoy the chance to get out and shop in the mall featured in True Lies and No Way Out. Stand on the front steps of the house used in The Excorcist and feel the chill in the air. Take some time out in the bar used in St. Elmo's Fire and soak in the atmosphere. Even take a journey through the park featured in The Sentinel! All in all, you will have a thorough view of our nation's capital and the movie history buried therein.
Tour Highlights Include Sets From
No Way Out
True Lies
The Exorcist
St. Elmo's Fire
The Sentinel
Wedding Crashers
Thank You For Smoking
Election
X Files
Independence Day
Forrest Gump
The Godfather II
All the Presidents Men
Being There
Mission Impossible III
West Wing
24
The Visiting
and more!
Details
Price includes guided tour aboard luxury coach bus.
Tour is appropriate for all ages.
Tour is handicap accessible.
Tour is approximately three hours.
48 hour advance purchase is necessary.
Cameras are greatly encouraged.