Old Town Alexandria Night Photography Tour from Washington D.C.

Description
Old Town Alexandria Night Photography Tour from Washington D.C. Photos (1)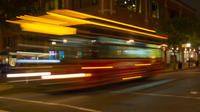 Old Town Alexandria is one of the most beautiful and picturesque communities in the greater Washington area, and arguably the country. Dating back to the earliest days of the nation, Old Town Alexandria is filled with colonial style homes, gaslight lit streets, cobblestone alleys and tree-lined avenues. Historically significant to the revolutionary war, the war of 1812 and the civil war, the town is a treasure trove of sights for tourists, especially history buffs and a photographers dream in all conditions. With the Old Town Alexandria Night Photography tour from Washington D.C., you can not only explore this quaint community but also experience a fabulous workshop on how much fun the challenge of night photography can be.
You will start your tour at the Alexandria Visitor Center where you will meet your guide, a knowledgeable local of the area who is also an experienced photographer. Your guide will share with you tales of Old Town Alexandria when it was a promote fishing and shipping harbor in the 1700s. The town would receive boats from South America, Asia, and Europe in those days, making it a primary transportation hub for the new world. Original colonial mansions, once home to the shipping magnets make excellent photo opportunities. You will walk cobblestones streets, and speak under gaslight lamps. Some of the locations that you will have the chance to shoot at are King Street, the Torpedo Factory, and Carlyle House. You will learn from your guide how to use the semi-automatic mode on your camera (DLSR and CSC cameras), and how it can make for a much simpler approach to basic night photography. You will learn how to maximize water reflections at night from stunning dramatic effects, create blue, capture light trails, and the ever powerful technique of "painting with light".
Please note that this tour takes place entirely outside, so dress accordingly for the weather. This photo tour takes place in almost all weather conditions (part of the fun is getting shots during different conditions), so be prepared for whatever mother nature is offering up that evening. This tour has different start times according to the season, please verify the start time for your tour at booking. Be sure to wear comfortable shoes as you will be walking between each location. At each stop, you will have about 15 minutes for shooting photos. During the photo time, you will also hear about the significance of the location and possibly meet important people associated with it today. The tour will end at the Old Town Alexandria waterfront on King Street where it intersects with Lee Street. Since your ending point is close to many shops and restaurants, and the evening will still be young, why not stop in for a drink, or grab a bite of classic American cuisine while discussing the places that you have just seen and the pictures that you have just taken.
IMPORTANT NOTE: A DSLR OR CSC CAMERA IS HIGHLY RECOMMENDED FOR THIS TOUR. WHILE YOU MAY USE A SMARTPHONE PLEASE MAKE SURE THAT YOU HAVE DOWNLOADED AND UNLOCKED AN APPROPRIATE DLSR CAMERA EMULATOR APP FOR YOUR PHONE BEFORE ARRIVING. THE RECOMMENDED APPS ARE CAMERA+ (FOR iPhone) OR FV-5 CAMERA (FOR Android).
This is a walking tour so please wear comfortable shoes. This is an outdoor tour, please dress accordingly for seasonal weather. This tour operates in most weather conditions but should a delay or cancellation occurs due to extreme weather you will be given the choice of an alternate date/time or a full refund. If extreme weather is in the forecast please check with the tour operator before arriving at the starting point. Price includes all taxes and fees. Price does not include equipment. Price does not include gratuity for the tour host which is highly recommended. Any food and beverages that you choose to enjoy at the end of the tour are not included in the tour price, however, some establishments may offer a discount by showing your receipt when you visit after the tour.
Transportation to and from the start point is not included. Adult pricing is applied to all participants. Please, no children under the age of 12. All children must be accompanied by an adult.

With cobblestone alleys and gaslight homes, Old Town Alexandria is a photography dream. It was a wealthy, international port city during the Colonial America era and a cross-road for spies, soldiers, and slaves seeking freedom during the Civil War. It is also the site of a controversial surrender during the War of 1812. Occupied during two wars and thus spared destruction, it is amazingly preserved to this day. Come discover the town and how much fun night photography can be.

You will meet your local guide at the Alexandria Visitor Center at 221 King Street, where you'll discuss your photography experience and be provided with a tripod if requested. From there, you will leave on a half-mile route, remaining near the waterfront. The tour starts and stops near many restaurants, perfect for extending your evening.

Your guide will teach you how to smartly use the semi-automatic modes that exist on any DSLR or CSC camera and help you discover a simpler approach to night photography. During this tour you will learn how to maximize water reflections at night, experiment with creative blur, capture light trails and learn how to paint with light. You can use a Smartphone, but you will need to download a recommended App to use it as a camera on this tour (Camera + for iPhone or FV-5 Camera for Android).

On your tour you will hear highlights of Old Towns history as a prominent city in the 1700s when boats from Asia, South America and Europe would have been docked in town. Old Town played a key role during the American war of independence from the British. See the location where the first steps were taken to put Britain and its American colonies on a path towards war. Although much of the waterfront has changed since the 1700s, you will walk original cobblestone alleys and see many of the original mansions and warehouses that date from the colonial era.

Some of the sights you will see include Carlyle House, King Street, and the Torpedo Factory. You will remain outside during the tour and be at each location for approximately 15 minutes taking photos. You'll be walking to each location and comfortable shoes are recommended.

The tour starts a different times based on the season, please check the options for your time of year.

Pickup & Return:
Alexandria Visitor Center.
The tour ends at the Old Town Alexandria waterfront (intersection of King St and Lee St), close to many restaurants and shops.
Departure Times: 8:30pm from March through August
7:30pm from September through early November
5:30pm from late November through December

Includes:
All taxes, fees and handling charges
Professional photographer guide

Does not include:
Transportation to/from attractions

Additional Information:
Confirmation will be received at time of booking
Adult pricing applies to all travelers
Children must be accompanied by an adult
A moderate amount of walking is involved
Book Now!