National Gallery of Art: Bad Girls Tour

Description
National Gallery of Art: Bad Girls Tour Photos (1)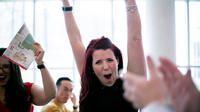 The National Gallery of Art: Bad Girls Tour is something that other should see. There are a lot of other things that can make sure that you get interested in things that may change your views on life. You have to make sure that you are doing these things the right way so that you get the right experience.
You get to see all the different things that women have to offer. So much is made up in the world of art. There are a lot of stories that can point to how a piece of art was made. But people want something that is interesting and that is what they get.
It is something that will constantly keep you engaged and you won't forget about this art was formed. You get to hear all of the things that you are going to feel for yourself. You get all of the experiences that were originally intended for yourself.
You get to learn about the struggles that these women had to endure and find ways to relate to. There is much that you get to find for yourself. You get to how different things were made for you enjoyment and entertainment.
There is a lot that has to made for the greater good of your experiences. You get to see the things that you like. If you're not a woman, you're going to learn more about the struggles that women have to go through. You are going be able to feel the things that they have gone through in doing the things that they like. There is so much that you are going make for yourself.
On this 2 hour tour, you may expect to:
Fall in love with some amazing women you've never heard of
Take actual steps to dismantle the patriarchy
Compete to find the baddest girl in the National Gallery of Art
Leave inspired to change the world
Please note: Admission to the National Gallery of Art and to all its exhibitions, tours and other public programs is free of charge. Any charge or request for contributions is unrelated to the National Gallery of Art. Tour provider is not affiliated with or endorsed by the National Gallery of Art.

Pickup & Return:
East Building of the National Gallery of Art.
National Gallery of Art.
Departure Times: 2:30pm

Includes:

Does not include:
Food and drinks, unless specified
Gratuities (suggested)
Transportation to/from attractions

Additional Information:
Confirmation will be received at time of booking
Minimum age is 18 years
Dress Code: Casual
Book Now!