Museum of American History Through Music Small Group Tour

Description
Museum of American History Through Music Small Group Tour Photos (1)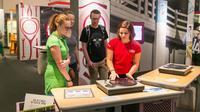 The Museum of American History Through Music Small Group Tour is one that you can see for yourself. The development has been so major that people decided to take a look at. The great thing is that people who want to look at other things can do so through another lens.
There is something about this place that you need to look at for your research. There is a lot that a person can contribute to their findings of different Americans and cultures. There are many countries that wish to get things for themselves. So much that goes into deciding.
There are a lot of different factors that you get to see for yourself. So much that goes into deciding the different factors that other people see. There's a lot that you are going to see that you may not agree with. You need to remember that these are events of the past.
The great thing about these museums is that you get to see everything that there is to offer in this world of history. You get to see the good and the bad parts of the culture. So much of the experience that you don't know about or will never get to see.
There is a lot that you have to take care of in order to look at the other people who will need to look at the other factors that you need to take care of. There is a lot that you must need or look at when it comes to the other people that you are going to see. There is a lot that going one when it comes to this process.
The United States is a country of rich culture and history, and there are few better ways to learn about it than the Smithsonian Museum of American History. But as amazing as this museum is, we know that everything is more fun when you add a little rhythm, so that's what this tour is all about! Our guides will walk you through the museum's exhibits and the many musical artifacts it holds, discussing music's relevance to the incredible historical events and phenomena that inspired some of the best-known melodies in America today.
Your DC tour begins at one of the museum's highlights, the Star-Spangled Banner exhibit. Here, you'll discover the origins of the national anthem, the war that started it all, and you'll even hear a few different versions of the song. You'll also have the chance to see the original flag — Old Glory in all her glory.
Next, you and your guide will boogie over to the African-American history and culture gallery exhibit and the museum's 'Many Voices, One Nation' exhibit where you'll see the vibrant, bedazzled, and downright wild outfits worn by dance legends and Broadway stars as well as the musical instruments that produced some of the world's most famous jazz, soul, salsa and R&B tunes. You'll explore the importance of music and the hidden (and sometimes not so well hidden) messages in songs that were used in political movements and times of struggle, and you may discover that you've been accidentally transmitting a code every time you whistle your favorite tune!
Finally, you'll end your tour between the '90s and the present-day, where you'll discover how past rhythms and beats made their way into nightclubs and bars with the invention of electronic music equipment. As a bonus, we'll give you a chance to make a beat of your own — who knows, you could be America's next top DJ!


Pickup & Return:
1300 Constitution Avenue NW, Washington, DC 20560.
1300 Constitution Avenue NW, Washington, DC 20560.
Departure Times: 1pm

Includes:
Local English-speaking guide.

Does not include:
Food and drinks
Souvenirs and personal shopping
Tips/gratuities for your guide

Additional Information:
Confirmation will be received at time of booking
Please wear comfortable shoes for walking.
This is a child-friendly tour. Children between the ages of 6 and 11 inclusively are permitted on this tour at the child rate. Children under the age of 6 are permitted to join this tour free of charge. Please note any children under 6 in special request box at the time of booking.
A maximum of 12 people per tour
Book Now!