Monuments of Dc Segway Tour

Description
Monuments of Dc Segway Tour Photos (1)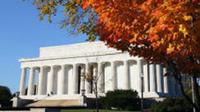 There's a lot that goes into appreciating the things that you desire a lot in your time in a certain path. There is a long way to go when it comes to the different situations that are going to come as a result of these things that you enjoy so much.
There is nothing wrong with finding joy in the things that you like. Washington Dc is seen as the center of the country. It's not a super big city, there are a lot of different things that go into making sure that what you enjoy are things that represent the city.
The great thing about the city is that you are getting some neat experiences out of this. There is so much that you need to think about that everyone likes. There needs to be a lot of different experiences that are offered. People are going to see the positives that can come out of this place.
So much can erupt from this different place. You can learn a lot about yourself in this process. There is often a different things that people can become that you wouldn't believe. That is something that you have to think about when it comes to these experiences. There's a lot that you can find in these different segways.
It is a newer and more interesting way of traveling. Thankfully, you get to stand at a height at where you can appreciate things. This makes it so that you are able to enjoy the things that are offered to you. So much is in the different things that you'll be able to appreciate. So much is overwhelming.
Find us at the Ronald Reagan Building on Pennsylvana Avenue. After a quick training session to make sure you are comfortable and safe during the ride, begin your tour of the National Mall in Washington, DC.
Ride around the National Mall to see the monuments and landmarks starting with the Washington Monument. Then travel past the Holocaust Museum and the Engraving Bureau. View the Jefferson Memorial and then stop briefly at the FDR Memorial to walk through, or visit the Martin Luther King Jr memorial. As you cruise by the scenic tidal basin of the Potomac River you arrive at the Reflecting Pool and Lincoln Memorial. Stop to visit the Vietnam Memorial and Korean Memorial, then continue on to the World War II Memorial.
End your tour with a glide down Constitution Avenue for an exciting and comprehensive segway tour of the capital's monuments.


Pickup & Return:
Ronald Reagan Building
Departure Times: 2:30pm

Includes:
Professional guide
Use of helmet

Does not include:

Additional Information:
Confirmation will be received at time of booking
Minimum age is 16 years
Maximum weight is 260lbs
Not recommended for pregnant women