International Spy Museum

Description
International Spy Museum Photos (1)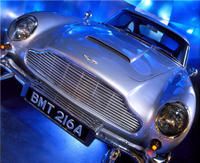 After entering the International Spy Museum, guests are given a secret identity. They will then explore the building to try to solve crimes and puzzles while also looking at various spy artifacts that are used by the government to solve crimes. There are a few presentations offered by the museum at different times during the day.
Guests can explore rooms with different themes and take part in various activities about spies and solving puzzles. Some of the puzzles available have a time limit while others aren't highly detailed and can be solved in a short time. Guests can listen to stories about past spies and the actions that they participated in on their missions. There is a school for spies gallery where guests can view how technology has changed over the past 50 years. Guests can also learn about people who have acted as spies, such as Julia Child. There is an exciting exhibit about James Bond and his villains. Some of the features in this exhibit are interactive. A maze of outside and inside exhibits keeps guests on their toes as they try to solve riddles within a certain amount of time.
This is a museum that is full of mystery and surprises at every turn. Guests will be able to solve mini-crimes and puzzles while learning about spy technology and what it takes to be a spy. Since there is a good bit of walking, comfortable shoes are recommended.
When you arrive at DC's International Spy Museum, adopt a cover identity and test out your spy skills as you browse artifacts, spy gadgets and mystery-revealing photos; plus, visual and audio presentations will teach you how to keep a cover!

Browse themed rooms, enjoy interactive activities and hear real stories about past spy missions. In the School For Spies™ gallery, trace more than 50 years of spy technology developed by agencies from the OSS to the KGB, some of which is still in use today.

Travel back through the centuries and uncover tales of famous men and women who unexpectedly doubled as undercover agents, such as Josephine Baker and Julia Child!

Immerse yourself in the museum's latest addition, 'Exquisitely Evil: 50 Years of Bond Villains,' commemorating 50 years of James Bond films. On display, see exclusive vehicles, props and costumes on loan from the original production company, many of which are on public display for the first time!
Wind through the maze of interactive exhibits such as 'Spy vs. Spy,' where outside visitors can lay traps to thwart the 'spies' within. Decode the riddles, test your bravery in a shark tank, or hold on for dear life at the 'Hangtime' display. You'll also hear recounts of real spies that have had their share of real-life 'Bond moments'!
It's not all about Bond, though -- you can also learn about the hero's enemies. Get an in-depth historical context of Bond's adversaries and learn how they have changed over the years to reflect the times. Watch classic film clips, listen to interviews, and browse psychological profiles of the villains for a look at the famous series from a different angle.

Pickup & Return:
Gallery Place/ Chinatown.
Departure Times: Hours: 10:00-6:00. Open daily except Thanksgiving and Christmas Day. Hours are seasonal and do vary throughout the year.
Note: Last ticketed entry one hour prior to closing.

Includes:
Admission ticket to Washington DC's International Spy Museum

Does not include:

Additional Information:
Confirmation will be received at time of booking
Please note: photography/videography, food, drink, chewing gum, smoking, use of mobile telephones and strollers are not permitted
Book Now!