Impressionism Art Tour

Description
Impressionism Art Tour Photos (1)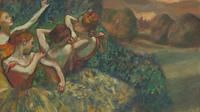 Art is something that can be hard to explain depending on who you're talking to. Some people think art is just a bunch of drawings, but it's much more than that. There are martial arts, as well as music and video games that you can experience. A bunch of detailed drawings could never define such a broad term.
There are a lot of things that you may have learned about impressionism when you grew up. You have probably seen the famous painting of Claude Monet that he painted. If you like things like that, you are definitely going to enjoy this experience.
So many things go into this kind of art. It's almost like a swirl that you have to keep on following. It's something that will make you better as a drawer if you want to take a crack at it. So many different things that make this style different from ones that may rely on shadows.
Even if you've never remembered the names of these paintings, there's no way that you've never seen them. There are different feelings that you got when you made the decision to look at it. That's the proof of the passion that's behind this kind of style.
There are many things that can separate this from another piece like one that uses shadows. There are also some other things that can go into making your tour special. The colors are something that give off the feelings that you feel. You can know the time of the day, or you imply different feelings such as love or guilt.
Group meets at the National Gallery of Art 6th Street Entrance Ground Level. Your tour guide Meghan will meet all attendees 15 minutes before the tour begins. Group will walk to the Impressionism Art Gallery. First, the beginnings of the Impressionism movement will be explored. As the history unfolds she will touch on the reasoning behind the political factors that pushed artist into rebelling against the establishment. She will also talk about the technology advances that made it possible to go farther outdoors to find your subject. She will touch on the mind set of the different artists that were pivotal into establishing this movement of art as the beginnings of the Modern Art Movement.

Pickup & Return:
National Gallery of Art.
Departure Times: 2:00 pm
You can present either a paper or an electronic ticket for this activity.

Includes:
Local guide
Professional guide
Professional art historian guide

Does not include:

Additional Information:
Confirmation will be received at time of booking
Wheelchair accessible
A moderate amount of walking is involved
Book Now!