Half-Day Grand Tour of Washington Dc

Description
Half-Day Grand Tour of Washington Dc Photos (1)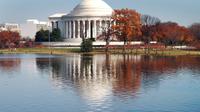 Spend 4 hours on one of the best, most educational sightseeing tours in the Washington, D.C. area with Half-Day Grand Tour of Washington Dc.
Your tour starts when you meet your professional tour guide in front of the Hyatt Regency Washington on Capitol Hill. Your tour will take you through numerous popular locations where you'll have the opportunity to learn the history of each attraction as well as wonderful photo opportunities at locations like the White House, Franklin D. Roosevelt Memorial, Marine Corps War Memorial, Thomas Jefferson Memorial, Martin Luther King Jr. Memorial, the Lincoln Memorial plus many more. While you travel from location to location you'll pass even more important landmarks along the way bringing your total sites to view at over 100. Your tour guide will go into depth and detail at each location telling you its history, its creation, what part it played in the history of the nation as well as the people who played important roles in constructing it.
Reservations are required for this event. Hotel pick up and drop off are not included in the tour, it begins at the Hyatt Regency Washington on Capitol Hill and will end there as well. Guests of the tour are responsible for their own food and beverages on the trip. Photo opportunities will be allowed at the biggest and most popular locations while others will be viewed from the vehicle as you travel past and get a full history from your guide.
If you are looking for a way to see all the important locations found in Washington, D.C, Half-Day Grand Tour of Washington D.C. is the trip for you. Guests of all ages will enjoy learning the history of nation that began in this pivotal capital of the nation.
This educational sightseeing tour promises to pack a lot into a short amount of time — a 4-hour tour that provides an introduction to the many monuments, memorials, and popular points of interest in Washington, DC.

Begin by meeting the guide and the rest of the tour group at the Hyatt Regency Washington on Capitol Hill. The tour will drive by a wide variety of locations, with stops for photos at the White House (outside the south front for pictures), the Thomas Jefferson Memorial, the Franklin D. Roosevelt Memorial, the Martin Luther King Jr. Memorial, the Marine Corps War Memorial, and the Lincoln Memorial — which also includes visits to the Korean War Veterans Memorial, the Vietnam Veterans Memorial, and the Vietnam Women's Memorial.

Drive by over a hundred sites and memorials along the way — like the US Capitol building, the Washington Monument, and the Smithsonian Museums — learning about the history of each as they unfolded over time. Instead of simply showing the sites and announcing what each one is, the tour operator will describe the events that led up to the creation as well as the people who played key parts in the planning of construction and implementation.

Pickup & Return:
Hyatt Regency Hotel.
Departure Times: 10:30am

List of attractions viewed on tour:
Union station
U.S. Capitol
Senate Office Building
Holocaust Museum
Washington Monument
Tidal Basin
Cherry Blossoms Trees
Patrick Henry Memorial
Watergate
Arlington National Cemetery
Georgetown
Old Executive Office Building
Blair House
White House
Treasury Department
Ellipse
National Christmas Tree
Zero Mile Stone
General Sherman Memorial
Freedom Plaza
General Pershing Memorial
Federal Triangle
General Pulaski Memorial
Ford's Theater
Department of Commerce
National Archives
Old Post Office, The Pavilion
Navy Memorial
Evening Star Building
FBI
Trade Commission
U.S. Federal Court
Senators Offices
Reserve Officers Association
Supreme Court
Methodist Building
Library of Congress
Representatives Offices
U.S. Botanic Garden
Garfield Memorial
U.S. Grant Memorial
U.S. Capitol Reflecting Pool
Federal Mall
Smithsonian Museums
Air and Space Museum
Natural History & American History Museums
State Department
Albert Einstein Memorial
Bureau of Engraving and Printing
Kennedy Center for Performing Arts
Department of Interior
Federal Reserve
Organization of American States
Daughters of American Revolution Organization
Headquarter of American Red Cross

Step off and visit:
White House (outside south front for pictures)
Jefferson Memorial
Franklin Roosevelt Memorial
Martin Luther King Memorial
Lincoln Memorial (The same stop includes visiting Korean War Memorial, Vietnam Memorial and the Nurses Memorial)
Iwo Jima Memorial

You can present either a paper or an electronic ticket for this activity.

Includes:
Small-group tour
Professional guide

Does not include:
Hotel pickup and drop-off
Food and drinks

Additional Information:
Confirmation will be received at time of booking
Book Now!