Washington DC Restaurants

Plan your vacation dining experiences in Washington, DC by ordering meal cards for popular restaurants in the nation's capital. For great food, music, & memorabilia, visit the Hard Rock Cafe in Washington, DC or the Hard Rock Cafe in nearby Baltimore, Maryland.
Greater Washington DC Area Restaurants
Restaurants in Washington DC aren't just about good food, they can offer a unique experience as well. The Hard Rock Cafe in DC is a great example of this, offering fantastic food in a music-themed environment. Whether you're a music lover or just want a fun night out, this restaurant has something for everyone with its collection of music memorabilia, live music performances, and classic American cuisine. Don't forget to try the legendary burgers and cocktails.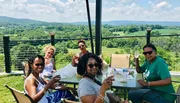 Restaurants abound in Washington DC, and what better way to explore this culinary landscape than during a guided food tour! With the Washington DC Original Brew Tour, you can sample innovative cuisine and sip on local craft beers whilst experiencing the historic neighborhoods of Georgetown and Dupont Circle. As you wander through the bustling streets, you'll hear fascinating backstories and discover hidden gems such as a speakeasy and a New Orleans-inspired restaurant.
Dec 10
N/A
Dec 11
N/A
Dec 12
N/A
Dec 13
N/A
Dec 14
N/A
Dec 15
N/A
Dec 17
N/A
Dec 18
N/A
Dec 19
N/A
Dec 20
N/A
Dec 21
N/A
Dec 22
N/A
Dec 24
N/A
Dec 25
N/A
Dec 26
N/A
Dec 27
N/A
Dec 28
N/A
>