Washington DC Sightseeing Tours & Cruises – Moonlight Tours
If you think you've seen the sights of Washington, DC you're in for a treat! These tours guide you through the sights, but they aren't you average tour. These moonlight tours take place once the sun has gone down and this majestic city is bathed in moonlight. It's DC like you've never seen it before. Browse the selection of tours and reserve your favorites today! Happy Travels!
Greater Washington DC Area Moonlight Tours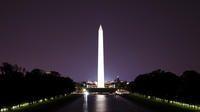 I'm ecstatic to see what Dc looks like after dark it's something the whole family can enjoy they seem to have a lot of famous sites like the Lincoln Memorial the Korean War Memorial and the open-top double-decker bus.
Available 113 days between Jul 24, 2018 & Dec 29, 2018
View Schedule
Cruise around our Nations Capitol in the evening with a small tour group that allows you to pedal around the town on a bicycle. Learn all about the most historical locations throughout the city as the sun sets on Washington D.C.
Available 118 days between Jul 23, 2018 & Nov 17, 2018
View Schedule
View the monuments and memorials in DC by the light of the moon while riding an electric cart, listening as the guide gives details about each attraction before ending at the Smithsonian.
Available 153 days between Jul 27, 2018 & Dec 30, 2018
View Schedule
Tourists want to see Washington D.C. in an all new light. Think about the moonlit motor coach tour of the National Mall. That is a special occasion and would be perfect for a romantic night out with a couple. The Moonlit motor coach tour of the National Mall will be explained by a guide. A knowledgeable guide can explain some of the sights people see along the way. Take photos and enjoy the splendor of the National Mall itself. Guests are often amazed by the scope and scale of the National Mall people will see.
Schedule the ride well in advance to keep details in to consideration. The tours can be arranged over the phone for the new guest. The help desk is waiting to lend their advice for any kind of reason. They understand the needs of people who want to take a tour of the National Mall. A good sense of direction and understanding of history are a must on the tour. Learn from the example of the guide that leads the way. That will be a fun activity that everyone wants to enjoy over time.
Hotel accommodations will make the experience something special for everyone. There are plenty of great hotels in the National Mall area too. Guests should book their stay in advance and plan to stay for several nights. That is a popular experience and people are waiting to see the city for themselves. Be wary of coming when Congress is in session or during major protests. There are peak travel seasons and tourists can do their own research. Get answers for pressing questions at the next opportunity as well.
Available 160 days between Jul 23, 2018 & Dec 31, 2018
View Schedule
The DC take on a whole new life after dark, and on this moonlight tour see the monuments and memorials glowing in the light as well as Potamic River, cherry trees, and other points of interest.
Available 162 days between Jul 23, 2018 & Dec 31, 2018
View Schedule
The #1 Moonlight Tour in Washington, D.C., is The Washington, D.C., After Dark Tour, this family friendly and fully narrated tour allows you to enjoy outstanding aerial views, see illuminated sight at night and take a step back into history.
Available 313 days between Jul 23, 2018 & May 31, 2019
View Schedule
Small-Group Dc Evening Historical Walking Tour is a one of a kind moonlight tour of the amazing collection of outdoor monuments located in Washington, DC that is conducted by a knowledgeable tour guide who will give all the background and history of each location.
Available 312 days between Jul 23, 2018 & May 31, 2019
View Schedule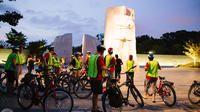 The night bike tour of Washington D.C. let's you see sites in a different light. You will travel by Jefferson Memorial, Lincoln Memorial, and the Vietnam Memorial during the sunset hours. It includes a guide, bike, and helmet. This tour is three hours long.
Available 162 days between Jul 23, 2018 & Apr 30, 2019
View Schedule