Washington DC Moonlight Tours
Greater Washington DC Area Moonlight Tours
Your night time adventure awaits at the Twilight Tour in Washington DC. This 3-hour tour will amaze you and your friends as you see historical monuments and buildings under a beautiful moonlight. The monuments can be seen with spotlights, even the Captial Building has a greenish glow, you'll have comfortable seats on a charter bus that will pick you up and drop you off at Union Station. Your whole group will able to stop and explore stops like stops the Jefferson Memorial, Martin Luther King, Jr. Memorial, Lincoln Memorial, Vietnam Veterans Memorial, Korean War Veterans Memorial, Iwo Jima Memorial, and The White House and your moonlight tour bus will pass by sights like U.S. Capitol, The Kennedy Center, and Washington Monument.
Available 229 days between Now & Dec 26
Jan 19
N/A
Sold Out
Jan 20
N/A
Sold Out
Jan 21
N/A
Sold Out
Jan 22
N/A
Sold Out
Jan 23
N/A
Sold Out
Jan 26
N/A
Sold Out
Jan 27
N/A
Sold Out
Jan 28
N/A
Sold Out
Jan 29
N/A
Sold Out
Jan 30
N/A
Sold Out
Feb 02
N/A
Sold Out
Feb 03
N/A
Sold Out
Feb 04
N/A
Sold Out
Feb 05
N/A
Sold Out
Feb 06
N/A
Sold Out
>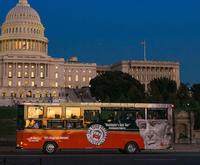 Take a stunning trip around Washington D.C. on a moonlight tour when you book your Monuments by Moonlight Trolley Tour. Find out why the nation's capital is one of the most visited cities in the world. The trolley tour will take you to the city's famous landmarks while they are lit up at night. This narrated tour gives you a unique view at night of Washington D.C. Watch how the landmarks glow in an array of stunning colors once the sun goes down. You will enjoy a 2.5-hour tour that takes you to world-famous landmarks such as the Lincoln Memorial, the Vietnam Veteran's Memorial and the Franklin Delano Roosevelt Memorial. You also get to drive by the U.S. Capitol and the White House.
Available 349 days between Now & Dec 31

By Date: