Washington DC City Tours
Washington, DC is the site of many magnificent buildings that have a great historical legacy. These tours are designed to show you the most of Washington, DC for your sightseeing enjoyment! Be sure to choose the best hotel for your vacation and book your city tour today.
Greater Washington DC Area City Tours
Experience the beauty of Washington DC with this incredible city tour. It takes guests to some of the most popular places in the city, allowing them to learn all about the history of the US.
The tourists will love the city tours that are based in the Washington, DC area with a accompanied tour guide that will show you the way through town, and you will be able to see how beautiful the monuments are in that area, and they have been kept up for generations.
The Arlington Cemetery Plus Dc Monuments Tour is a great historical and city tour, you will get to visit many of Washington's famous places including the Korean Memorial, the Vietnam Memorial, the Pentagon City Mall, the Iwo Jima Memorial and more.
This four-hour fully-guided van tour takes you to some of the most iconic places in Washington D.C and provides a family-friendly look at the best known monuments and museums of America's capital city.
Sep 28
N/A
Oct 05
N/A
Oct 12
N/A
>
This activity is set up for those who love to go sightseeing in the DC area and witness historical documents and monuments about the United States of America , and in fact, if you would love to hear more about older presidents, you could stop by the Abraham Lincoln monument to learn more about his life and legacy. This city tour is a great addition to your adventures.
On the Capitol Hill Guided Small-Group Walking Tour you will have the chance to explore the city of DC, you will get to visit the U.S. Capitol Building, The U.S. Supreme Court, the Library of Congress and the Folger Shakespeare Museum and Theater.
Sep 24
N/A
Sep 25
N/A
Oct 01
N/A
Oct 02
N/A
Oct 08
N/A
Oct 09
N/A
>
If you are a fan of city tours, you are sure to love visiting the White House, US Capitol building and Martin Luther King Jr. Memorial during a bus tour, and this before lunch, shopping and the Potomac River Cruise.
The Columbia Heights and Adams Morgan Walking Tour is a great city tour that teaches you about so many of Washington's sights, some of the famous sights you will learn about includes the Envoy, the Dorchester House and the Pink Palace.
Oct 09
N/A
Oct 10
N/A
Oct 11
N/A
Oct 12
N/A
Oct 13
N/A
Oct 14
N/A
Oct 15
N/A
Oct 16
N/A
Oct 17
N/A
Oct 18
N/A
Oct 19
N/A
Oct 20
N/A
Oct 21
N/A
Oct 23
N/A
Oct 24
N/A
Oct 25
N/A
Oct 26
N/A
Oct 27
N/A
>
Explore Washington D.C in a luxurious glass top convertible for panoramic views for sightseeing, enjoy historic narrative from knowledgeable tour guides at each attraction, observe the White House, National Mall and Harbor, the U.S Marine Corps War Memorial and many more.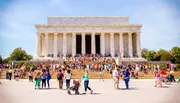 City Tours' Day Tour in the Greater Washington DC Area offers a full day of exploring the nation's capital. Starting at the Smithsonian Institution's National Air and Space Museum, the tour takes visitors to the White House, Lincoln Memorial, and other famous landmarks. Guests also have the opportunity to see the Changing of the Guard at Arlington National Cemetery and visit the National Overseas Korean War Memorial. A knowledgeable guide provides commentary and historical information throughout the trip, making this tour an informative and memorable experience.
Sep 24
N/A
Sep 26
N/A
Oct 01
N/A
Oct 08
N/A
>