Washington DC Adventures – Bike Tours
With options including
Bike the Sites Guided Bike Tour
you can easily explore the Washington DC area in fun an active fashion. Browse through our full list of DC bike tours online and easily begin piecing together your next visit to our nation's capital!

Greater Washington DC Area Bike Tours
See the historical sights of the capital city on a guided bike tour with your friends and family and enjoy a Washington D.C. Monuments Bike Tour where you can learn the history, and see the monuments that showcase America's history.
Available 171 days between Jun 18, 2018 & Dec 9, 2018
View Schedule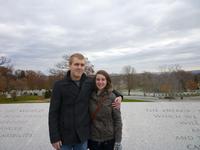 The War Memorials and Arlington National Cemetery Tour will be fully narrated by your friendly, professional tour guide, you will be taken to see many popular landmarks including the John F. Kennedy Center for the Performing Arts and much more.
Available 13 days between Jun 18, 2018 & Jun 30, 2018
View Schedule
The tour of Mount Vernon is a walk-through of George Washington's 500 acres estate including a guide through his three story mansion and other buildings within the property and ends with a tour of Old Town Alexandria, so be sure to have a paper or digital voucher on hand.
Available 197 days between Jun 18, 2018 & Dec 31, 2018
View Schedule
Ride a bike through Washington, gain insight on the city's most historical sites, learn fascinating history with the Capital Site Bike tour, our groups will peddle to the White House, the Supreme Court and more.
Available 168 days between Jun 19, 2018 & Dec 9, 2018
View Schedule
Enjoy seeing all the sights in a short amount of time with this Half-Day Grand Tour of Washington, D.C., where almost every monument, museum, or building of note in the city can be seen on this 4-hour bike tour.
Available 348 days between Jun 18, 2018 & May 31, 2019
View Schedule
The Daytime DC Bike Tour allows you to go through the wonderful city of Washington, DC., and see many of the famous sites and points of interest including the Lincoln memorial, the White House, the Thomas Jefferson memorial and many more.
Available 156 days between Jul 1, 2018 & Dec 31, 2018
View Schedule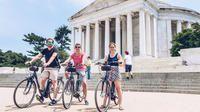 If you are looking to cover a ton of National Sights in Washington DC in less time and with less money, the E-bike is definitely the way to tour the Nations Capital.
Available 119 days between Jul 1, 2018 & Oct 31, 2018
View Schedule
If you want to see the monuments that are famous in the Washington, DC area, and you want to spend time with your family and friends learning, you have to book one of the bike tours that will impress you and make you feel like you should have booked the tour a long time ago.
Available 69 days between Jul 1, 2018 & Oct 31, 2018
View Schedule