DC It All! Tour
701 15th St, NW Washington, DC 20005
1-800-987-9852
Enjoy the best of the city all rolled into one single tour with the DC It All Tour, the only comprehensive guided tour in Washington, DC!
Description
Take in views of the monuments and historic locations as you learn all about the history and trivia that surrounds Washington, DC. Your professional tour guide will also disembark with you, providing you with information about the site, the history of the area, and a unique look at the local history as you explore each area. The guide will show you every important detail of each monument and help you experience everything DC has to offer, and the best part of the tour is the incredible number of sites at which you will stop!
Detailed Tour Itinerary
STOP 1
Tour Stop at
Tour Stop at
U.S. Capitol
Visit the U.S. Capitol located on Capitol Hill, where legislators conduct their daily business. Each year, more than three million visitors from around the world visit the Hill to explore this living museum of American history and see democracy at work.
STOP 2
Tour Stop at
Tour Stop at
Washington Monument
Take in stunning views of the Washington Monument as it pierces the sky. Formed of marble, granite, and bluestone gneiss, the monument was built to commemorate George Washington, commander-in-chief of the early Continental Army and the first American President. This structure is the world's tallest stone structure and the world's tallest obelisk.
STOP 3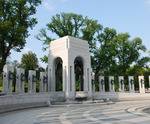 Tour Stop at
Tour Stop at
World War II Memorial
Next, your tour group will head to the World War II Memorial, where you can pay your respects to the 16 million heroic soldiers who served in the armed forces during that Great War, including the 400,000 Americans who lost their lives.
STOP 4
Tour Stop at
Tour Stop at
Jefferson Memorial
Then check out the Jefferson Memorial, dedicated to Thomas Jefferson, an American Founding Father and the third President. This neoclassical building was designed by architect John Russell Pope and built from 1939 to 1943. The bronze statue of Jefferson was added only a few years later.
STOP 5
Tour Stop at
Tour Stop at
Franklin Delano Roosevelt Memorial
On the tour, admire the Franklin Delano Roosevelt Memorial, which honors our 32nd President and the 12 years of American history during his time in office. The outdoor galleries are divided into four sections, each representing one of his terms in office, with a wide variety of sculptures, quotations, waterfalls and pools, quiet alcoves, and many other symbolic works of art.
STOP 6
Tour Stop at
Tour Stop at
Martin Luther King, Jr. Memorial
Located near the Tidal Basin, the Martin Luther King, Jr. Memorial was opened in the fall of 2011 to honor Dr. King. Although he isn't the first African-American honored with a memorial, his is the first near the National Mall and only the fourth non-President to be memorialized in such a way.
STOP 7
Tour Stop at
Tour Stop at
Pentagon City Mall
From November 1 through March 14, your group will visit the Pentagon City Mall for lunch and a quick shopping trip. On the way there, you can enjoy views of the Pentagon and new Air Force Memorial. Please remember that lunch prices are not included in your tour price.
STOP 8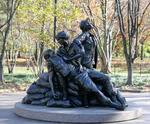 Tour Stop at
Tour Stop at
Vietnam Veterans Memorial
This national memorial honors U.S. service members who fought in the Vietnam War, those who died in service in Vietnam and South East Asia, and those who were unaccounted for during the war. While you're there, make sure to take in all three separate parts, the Three Soldiers statue, Vietnam Women's Memorial, and Vietnam Veterans Memorial Wall, the best known part of the memorial.
STOP 9
Tour Stop at
Tour Stop at
Lincoln Memorial
Built to honor the 16th President, the Lincoln Memorial is in the form of a Greek Doric temple with a large seated sculpture of Abraham Lincoln. While you're admiring the statue, make sure to read the inscriptions of two well-known speeches by Lincoln, The Gettysburg Address and his Second Inaugural Address.
STOP 10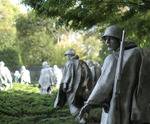 Tour Stop at
Tour Stop at
Korean War Veterans Memorial
Located in West Potomac Park, the Korean War Veterans Memorial was built to commemorate those who served in the Korean War. This memorial serves as a place of reflection for visitors as they walk through the 19 stainless steel statues that form a squad on patrol.
STOP 11
Tour Stop at
Tour Stop at
Iwo Jima Memorial
This memorial, known officially as the U.S. Marine Corps Memorial, honors Marines who have fallen in the line of duty. Take in the different aspects, especially the statue of the flag raising on Iwo Jima, one of the most well-known events from World War II.
STOP 12
Tour Stop at
Tour Stop at
The White House
The last place you'll visit of this tour is the White House, admired for its beautiful gardens and extensive offices. Inside the complex is the Executive Residence, West Wing, East Wing, Eisenhower Executive Office Building, and Blair House, a guest residence. After visiting here, your tour group will return to the starting point, the Old Post Office.
Stops may change due to traffic, weather, maintenance, etc.
During your trip, enjoy sights of US Capitol Building, Washington Memorial, Lincoln Memorial, and the White House.
Outstanding tour and service. We were about an hour late for our tour, one of your buses picked us up and linked us up with our tour crew. Outstanding service.





-- Dennis M. Pipkin Sr - Saint George, KS

What a spectacular tour!! We saw so many memorials and were given enough time to see them. Loved it !!!





-- Marla Wood-Nelson - Canyon, TX

I took the dc it all tour. I was by myself but made friends. The tour guide was amazing and he handled the group very well. An unforgettable experience.





-- Pamela - Colusa Ca

WASHINGTON DC
HOTELS & VACATION PACKAGES
MOST POPULAR THINGS TO DO
IN WASHINGTON WASHINGTON DC
Book Now!