YOUR PEACE OF MIND IS OUR TOP PRIORITY
Should you need to cancel at any time, you have up to 48 hours from your vacation start date to do so for a 100% future travel credit.
Comedy Walks Washington DC

748 Jackson Pl NW Washington, DC 20006
1-800-987-9852
Description
The nation's capital is one of the most prolific and interesting places to visit, so take a walking tour to experience it all. With so much history and many notable landmarks, a tour in the DC area is a must-have adventure. However, it doesn't need to be your run of the mill experience! With these Comedy Walks in Washington DC, guests will be able to see their favorite landmarks while enjoying a side-splitting day of comedy and fun.
On this tour, guests will still be able to get the greatest looks at the most famous DC landmarks - only, you'll experience the tour through the eyes of a hilarious stand-up comedian offering a totally unique experience along the way. The tour lasts approximately 1.5 hours and includes less than a mile of walking. The tour only allows guests who are 16 and older to attend due to the nature of the standup.
Meet your tour guide at Lafayette Park right in front of the famous Decatur House. After meeting, your adventure truly begins. Stroll the capitol and see places such as:
The White House

: Probably the most notable landmark in the capitol, the White House houses the current President of the United States and is a symbol of the country.

DAR Constitution Hall

: The Daughters of the American Revolution Hall is a gorgeous concert hall nearby the White House. It was built in 1929, making it a truly remarkable historical landmark.

Washington Monument

: This towering monument was built, of course, to honor the very first president of the United States, George Washington. The huge obelisk is located on the National Mall and was designed in 1966.

WWII Memorial

: This harrowing memorial was opened in 2004 and dedicated to honor the WWII veterans and those who served. Situated between the Washington and Lincoln memorials, this memorial is comprised of a gorgeous fountain in a square, surrounded by pillars. It is a National Memorial.

Martin Luther King Memorial

: Located next to Potomac Park and the National Mall, the Martin Luther King Jr memorial was erected to honor civil rights movement leader MLK. The monument features the Stone of Hope, a statue depicting King that was inspired by a line from his famous 'I Have a Dream' speech.

Korean War Memorial

: The gorgeous statues of the Korean War Memorial pay homage to those who fought and served in this war. It is located by the Lincoln Memorial and features memorials to more than 5.8 Korean War veterans. The memorial features the statues, the famous Mural Wall, the Pool of Remembrance, and the United Nations Wall.

Lincoln Memorial

: Built to honor former President Abraham Lincoln, the Lincoln Memorial stands as tribute to his presidency and legacy. The gorgeous building is modeled after a Greek temple and features the famous Lincoln sculpture along with inscribed copies of the Gettysburg Address and Lincoln's 2nd inaugural address. Part of the monument also includes the Reflecting Pool, the largest of the pools in DC.

Vietnam Memorial

: The Vietnam Veterans Memorial is comprised of two acres and honors service members who fought in this highly conflicting war. It is a National Memorial and attracts millions of visitors every year.
Along this journey, you will learn some brand new things about the city and even discover some of the secrets in DC. History, comedy, and a fun way to get out, stretch your legs, and experience the fresh air of DC await on this hilarious Comedy Walk!
Frequently Asked Questions for Comedy Walks Washington DC:
Is there any walking involved?

Yes. There is less than a mile of easy walking.

Approximately how long does the Comedy Walks Washington DC last?

It is approximately 1.5 hours.

For what ages is the tour appropriate?

16 and older.

What type of dress & footwear are recommended?

Comfortable clothes and walking shoes.

Where does the Comedy Walks Washington DC depart from?

Decatur House on Lafayette Square. There is plenty of paid parking around this area.
Comedy Walks Washington DC Schedule
| | |
| --- | --- |
| Date / Day | Available Times |
| | N/A Sold Out |
| | |
| | |
| | N/A Sold Out |
| | N/A Sold Out |
| | N/A Sold Out |
| | N/A Sold Out |
| | N/A Sold Out |
| | |
| | |
| | N/A Sold Out |
| | N/A Sold Out |
| | N/A Sold Out |
| | N/A Sold Out |
| | N/A Sold Out |
| | |
| | |
| | N/A Sold Out |
| | N/A Sold Out |
| | N/A Sold Out |
| | N/A Sold Out |
| | N/A Sold Out |
| | |
| | |
| | N/A Sold Out |
| | N/A Sold Out |
| | N/A Sold Out |
| | N/A Sold Out |
| | N/A Sold Out |
| | |
| | |
Full Calendar
Comedy Walks Washington DC: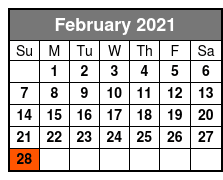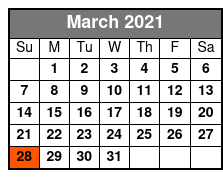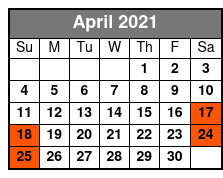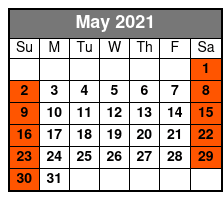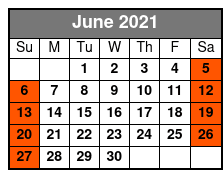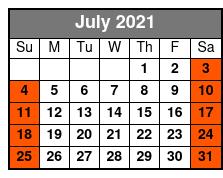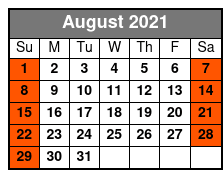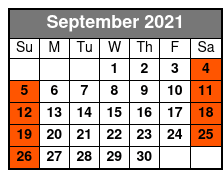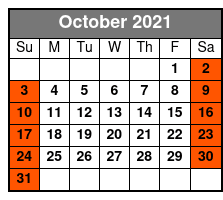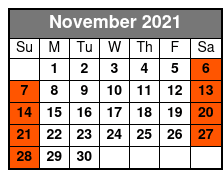 Book Now!