City Sightseeing Double Decker Bus & Boat Pass
Description
City Sightseeing Double Decker Bus & Boat Pass Photos (1)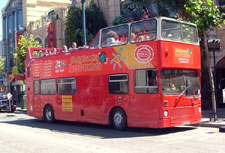 The City Sightseeing Double Decker Bus & Boat Pass offers its visitors a fun and unique way to travel all over the Washington DC area in about 2 1/2 hours with the ability to hop-off at any of the 25 sites. In this way, if you'd like to learn more about one of the attractions that the guide is speaking about, hop-off and explore, then catch another bus after you're finished. Whether you decide to hop-on and off at many locations or not, it is basically up to you how long you spend at the various sites. The buses make rounds to each stop every 15-30 minutes, so you'll never be stuck at one for any longer unless you choose. You can spend the entire day sightseeing or just a couple hours. Either way, it's an amazing way to discover the city and get the most out of your trip to Washington DC on the open-top Double Decker Bus Tour.
Bus Stops:
Washington Memorial
Jefferson Memorial
National Mall
US Capitol
White House
Supreme Court Building
Vietnam War Veterans Memorial
Many More!
This package includes the hop-on/hop-off bus tour as well as a 45 minute boat tour on the Potomac River. So not only can you experience the city on land, but you can also catch views of the city from the water, and learn about Washington DC's shipping industry.
Details:
Pass Valid for 24 or 48 Hours and Includes Boat Ride
Check Schedule for Dates and Times
Redeem at City Sightseeing Office at Fisherman's Wharf
Appropriate for All Ages
Tour Lasts 2.5 Hours Straight Through
Bus Departs Every 30 Minutes From Each Tour Stop