Mount Rushmore, SD Hotels With Outdoor Pool
View all 6 Hotels with Outdoor Pool
Mount Rushmore, SD Hotels With Outdoor Pool

Rating:





Foothills Inn in Rapid City, South Dakota a comfortable and cozy family owned and operated hotel. Foothills Inn is conveniently located within a few miles of the historic Mount Rushmore National Monument and many other popular tourist attractions. Beautifully designed clean rooms with opulent beds and cable TV. All rooms include a refrigerator and microwave. Continental breakfast is served daily and a stunning outdoor pool with lounge area, to enjoy and relax in, makes the stay at this hotel all the more gratifying and delightful.
Outdoor pool is open from 8 AM to 10 PM daily.

Rating:





When looking for a hotel with an outdoor pool in the Badland region, look no further than the pet friendly Econo Lodge Wall, located in Wall, South Dakota. The hotel offers complimentary continental breakfasts, an outdoor heated pool, free parking and free Wi-Fi. There is also a business center. The guest rooms include microwaves and refrigerators, coffee makers and hair dryers. Local restaurants nearby include Cactus Café and Lounge, Fat Boy's, Wall Drug Café, Badlands Saloon & Grille and Subway. Attractions in the area include the Badlands National Park, Wall Drug Store and Mount Rushmore which is a little farther away.
Outdoor pool and hot tub is open from 8 AM to 10 PM daily.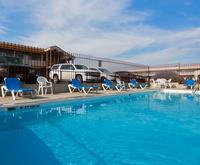 Rating:





The Best Western Plains Motel features an outdoor pool that guests can enjoy during the summer months. Wide steps lead into the water at one end of the pool with a ladder at the deeper end. There is also an indoor pool that is open during the entire year. Free breakfast is served each morning for guests who don't want to leave to go out to eat. Rooms are furnished with a microwave and a refrigerator, and cable television services are provided.
Indoor pool and hot tub is open from 10 AM to 10 PM daily.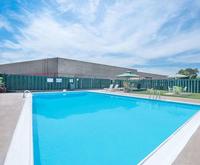 The Days Inn by Wyndham West Rapid City is the perfect place to stay when looking for a hotel with an outdoor pool. Located in Rapid City, South Dakota, the hotel offers free Wi-Fi, a complimentary hot breakfast, a casino and lounge as well as a business and fitness center. The hotel rooms have a microwave and refrigerator, cable TV, hair dryers, coffee makers and iron/ironing board. Nearby attractions include Storybook Island, Dinosaur Park, and Pirates Cove Adventure Golf in addition to various tours. Restaurants in the area include Murphy's Pub & Grill, Botticelli Ristorante and Tally's Silver Spoon.
Outdoor pool is open from 9 AM to 10 PM daily.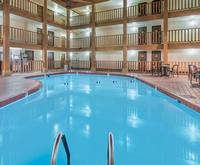 Rating:





If you plan on visiting the town of Spearfish in South Dakota, one of the best places to stay at is the Super 8 Spearfish Hotel. After checking in, you can enjoy their indoor pool or outdoor pool and hot tub. Visit places like the D.C. Booth Historic National Fish Hatchery. You can also drive to Rapid City and visit Mount Rushmore for a day of exploring the natural beauty of both the Black Hills and greater western South Dakota. For an easy to find and affordable hotel, the Super 8 Spearfish Hotel is one of the best around.
Indoor pool and hot tub is open from 10 AM to 10 PM daily.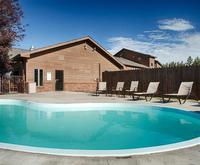 The Best Western Golden Spike Inn and Suites can be located in Saint Hill City, just a small distance away from the Crazy Horse Memorial and Mount Rushmore. There are many excellent special features that guests can choose to partake in during their stay. These features include business center, cable TV, complimentary newspaper, continental breakfast, fitness center, courtesy shuttle, in-room coffee maker, hot tub, free Wi-Fi, hairdryer, on-site gift shop, free local calls, iron, ironing board, laundry service, meeting facilities, in-room microwave, outdoor pool, rollaway if needed, voice mail, and refrigerator in room.
Indoor pool is open from 10 AM to 10 PM daily.
View all 6 Hotels with Outdoor Pool