Mount Rushmore Area, SD Hotels with Hot Tubs or Whirlpools
View all 28 Hotels with Hot Tub / Whirlpool

Mount Rushmore Area, SD Hotels with Hot Tubs or Whirlpools

Rating:





Mount Rushmore is a historic place which attracts thousands of tourists every year because of the most famous figures crafted in the mountain of Abraham Lincoln, Theodore Roosevelt, Thomas Jefferson and George. Washington and Ramada Rapid City West has the the most amazing hot tub to relax after your everyday activities. This service is offered all year round to all our guest so do not wait any linger and make your reservations now, you'll not be dissapointed! There's only one place to relax and it is at Ramada Rapid City West in Mount Rushmore, South Dakota.
Indoor Hot Tub is open from 7 AM to 11 PM daily.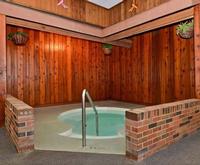 Rating:





Customer Rating:





The Best Western Sturgis Inn can be found in Sturgis, a short distance from Mount Rushmore, the Crazy Horse Monument, the Rushmore Mall, the Motorcycle Hall of Fame, the Bear Butte State Park, and the Ellsworth Air Force Base. Business center, cable TV, continental breakfast, fitness center, free local calls, free parking, hairdryer, free Wi-Fi, hot tub, in-room coffee maker, indoor pool, iron, ironing board, laundry service, meeting facilities, in-room microwave, in-room refrigerator, rollaway if needed, and voice mail are some of the great things that this inn offers its guests.
Indoor Hot Tub is open from 9 AM to 10 PM daily.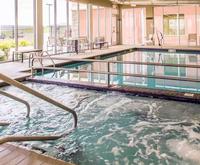 Rating:





Cambria Suites Hotel has a hot tub that will ease the stress from today away from you and put you in relax mode. The hotel amenities are a fitness center, on-site laundry center, a business center, an indoor pool, a whirlpool hot tub, and an on-site restaurant so you don't have to leave the hotel. Nearby attractions are Crazy Horse Memorial, Museum of Geology, Chapel on the Hill, and the City of Presidents. The amenities in your room are a microwave, refrigerator, cable television, and many more features that will make your visit enjoyable.
Indoor Hot Tub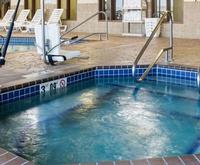 Rating:





Customer Rating:





We really liked this hotel. Great location. Safe location. Very nice, clean and quiet. Dakota Steakhouse was walking distance across from hotel and had delicious food.
Steve Muth
Maricopa, Ar
The Comfort Suites in Rapid City, South Dakota, is within walking distance to the indoor water park. The children are sure to love that. Also within walking distance are several restaurants. Within a short drive of this hotel, one can visit Mount Rushmore or one of the other many attractions South Dakota has to offer. Guests looking to do a little shopping can do so at nearby malls. The room amenities include high-speed Internet access, a microwave, iron, free local calls, and much more. When a guest wakes in the morning, they will be pleased to have a hot breakfast made to order. If the guest is in a hurry, they can grab breakfast to go.
Indoor Hot Tub
Holiday inn Chattanooga is a good and clean relaxing hotel to stay at because if offers many amenities. Holiday inn Chattanooga offers a heated indoor swimming pool where you can relax in and have a great time. I believe that at the holiday inn you can enjoy your stay at the indoor heated pool because it's warm and it relax your muscles, and make you feel good. At the holiday inn you can meet other people while swimming and having a relaxing and comfortable stay.
Indoor Hot Tub is open from 6 AM to midnight daily.

Rating:





Taking time to show your significant other just how much you appreciate their love and support is key to a long-lasting romantic relationship. Private getaways for special occasions is sure to spark the fire in your love life as well as make wonderful memories to reflect on for you and the love of your life. Whether it's your honeymoon, anniversary, or just a romantic getaway for that special someone, choosing a hotel with a private hot tub or whirlpool will definitely show that special someone in your life your romantic and sensual side.
Indoor Hot Tub
View all 28 Hotels with Hot Tub / Whirlpool