Dallas/Fort Worth Bucket List: 50 Big Things Happening in the Metroplex
The Dallas-Fort Worth area is massive. The Metroplex, as the locals call it, actually covers a larger land area than the entire states of Rhode Island and Connecticut combined, and more people call it home than the entire state of Massachusetts. Naturally, because the area is so big, there is a lot to see and do in the Dallas-Fort Worth area, so we have created a bucket list of 50 attractions and experiences you must check out. Whether you live there, are just visiting for a weekend, or planning a vacation spanning several weeks, these destinations will help you get the most out of your trip to the cultural and economic hub of North Texas.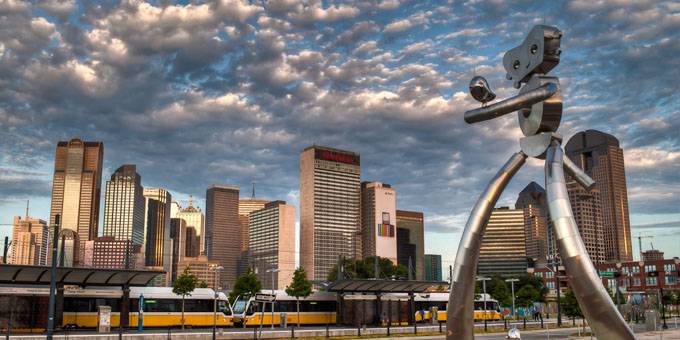 Go see The Traveling Man Statues
In the Deep Ellum neighborhood of Dallas are three large art installations by artist Brad Oldham, called "The Traveling Man." The statues depict the three stages of life of a robotic man who represents the history of the community. The first statue, Awakening, depicts the robotic man emerging from the ground, where legend says his existence formed when someone spilled some gin on the roots of a tree that covered a buried locomotive. The robotic man is next depicted sitting on the ground with a guitar, leaning against a piece of Deep Ellum's former train tunnels in a piece called Waiting on the Train. Finally in the last piece, Walking Tall, we see the Traveling Man confidently walking off with his bird friends towards the future.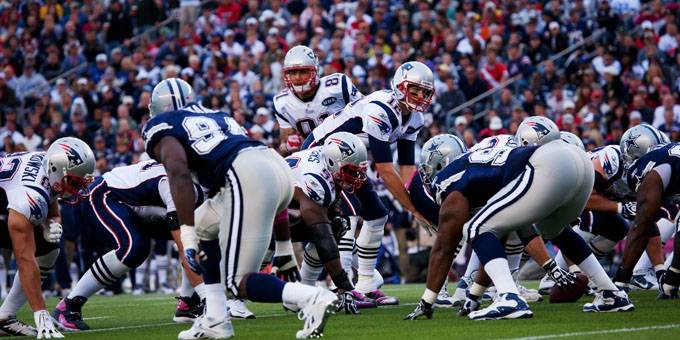 Go see the Dallas Cowboys play football
The Dallas Cowboys are arguably the most well-known team in the NFL, with a far-reaching fan base that is spread across the entire country. Home games are played at AT&T Stadium, and the team holds a record for having a streak of 190 consecutive sold-out regular and post-season games which started in 2002. Seeing the 'Boys play is something special, and AT&T Stadium plays no small part in making the experience a special one. At the center of the stadium is a 160 by 72 foot high definition scoreboard which was the largest television screen in the world at the time of its introduction. If you're a football fan, you'll definitely need to see a game at AT&T Stadium (even if you're rooting for the other team).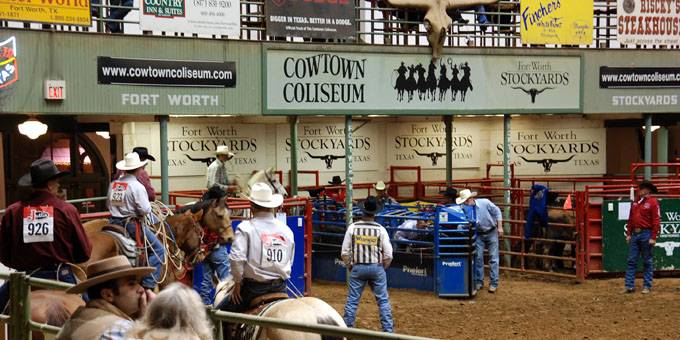 Catch a rodeo at Cowtown Coliseum
Cowtown Coliseum is an arena in the Fort Worth Stockyards that became first ever indoor arena to host rodeos in the United States. Cowtown Coliseum still continues its rodeo tradition, hosting shows every Friday and Saturday night. But rodeos aren't the only show in town at the coliseum, so be sure to catch Pawnee Bill's Wild West Show. The show is a historical reenactment of the original show, with the same trick shooting, roping, and riding stunts that were performed back in the day; taking guests back in time to the late 1800s. Pawnee Bill's Wild West Show takes place every Saturday and Sunday afternoon.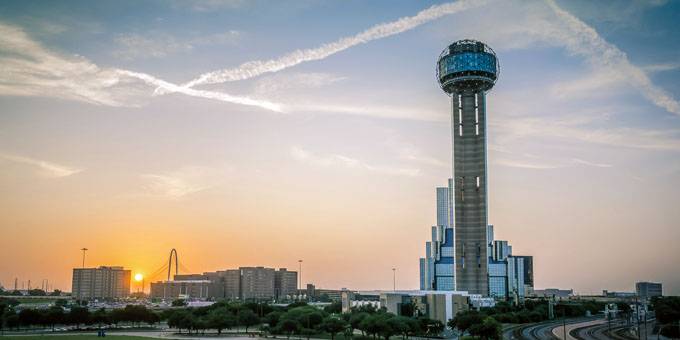 Check out the view from Reunion Tower
Reunion Tower, known as "The Ball" to locals, is a 560 foot observation tower in downtown Dallas. Reunion Tower has three floors that all offer fantastic views of Dallas, including the GeO-Deck Observation level which offers telescopes that point in every direction and an interactive digital experience that helps show visitors what they are looking at. The rotating top level is a fine-dining restaurant named Five Sixty which is run by celebrity chef Wolfgang Puck. Here, you can take in the view while sipping cocktails or tasting the chef's interpretations of classic Asian dishes. For a more casual meal, the Cloud Nine café offers classic soups, sandwiches, smoothies, and beer. If you are looking for a memorable date, the Reunion Tower has what you're looking for.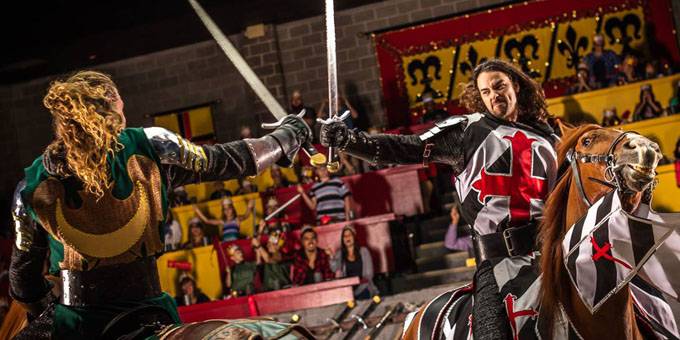 Feast Like a king at Medieval Times Dinner & Tournament
At Medieval Times Dinner and Tournament, you will be transported back in time as guests of King Don Carlos to partake in a four-course feast and watch six noble knights compete for the hand of Princess Catalina. The feast is fit for a king and features soup, roasted chicken, delicious sides, pastries, and libations, all served medieval style without any silverware. While you eat, the brave knights will joust, engage in hand-to-hand combat, and challenge each other in feats of strength. You'll also see amazing horseback riding and witness the speed and agility of the royal falcon. Medieval Times Dallas is a perfect evening of fun for adults and children alike.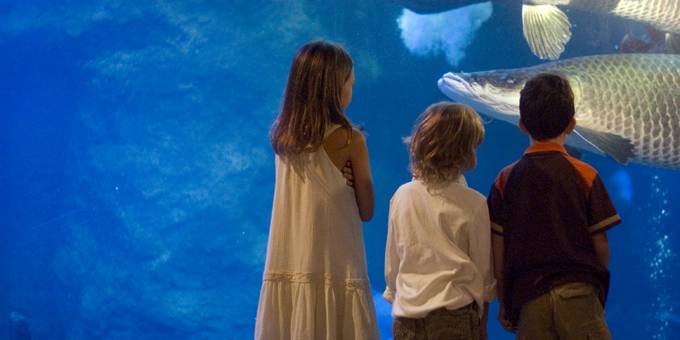 Explore the oceans at Dallas World Aquarium
The Dallas World Aquarium is a perfect way to spend an afternoon in Dallas. The aquarium features a 20,000 gallon walk-through tunnel exhibit that allows you to experience life underwater without getting wet, and hundreds of fish in spectacularly large reef and kelp ecosystems. The top floor of the aquarium is an aviary, where tropical birds like spoonbills and curl-crested jays fly freely. The aquarium has 12 endangered species including jaguars, harpy eagles, and golden lion tamarins. It also features the only public exhibit with three-toed sloths and Amazonian manatees. When you visit the aquarium, make sure to catch one or two of the 13 scheduled talks and animal feedings that are both informative and entertaining. If it's your own personal feeding time, the Dallas World Aquarium offers three restaurants with fare inspired by the exhibits throughout the museum.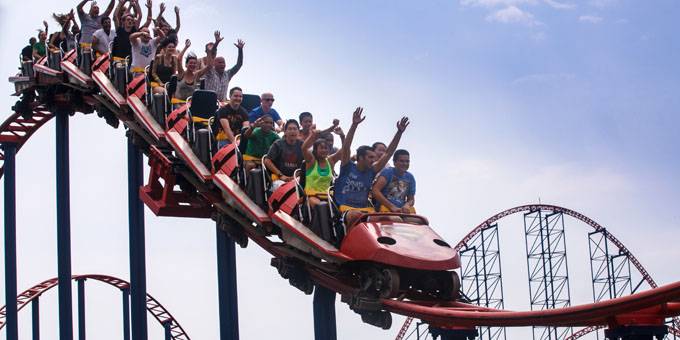 Seek thrills at Six Flags Over Texas & Six Flags Hurricane Harbor
If you are an adrenaline junkie, you'll want to consider adding Six Flags Over Texas and Six Flags Hurricane Harbor to your North Texas vacation plans. Six Flags Over Texas has 13 coasters and extreme thrill rides, including Superman: Tower of Power, one of the tallest launch and drop rides in the world. For the smaller members of the family, there are 35 rides that everyone can enjoy. Make sure you bring your swimsuits and purchase a combination ticket that includes access to Six Flags Hurricane Harbor, a waterpark with 14 thrill rides and a variety of family-friendly wave pools, lazy rivers, and water slides that are perfect for cooling off in the Texas summer heat. The Six Flags Over Texas season is every year from May through September, with special events like Fright Fest in October and Holiday in the Park in December.


Get your Texas on at Billy Bob's Texas Experience
Do you want to experience everything the Lone Star State is known for in one night of fun and food? Then you'll want to check out Billy Bob's Texas Experience which has everything from bull riding to couples dance lessons and country music concerts. If you're hungry for some authentic Texan cowboy cuisine, the Honky Tonk Kitchen offers staples such as beef brisket, chicken fried steak, and pulled pork. If you'd rather relax with your friends, Billy Bob's Texas Experience has 16 pool tables and more than 30 bar stations. Billy Bob's Texas Experience is a must-see for anyone who is visiting the Dallas-Ft. Worth area, so make sure you don't miss out!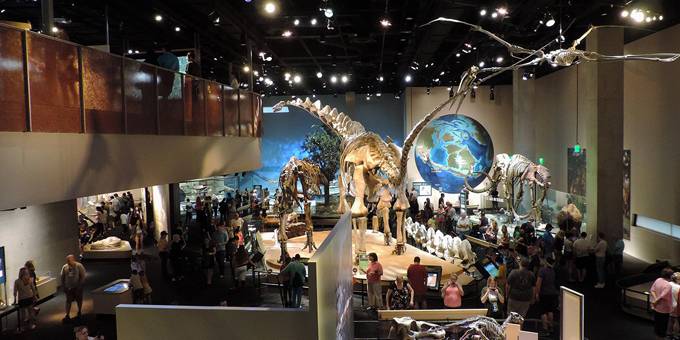 Explore your world at the Perot Museum of Nature and Science
If you'd like to exercise your mind during your time in Dallas, be sure to check out the Perot Museum of Nature and Science. The museum has five floors with eleven permanent exhibit halls that encourage visitors to see the world through the lens of science. When visiting the museum, you'll come to understand your world better by exploring the nature and origins of life and what it means to be human, learning about the movements of the Earth itself and its place in the expanding universe, and understanding the potential of engineering. The Perot Museum also has a Children's Museum where kids under the age of five can explore their world in a stimulating new way.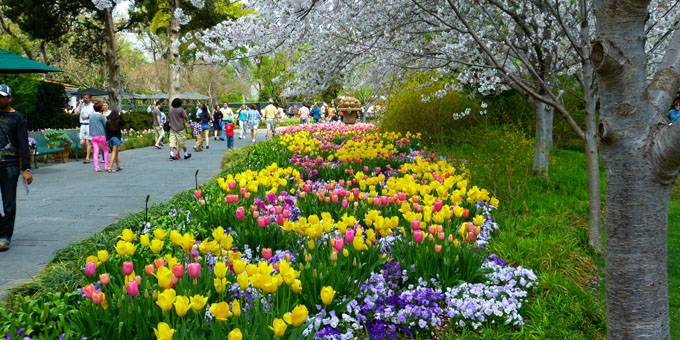 Be inspired by nature at Dallas Arboretum & Botanical Gardens
Even though the Dallas Arboretum and Botanical Gardens is only a few minutes from downtown Dallas, you'll feel like you've stepped into a 66 acre oasis. The Arboretum features 19 unique manicured gardens that celebrate nature and humanity. These gardens provide a peaceful place to rest and contemplate life, have a romantic date, or take children for an adventure. The gardens also feature concerts, seasonal festivals, and activities for the whole family through the summer. For children, the Rory Meyers Adventure Garden features 150 kid-friendly activities that teach children about life and Earth science through several age-specific galleries. All of this makes the Dallas Arboretum and Botanical Gardens a perfect way to relax during your vacation to North Texas.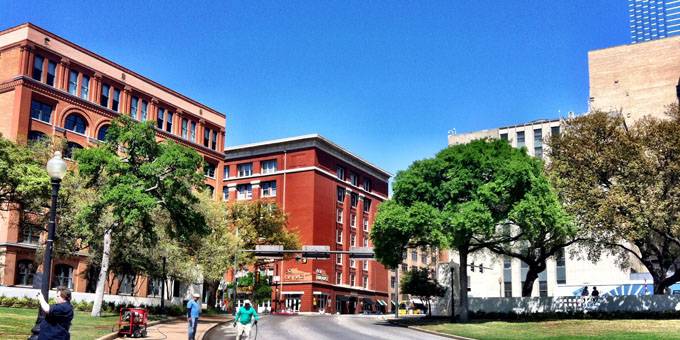 Relive history at Dealey Plaza National Historic Landmark District
The Dealey Plaza National Historic Landmark District commemorates one of the country's darkest hours: the assassination of President John F. Kennedy. The Plaza was added to the list of national historic landmarks in 1993 so that it would be preserved, along with the buildings and structures that were visible from the site of the assassination. If you visit the plaza today, you will see street lights and signs from 1963. The skyline has been mostly unchanged, which provides a stark contrast to the modern Dallas skyline. The top two floors in the former Texas School Book Depository building, where Oswald fired his rifle, have been transformed into the Sixth Floor Museum which commemorates that tragic day and remembers the legacy of President Kennedy.


Step back in time at Pioneer Plaza
The cattle drive sculptures at Pioneer Plaza remember the nineteenth century cattle drives that became a key part of Texan history and lore. Consisting of 49 bronze steers and three cowboys, the sculptures bring back to life the men and cattle that made the trips from Texas cattle lands to the railheads in the North along the Shawnee Trail. The cattle sculptures are extremely detailed, with historic branding marks and small moments, like a cow drinking water while another swats at pesky flies. Visitors to the plaza may walk through the cattle and examine each as they see fit, which makes it easy to forget they are in the middle of a large city instead of in the wild west.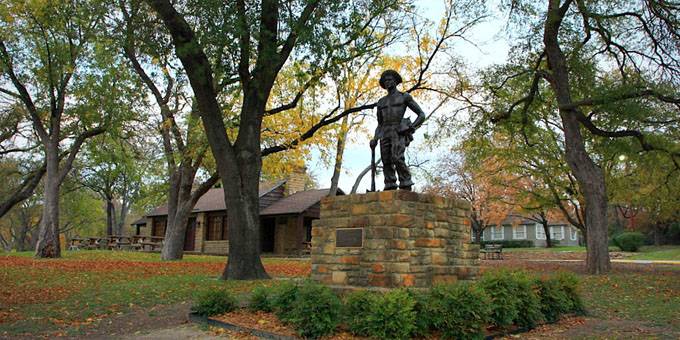 Enjoy the outdoors at White Rock Lake Park
White Rock Lake Park sits alongside White Rock Lake, which is located five miles from downtown Dallas. The park is one of the largest and most popular in Dallas, with a number of events and activities. Runners, hikers, and bikers will love the 9.33 mile-long trail, while birdwatchers will enjoy the Audubon Society bird watching area. There is also a dog park, baseball fields, a wetland, and picnic areas. If you would like to spend some time on the water, the park has kayak rentals and boat ramps, as well as a pier for those who want to be out on the water, but want something solid under their feet.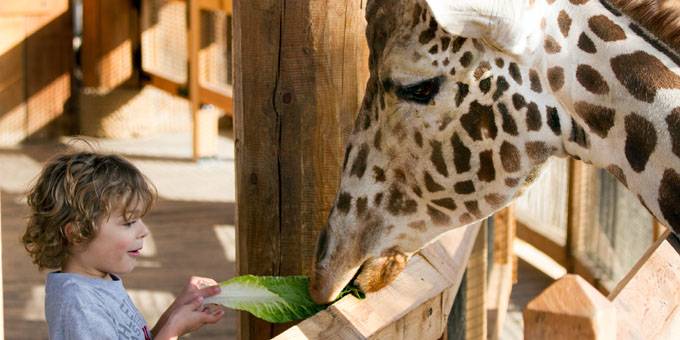 Go wild at the Dallas Zoo
The Dallas Zoo is a 106 acre zoological park that is home to more than 2,000 animals from 406 different species. The zoo is split into two sections: the original ZooNorth region and the newer Wilds of Africa region. The ZooNorth exhibits include otters, the critically endangered Sumatran tigers, and the Koala Walkabout which replicates the Australian Outback. The Wilds of Africa features a variety of African habitats, including the Gorilla Trail, and Giants of the Savanna, which features famous African wildlife such as elephants, giraffes, lions, cheetahs, and zebras. The zoo also places a large emphasis on species preservation and conservation, and it has been acclaimed for its treatment of animals by various animal rights groups.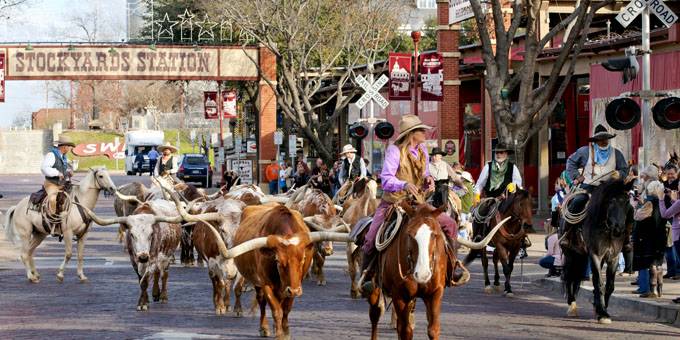 Visit Fort Worth Stockyards National Historic District
The Fort Worth Stockyards National Historic District is a former livestock market that now consists of entertainment and shopping centers. Added to the National Register of Historic Places in 1976, the stockyards were a major hub of the livestock industry in the late 1800s and remained so until the 1950s. While the cattle may be long gone, the stockyards still celebrate Fort Worth's history with more than 100 businesses that now capitalize on Fort Worth's image as a "Cowtown" and daily cattle drives down Exchange Avenue. Make sure you explore the various cowboy and western themed bars and nightclubs, check out the rodeo and opry, or take a tour of the two cattle baron mansions in the city. You can even board your horse overnight at the Fort Worth Stockyard Stables, located conveniently next to the Hyatt Hotel.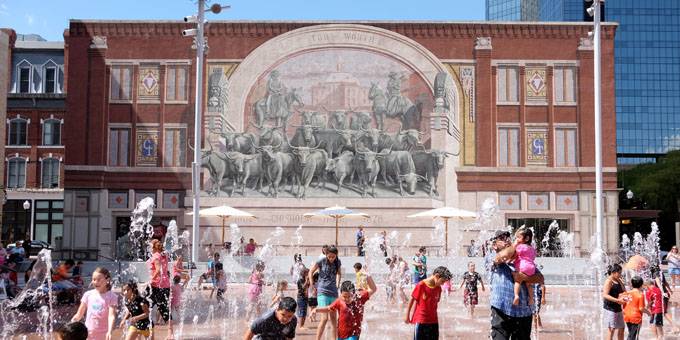 Experience nightlife at Sundance Square
Sundance Square is a neighborhood in Fort Worth that spans 35 blocks across downtown Fort Worth. This area is a go-to place for nightlife and entertainment in Fort Worth, but it also features many hotels, museums, restaurants, movie theaters, retail shops, boutiques, and residential buildings. In the Sundance Square Plaza, you can catch a movie, watch live musicians perform, or head to one of the four indoor venues like Bass Performance Hall or Scat Jazz Lounge for shows from some of the greatest names in comedy, music, and theatre. Before the show, grab dinner and drinks at one of the many restaurants and bars which span from fast casual options to upscale bars and grills.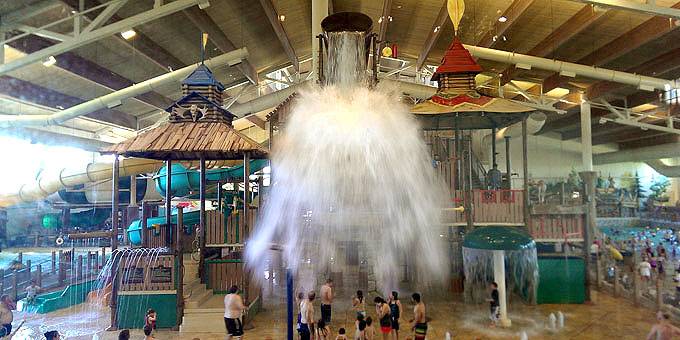 Get wet at Great Wolf Lodge Waterpark
Need to a way to beat the Texas heat, or just want to have some fun at a waterpark? Check out Great Wolf Lodge in Grapevine. Great Wolf Lodge has more than 80,000 square feet of water park, including thrill slides, a wave pool, and a huge water fort tree house. Best of all, the entire water park is indoors, so you won't have to worry about slathering up in sunscreen before you hit the water. The Great Wolf Lodge isn't just a waterpark though; there are activities like a high ropes course, a 4-D theatre thrill ride, and a bowling alley that are great ways to spend time once you get too pruned in the pools.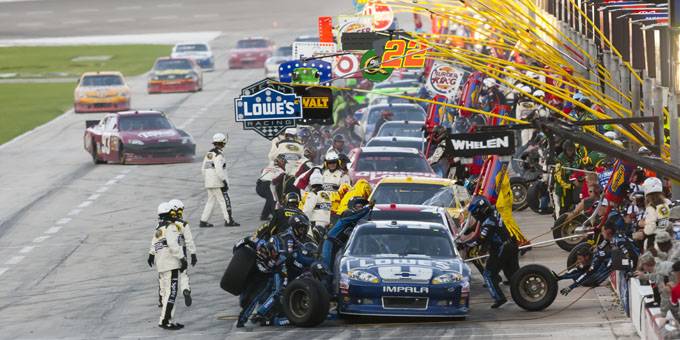 Watch a race at Texas Motor Speedway
Seeing a race at Texas Motor Speedway is a definite must for any race fan, and it should be on everyone's Dallas-Fort Worth bucket list. The 1.5 mile oval track famously hosts NASCAR Sprint Cup races twice a year, with the first usually in early April and the other in early November. The track doesn't just host NASCAR races, but also the annual Indy Racing League Firestone 600. Additionally, Texas Motor Speedway hosts musical festivals and regular driving events and classes like the Richard Petty Driving Experience, where almost anyone can book the chance to drive or ride in a 600-horsepower stock car at speeds of up to 160 miles per hour.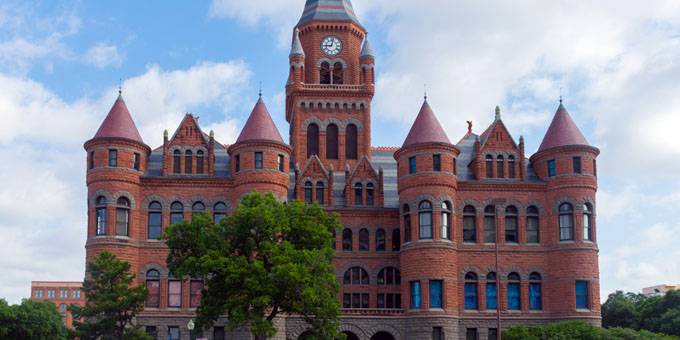 Learn about Dallas's history at the Old Red Museum
Housed in the restored old Dallas courthouse, The Old Red Museum is a definite must for anyone who wants to know more about North Texas. The museum is committed to teaching visitors and locals alike about the deep historical significance of the Dallas area. The museum's exhibits cover the cultural, economic, social, and political history of the area. It is filled with historical artifacts from the Dallas area, with everything from a mammoth tusk to Lee Harvey Oswald's handcuffs. Tours of the entire building are offered daily and are included with admission into the museum. Facility rentals are also available, so you can book your wedding in one of the most unique-looking buildings in the Dallas Fort Worth Area.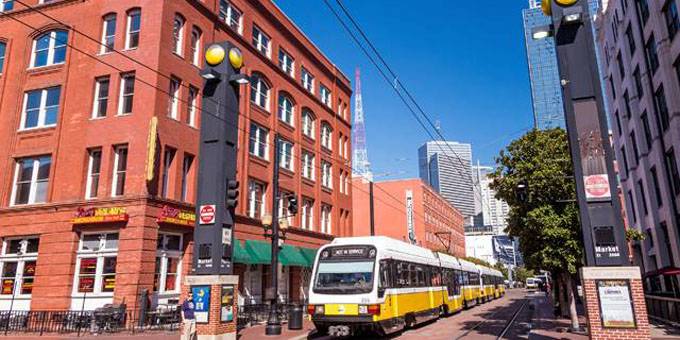 Sightsee with Discover Dallas Tours
Do you only have a limited time to see Dallas and Fort Worth, but still want learn about the cities? Then the Discover Dallas Tours are perfect for you. Discover Dallas Tours offer seven different tours, including sightseeing highlight tours of Dallas and Fort Worth, the JFK assassination site, the Southfork Ranch, the George W. Bush Presidential Library and Museum, the Dallas Cowboys' home at AT&T Stadium, and the Dallas Arts District. These tours are all different lengths and give a completely different perspective on the Dallas-Fort Worth area, all while visiting sites that other tour companies may skip. Even longtime residents probably could learn a thing or two about their home from the Discover Dallas Tours.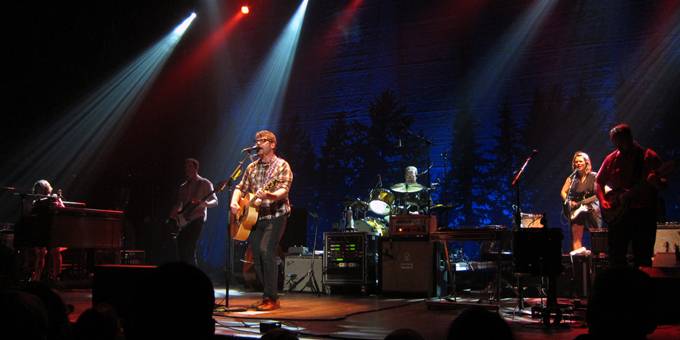 Rock out at The House of Blues
The House of Blues is one of the best rock 'n' roll concert venues in Dallas, so you would be remiss to skip out on seeing a show while you're in town. The venue isn't a large concert hall, so it gives a great feeling of intimacy to the shows that play there. Watch musicians perform from the upstairs balcony, or squeeze your way up to the front of the stage so you can really see the sweat glisten off your favorite artists. The House of Blues also features good food and multiple bars so you can get drinks without missing too much of the performance. On nights when the larger name bands aren't playing, stop in for a beer or two and listen to some great local musicians.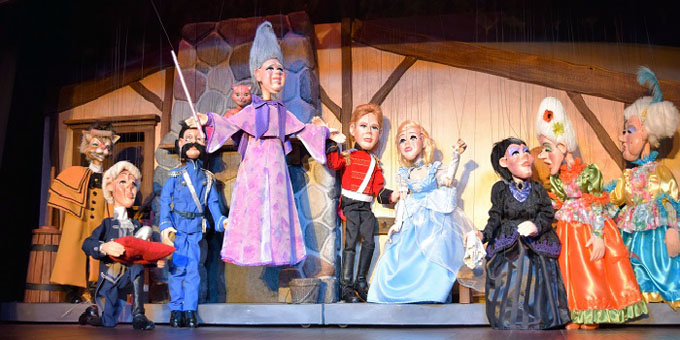 Conquer your fears at Trinity Forest Adventure Park
The Trinity Forest Adventure Park is the only aerial adventure park in all of Texas, and it's perfect for connecting your mind and body with nature. Trinity Forest offers a variety of high-ropes courses of all skill levels that test your strength and bravery, and some are available for children as young as six years old. Each course includes between eight and 12 different obstacles of various difficulty, such as cargo nets, wobble bridges, tight ropes and ladders. There are also 20 zip lines that let you effortlessly glide through 200 year old trees. If you'd prefer something more grounded, Trinity Forest also offers tours where you can enter the woods to embark on deep introspection. Whatever your style, Trinity Forest Adventure Park will help you reconnect with nature less than 20 minutes away from downtown Dallas.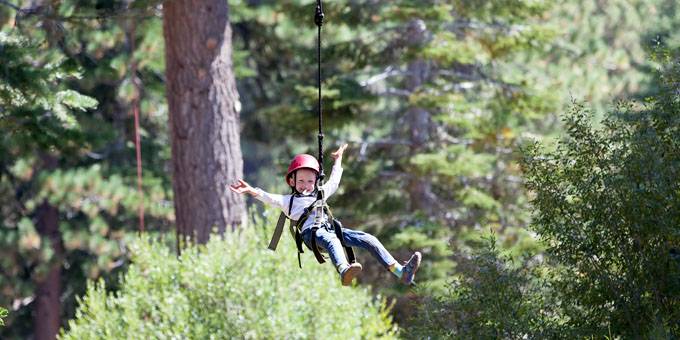 Hit the rails with Agave Hurricane Trail Company
If all the cowboy art in the Dallas-Fort Worth area makes you want to get up on a horse, you're in luck! The Agave Hurricane Trail Company offers horseback riding experience for both the inexperienced and veteran riders alike. Small groups ensure that the ride is perfect for each rider, and you can even plan to have lunch on the trail or enjoy a campfire cookout after the experience. The Agave Hurricane Trail Company offers many trail locations throughout the Dallas-Fort Worth area, so you'll never explore the same trail twice. Trail rides last between an hour and two hours, and staff are willing to work with you so your experience is fantastic from start to finish.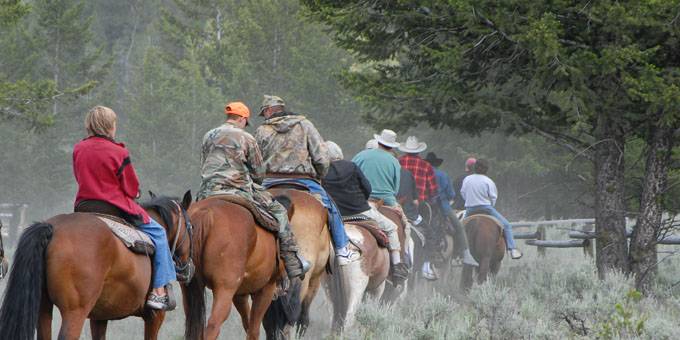 Have a pint at Deep Ellum Brewing Company
If you're a fan of good beer, then you owe Deep Ellum Brewing Company a visit. Deep Ellum Brewery's founders are passionate about making good beer, so they've brewed up more than a dozen different beers, from IPAs to Stouts to Belgian-style Quads. The brewery is one of the best in Dallas to visit, and features both an indoor tasting room and an outdoor beer garden that are perfect for sampling everything the brewery has to offer. If you're into the behind-the-scenes side of brewing, be sure to take a tour. The brewery also hosts live musicians and a variety of festivals throughout the year like the Labor of Love Homebrew Festival and Pups and Pints, a charity event to raise money for the Paws in the City that helps dogs and cats in need of loving homes.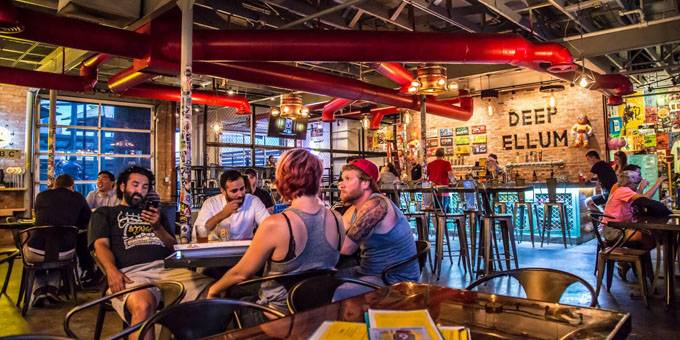 Catch a movie at the Coyote Drive-In
The Coyote Drive- In brings back the classic drive-in movie theater experience every night. With four screens and the Fort Worth skyline as a backdrop, this drive-in theater is definitely a memorable way to go to the movies. The Coyote Drive-In features all of today's hit pictures, and every admission ticket buys you not one, but two movie screenings in one night. Also, unlike most movie theaters, this drive-in lets you bring your furry friends as well (they must be leashed), and there is a playground for the kids. The concession stand serves standard movie fare like popcorn and churros, and they serve alcohol too. Make sure you get to the theater early so you can get a prime spot.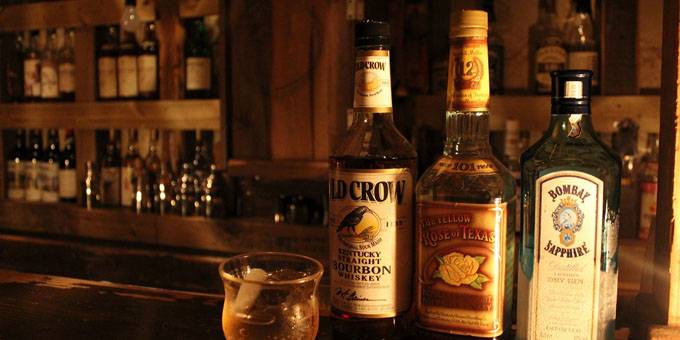 Visit Top O'Hill Terrace
Top O'Hill Terrace may now be the site of Arlington Baptist College, but back in the 1920s it was a regional mecca for gambling. The site is full of secret tunnels and hideaways where gambling paraphernalia could be hidden, and many celebrities of the era made appearances at the casino. The site featured a swimming pool, a tea garden, horse stables, and a brothel, which has been converted into a girls' dormitory for the students at the college. Top O'Hill Terrace was raided in 1947 by the Texas Rangers, and the whole operation came crashing down. The Bible Baptist Seminary then bought the property and the college still operates on the grounds to this day, albeit under a different name.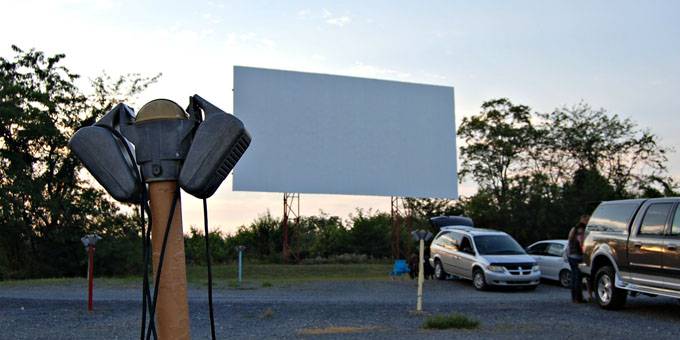 Go under the sea at SEALife
SEALife in Grapevine is an interactive aquarium that holds thousands of ocean dwelling creatures across 16 interactive zones. SEALife's exhibits let kids explore the oceans, from the shorelines and rock pools to the open water, reefs, and a shipwreck. This aquarium is designed to give younger children in particular a sense of awe when they can experience touch pools and walk through a 360 degree ocean tunnel. SEALife is home to a variety of exciting creatures, like sharks, rays, octopi, and endangered sea turtles. A new exhibit called "CLAWS!" lets kids come face-to-face with a wide variety of crabs, including massive coconut crabs and deep sea dwelling Japanese spider crabs. You will be amazed at what you see at SEALife!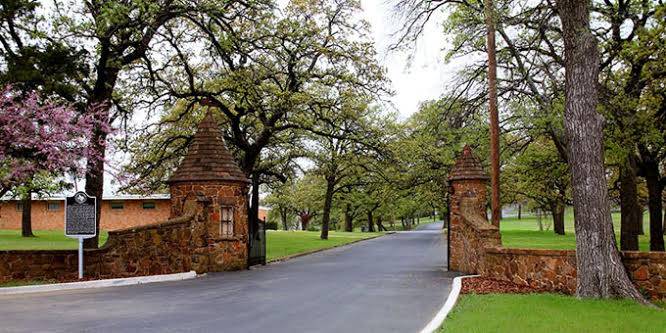 Take a dip in Grapevine Lake
Grapevine Lake is a large reservoir in the Dallas area that is perfect for outdoor recreation. There are several parks on the lake's shoreline featuring trails for hiking, biking, and horseback riding. For boating enthusiasts and water sports enthusiasts, there are three marinas on the lake and twelve boat ramps. For fisherman, the lake is home to a number of popular game fish like bass, catfish, and alligator gar. There is a campground with places for everything from tents to RVs. Hunting is popular in season, and many come to Grapevine Lake to hunt waterfowl or bow hunt feral hogs and deer on the land owned by the US Army Corps of Engineers.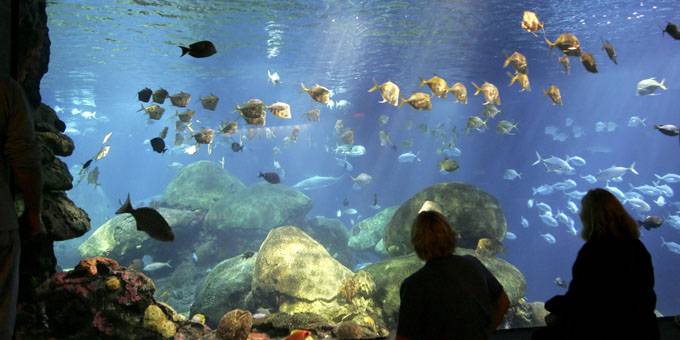 Forge your own path at Grapevine Blacksmith Shop
Have you ever wanted to see what it takes to make something from metal? Do you like seeing local artistry? If so, swing by the Grapevine Blacksmith Shop in Grapevine, right around the corner from the Vintage Railroad. There, you'll see owner Will Frary and his blacksmiths create beautiful pieces of art from recycled iron, new steel, old railroad spikes, and horseshoes from his grandfather's old forge. Will's work has involved everything from small tools to large commercial architecture projects, and he will do commissioned work as well. Grapevine Blacksmith Shop also offers blacksmithing classes that last between 1 and 6 hours with instruction from Will himself.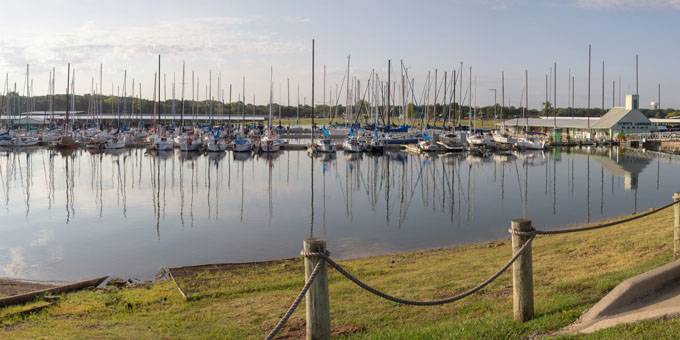 Check out the Adrian E. Flatt, MD Hand Collection
The Adrian E. Flatt, MD Hand Collection is one of the stranger attractions in the Dallas-Fort Worth area, but it's also incredibly fascinating. Dr. Flatt was a hand surgeon who began creating casts of his patients' hands so he could visualize the surgeries before he made an incision. He moved on to making casts and bronze models of his colleagues' hands to show that there was no such thing as a "typical surgeon hand." Soon, he was able to create bronze models of hands of famous people like Andre the Giant and Dwight Eisenhower, along with astronauts and musicians. The collection is on display at Dr. Flatt's current place of employment, the Baylor University Medical Center, where he teaches future surgeons today.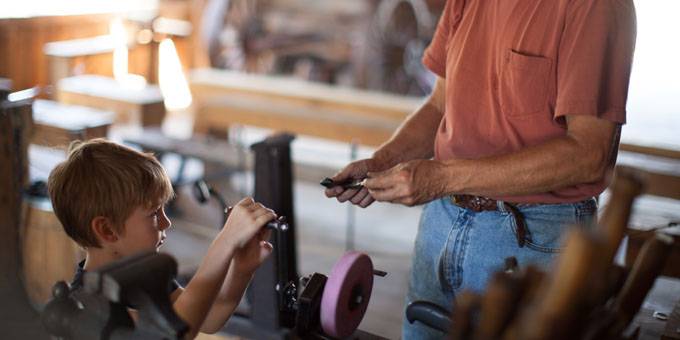 Bask in the glow of the Palace Light Bulb in the Stockyards Museum
A light bulb may not seem that special, but the Palace Lightbulb has been burning continuously since 1908, making it older than the Chicago Cubs World Series drought. No one thought the light would be so long-lasting, but the little light keeps shining bright. When the Palace Theater was planned to be demolished in the late 1970s, the bulb was saved, never losing power. The bulb now resides in the Stockyards Museum of Fort Worth, alongside many other pieces of Fort Worth History like John Wayne's Silver Spurs Award and the Bad Luck Wedding Dress, a dress from 1886 that is claimed to have "brought personal misery or disaster to everyone who has worn it or planned to wear it."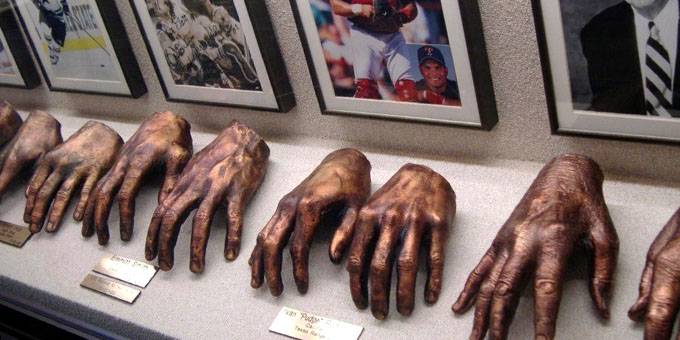 Catch a Texas Rangers game at Globe Life Park
The Texas Rangers are the American League team for Texas, and catching a game at Globe Life Park is a real treat. The Stadium may be fairly new compared to other baseball diamonds in the country, but it has some nice historic touches. The home plate and bleachers came from the old Arlington Stadium. The field offers great views from almost any seat, and if you sit in the outfield you have a pretty good chance of catching a home run, because the field has a reputation for being very friendly to hitters. The Rangers also have a unique tradition of having girls with large Texas state flags run across Greene's Hill, the sloped turf behind center field, every time the Rangers score a run.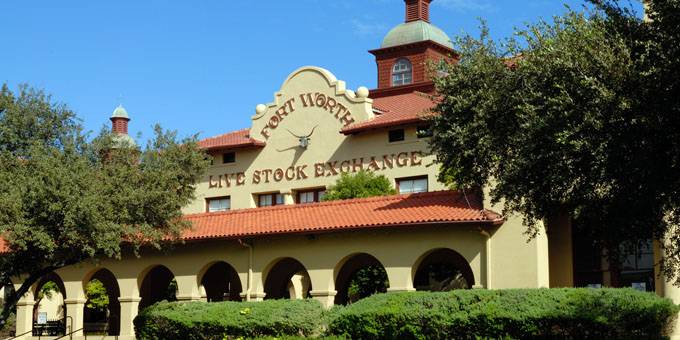 Get chilly at a Dallas Stars Hockey Game
Ice hockey may be the last thing you think of when you think of Texas, but you won't want to miss a Dallas Stars game at the American Airlines Center. Sure, no one in Texas goes ice skating outdoors in the winter, but the Stars are a competitive team, and have actually won a Stanley Cup, which is something that other more established teams haven't been able to pull off. This season, a talented roster helped propel them to win their first Central Division title, and they finished with the best record in the Western Conference. The fans are fun to be around, and the team has several traditions that help get everyone amped up. As it turns out, Texas is a hockey state.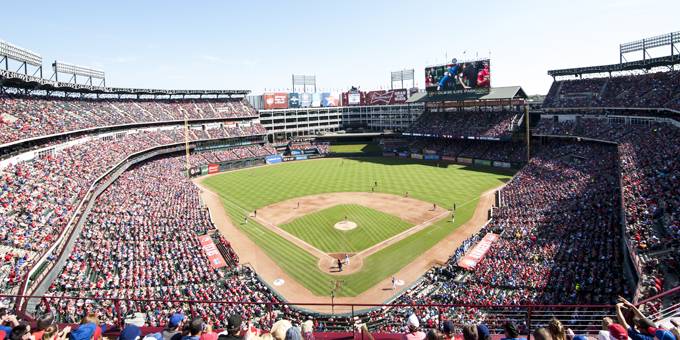 Catch a College Football Game
The Dallas-Fort Worth area is famous for more than just professional football–there's a significant college football following too. The Metroplex is home to several schools with prestigious Division One football programs. The Texas Christian University Horned Frogs play ball at Amon G. Carter Stadium in Fort Worth, and Southern Methodist University Mustangs play at Gerald J. Ford Stadium in Dallas. Finally, while not in the immediate Dallas-Fort Worth area, the Baylor University Bears play just a little over an hour South in Waco, TX. All of these teams are usually competitive year after year, and while catching professional football may be exciting, there's nothing quite like seeing a great college football game.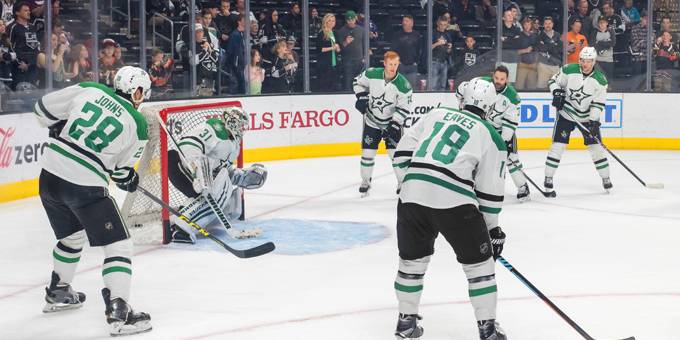 Take a tour at Four Corners Brewing Company
Four Corners Brewing Company may have started in a garage, but it has done some great things with beer over the past few years. It is now located in a much bigger garage, with enough capacity to ship beer throughout the Dallas area. Be sure to take an in-depth tour on a Saturday to learn more about the brewery, how they make their beer, and best of all, sample several of the All Day Ales. After the tour, satiate your thirst at the recently refurbished All Day Alehouse with refreshing beers like the Local Buzz golden ale which is brewed with honey and rye, or the Heart of Texas red ale. Don't forget to bring a six-pack home!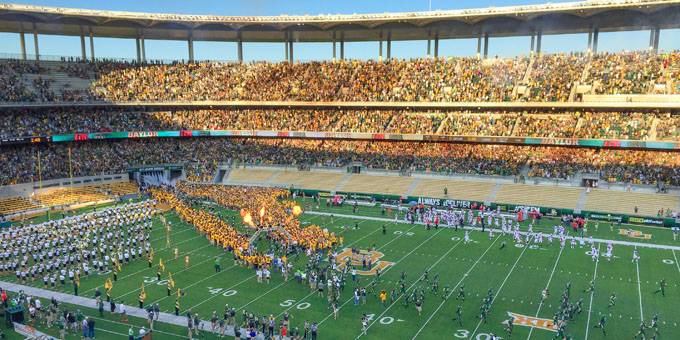 Sample the selection at Peticolas Brewing Company
Peticolas Brewing Company is another must-visit brewery in Dallas's burgeoning craft beer scene. Like many other brewers, owner Michael Peticolas is incredibly passionate about the beer his brewery creates. This passion has clearly trickled down to his product, as the Peticolas Brewing Company has won a variety of local and national awards, including two prestigious gold medals at the Great American Beer Festival, which is tantamount to winning gold in the Olympics of beer. Michael is also using his previous experience as a lawyer to push the State of Texas to declare a law unconstitutional that puts craft breweries at a disadvantage. Make sure you give Peticolas Brewing a visit, and take a tour when the brewery is open every other Saturday.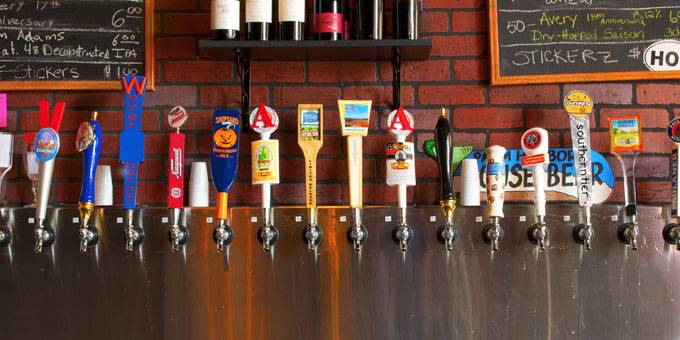 Get a taste for Klyde Warren Park
Klyde Warren Park is an urban park near the Dallas Arts District that helps it connect with other neighborhoods nearby. The park features a variety of spaces that lead to both activity and passivity, including a children's park, a reading room, a lawn, a restaurant, performance pavilion, a dog park, and a botanical garden. The park actually runs over the Woodall Rodgers Freeway, so it acts as a pedestrian-friendly connection between the Downtown and Uptown Dallas areas. Trendy food trucks line the nearby street around lunch time, which gives many of the area's urban professionals a great opportunity to leave their offices and eat lunch outside. You can also take part in a variety of activities daily like workout classes and outdoor live music throughout the week.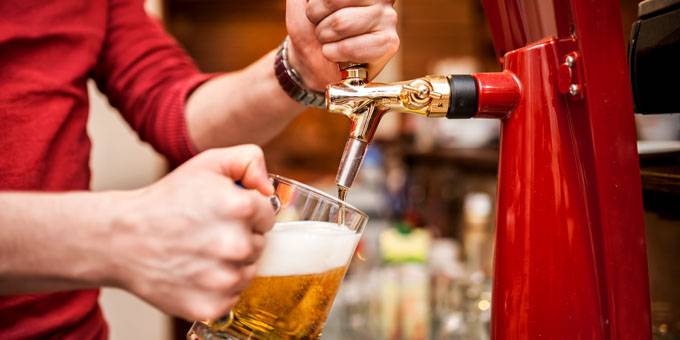 Visit the Nasher Sculpture Center
Located right next to Klyde Warren Park is the Nasher Sculpture Center, which offers one of the greatest collections of modern and contemporary sculpture in the entire world. The museum was a dream of Raymond and Patsy Nasher, and helped solidify the role of the Arts District in the cultural fabric of Dallas. The Museum contains a collection of sculpture from prestigious artists such as Alexander Calder, Henri Matisse, Joan Miró, Pablo Picasso, and Auguste Rodin. The Center has two levels with galleries, a basement with a gallery for delicate works, and a large sculpture garden. The collection focuses on modern and contemporary sculpture, and the works exhibited rotate frequently. The museum also features educational programs for those who would like to learn more about the art form.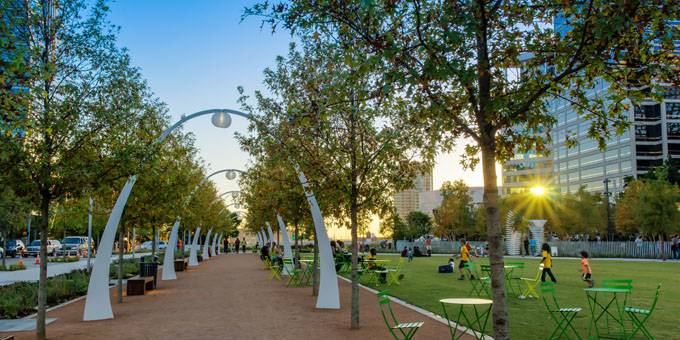 Explore the Dallas Museum of Art
The centerpiece of the Art District is the Dallas Museum of Art which features more than 24,000 works of art. From ancient Mediterranean artists to the Modern era, the art on display comes from every inhabited continent. The Museum of Art also hosts a Decorative Arts and Design collection with over 8,000 pieces, from 17th century Chinese porcelain to an interesting Gorham silver dressing table. The museum is home to famous European art like Van Gogh's Sheaves of Wheat, Renoir's Lise Sewing, and Monet's Water Lilies. The museum is also open until midnight once a month with performances, concerts, poetry readings, film screenings, and family programs, and every Thursday evening the museum features live Jazz.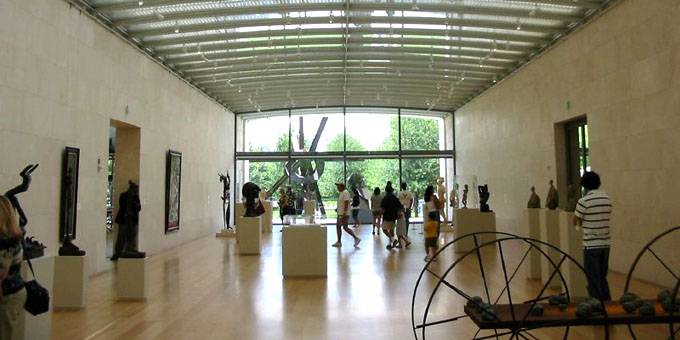 Remember at the Dallas Holocaust Museum
The Dallas Holocaust Museum is dedicated to teaching the history of one of humanity's darkest hours, and to fighting prejudice, hatred, and indifference. The museum hosts more than 70,000 visitors a year, and aims to share testimonies from survivors, and provide subject matter experts to make sure the Holocaust is not forgotten or repeated. The core exhibit of the museum focuses around a single day, April 19, 1943. On this day, three particularly important unrelated events occurred that highlight heroism, Jewish resistance, and the indifference to the fate of the Jews. These lessons teach visitors that they must stand up against the forces of brutality and evil instead of sitting idly by. The Museum also features a Garden of Remembrance, testimonies, and artifacts which serve as a poignant reminder to all.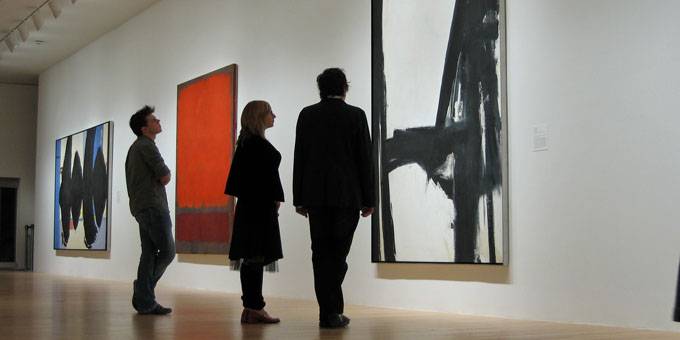 Visit the John F. Kennedy Memorial
The John F. Kennedy Memorial is located one block east of Dealey Plaza and is made to depict an empty tomb. The memorial consists of a room with no ceiling that is bordered with 30 foot high white concrete walls that appear to float above the ground to someone who is standing inside. At the center of the memorial lies granite square with the name John Fitzgerald Kennedy in gold. The words that make up the late president's name are the only words in the entire room. Kennedy captured the nation's imagination, and his life was cut tragically short. In order to fully experience Dallas, you must put this memorial on your to-do list.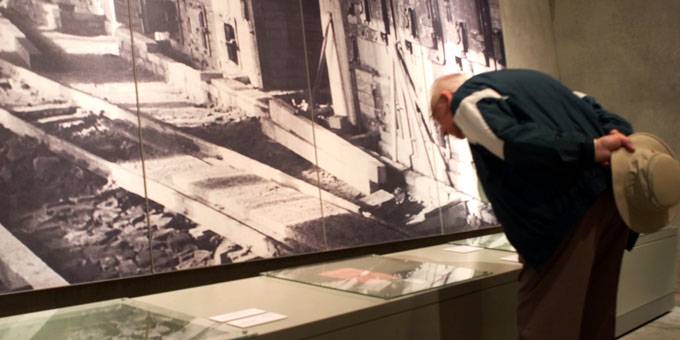 Take flight at the Frontiers of Flight Museum
The Frontiers of Flight Museum located at Love Field is a must-see for any aviation buff who visits the area. The museum includes a wide variety of vehicles and artifacts from the early days of flight to the space program. Aircraft on display include a Sopwith "Pup" biplane, an F-16 Fighting Falcon, a Curtiss JN-4D Jenny, The Apollo 7 Command Module and a Boeing 737 airliner. There are also artifacts from the German airship Hindenburg, and an extensive collection of books, journals and photographs. The Museum hosts a variety of events like Antique Airplane Fly-Ins, air shows, and guest speakers. It also puts on a variety of educational programs for children and adults, all aimed at encouraging an appreciation of the magic of flight and space.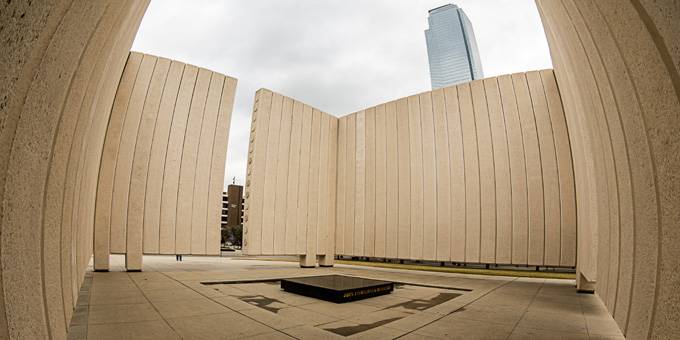 Visit the George W. Bush Presidential Center
The George W. Bush Presidential Center is a unique way to spend an afternoon in the Dallas-Fort Worth area. Located on the campus of Southern Methodist University, the Bush Center consists of the George W. Bush Presidential Library and Museum and the George W. Bush Institute, a non-partisan, public-policy think tank. The Bush Center regularly hosts events with important public figures, book signings, and roundtable discussions about issues at both the local and national scale. The Museum offers a variety of exhibits that help to lift the curtain on the challenge of being president, and show other aspects of the office. The Center also includes a farm-to-table restaurant, and a Native Texas Park that replicates the Texas Prairie in downtown Dallas.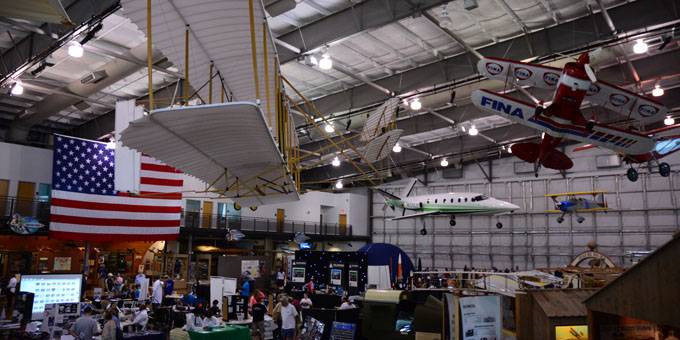 Visit the Cavanaugh Flight Museum
Aviation buffs would also be remiss to skip the Cavanaugh Flight Museum in Addison, Texas. The Museum hosts a significant collection of aircraft from World War I through the Vietnam War. Unlike many other museums, many of these aircraft are still airworthy. The museum is also home to a large collection of aviation-focused artwork from a number of artists. For those seeking a bit of a thrill, you may take a ride in a number of restored aircraft, including biplanes, a helicopter, and even one of two World War II fighter planes.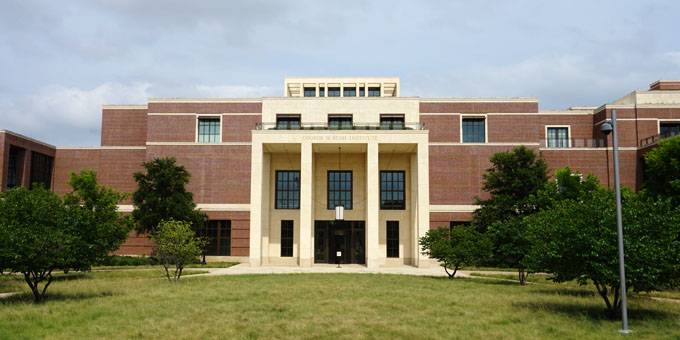 Check out the Fort Worth Water Gardens
The Fort Worth Water Gardens is an urban park designed to be a "cooling oasis in the concrete jungle" of downtown Fort Worth. The Water Gardens contain several pools for you to explore, including a serene meditation pool surrounded by cypress trees, and an aerating pool that features many spray fountains. The most famous of the pools is the active pool, which has water that cascades down a series of terraces to a small pool at the bottom. The active pool also has a series of steps along the rim of the terraces that allow you to walk down to the bottom of the feature. As you walk down the steps, you are surrounded by the sounds of the water falling, creating an almost surreal experience.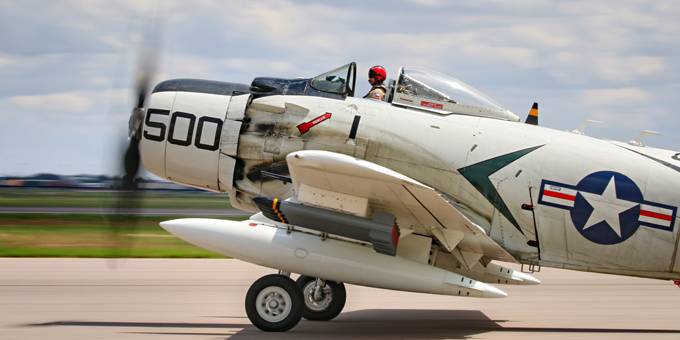 Take a ride on the Grapevine Vintage Railroad
All aboard the Grapevine Vintage Railroad to take a trip back in time to when the railroads allowed Dallas to grow into the metropolis it is today. The Grapevine Vintage Railroad runs between the Main Street Station in Grapevine and the Fort Worth Stockyards, a 21 mile trip. The company uses two locomotives, including a 1896 steam locomotive and a 1953 diesel locomotive. Each trip lasts an hour or two, and most are offered every Friday, Saturday, and Sunday. You can also take a Great Train Robberies trip, where the train is stopped by train robbers that must be thwarted before the train can continue on its way.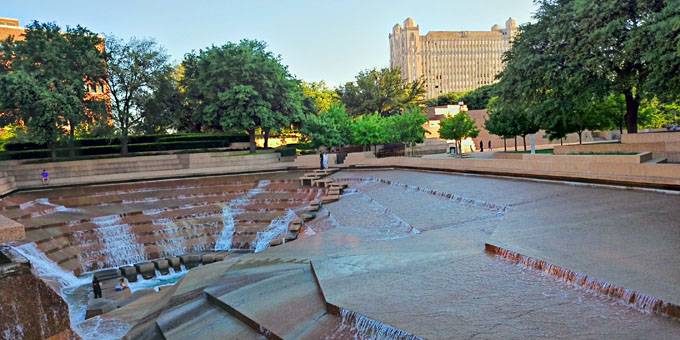 Celebrate women of the West at the National Cowgirl Museum and Hall of Fame
The National Cowgirl Museum and Hall of Fame celebrates the remarkable women of the American West who were pioneers in the unforgiving conditions of the frontier. The museum highlights women who made names for themselves in rodeo and trick riding competitions, the role of women in ranching, and the image of the cowgirl as portrayed in the media. Split among these exhibits are over 5,000 artifacts related to women in the American West, including Annie Oakley's wedding ring and gun, dime novels, and a side saddle. The museum also hosts the Cowgirl Hall of Fame, which has inducted more than 750 women since its inception, including Annie Oakley, Sacagawea, and Sandra Day O'Connor. All in all, the museum is a must-see for any fans of the American West.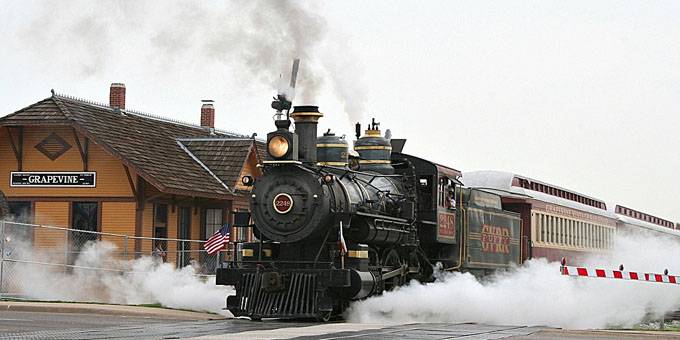 Relive television history with the Southfork Ranch Tram Tour & Ewing Mansion
For 13 years, hundreds of thousands of viewers tuned in weekly to watch the Ewing family at their Southfork Ranch home on the hit television show "Dallas." Now you can take a full guided tour of the beautiful ranch and the Ewing mansion and see important memorabilia and sets from the show, like Miss Ellie's Deli, the gun that shot J.R., Lucy's wedding dress, and Jock's Lincoln Continental. There are also two shops where visitors can purchase apparel, décor, and gifts inspired by the show. Southfork Ranch also features acres of beautiful Texas ranch land and over 63,000 square feet of indoor event space for special events and private parties. The ranch and mansion are open every day except Christmas and Thanksgiving Day.