Stockyards Cattle Drive Electric Bike Tour

Description
Stockyards Cattle Drive Electric Bike Tour Photos (1)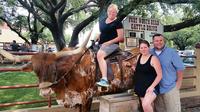 If you are looking for the ultimate bike tour then this will be an amazing adventure for you. You'll get to really enjoy yourself and spend 2 1/2 hours having fun and exploring. It will be the time of your life filled with many great things to see and do as well. You are not going to want to miss out on this amazing opportunity. You'll be able to enjoy the opportunity to drive Longhorn cattle. This will be an authentic experience and you will take part in the Fort Worth Stockyards. This will be a unique and challenging experience as you get to learn and do a lot of things. Every detail will be managed and you will make sure you are able to actually accomplish all of these things. You will get to see an expert. Something special. You will see a place that is known for scenic beauty and you will have 70 miles of bike trails as you explore all the major parts of the city.
It will be a guided tour where you enjoy yourself and have fun. You will be up to really put yourself to the test and enjoy. You are going to have a lot of amazing times as you will ride your electric bike from one site to the next and it will be something special. You will see a lot of scenic beauty and you will be able to really enjoy yourself on this great adventure.
This is going to be an amazing time for you and if you are someone who wants to spend your day in nature enjoying something special then this is the perfect opportunity for you.
Experience an authentic longhorn cattle drive in the historic Fort Worth Stockyards! Every detail - from the saddles and chaps to the boots and hats - is historically true. Drovers are available before and after each cattle drive for photo ops and questions. Get a souvenir photo sitting on a longhorn!
To get to the Stockyards, you'll ride a Pedego Electric Bike from the Near Southside, through Downtown, and along the bike trails of the Trinity River. Fort Worth's Trinity Trails are known for their scenic beauty, featuring 70 miles of bike trails that connect all major areas of the city.

Guided Tour for Groups of 4 or more. Please book at least two days in advance or call for availability 682 305-8304. The Stockyards Cattle Drive eBike Tour is offered Fridays and Saturdays from 10:00am-12:30pm. Must be age 16 or older, weigh 250 pounds or less, and be able to confidently ride a bike.

Pickup & Return:
Pedego Fort Worth is centrally located in Fort Worth's Near Southside across the street from the Rahr & Sons Brewery.
129 W Leuda, Fort Worth, TX 76104.
Departure Times: 10am Fridays and Saturdays

Includes:
Local taxes
Bottled water
Local guide
Use of bicycle
Use of helmet
Bike tour

Does not include:
Gratuities (recommended)
Food and drinks

Additional Information:
Confirmation will be received at time of booking
Must be age 16 or older, weight 250 pounds or less, and be able to confidently ride a bike.