Self-Guided Electric Bike Tour

Description
Self-Guided Electric Bike Tour Photos (1)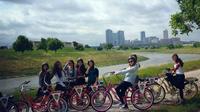 I am so amped and pumped up about this self-guided electric bike tour it sounds fun and its something that I have never tried before and the duration of the bike tour is around 2-hours. I know I'm going to have fun seeing the city on an electric bike.
I'll get to ride on a top of the line electric bike and cruise around and enjoy all of the wonderful sights and explore Fort Worth at the pace that is comfortable for me and my family and see as much as we want to this is sure to be one big family adventure.
We'll ride along the trails of the trinity trails and ride through the clear fork food park which I heard is gorgeous and there is also a river and it's going to be beautiful we'll also go downtown to visit the Kennedy tribute center and the famous hotel where John Kennedy spent his last night alive.
This is one family adventure that I take great pride in planning this is going to one big family event. Riding on an electric bike is going a great time for everyone who is apart of the trip. We'll also have the chance to stop by local breweries to try out the local beer that Dallas is famous for. This tour has something for everyone to enjoy.
It's going to be so much fun putting together this whole event for my entire family they will definitely thank me for finding this great tour. And I'm going to make sure that everyone brings a camera to take a lot of pictures.
With a Pedego Electric Bike self-guided tour, you can explore Fort Worth at your own pace -- and pedal as much or as little as you like.

Ride along the paved paths on the Trinity Trails and visit the Clear Fork Food Park right on the banks of the Trinity River.

Use the full-lane bike paths to go sightseeing downtown to visit the the Kennedy Tribute and the hotel where President John Kennedy spent his last night before being assassinated in Dallas.

Stop by breweries in the Near Southside to sample locally brewed beer.

Ride to the historic Fort Worth Stockyards, which features a live cattle drive down Exchange Avenue twice a day. It's where the West begins!

Pickup & Return:
Pedego Fort Worth is centrally located at 129 W Leuda, Fort Worth 76104, across the street from the Rahr & Sons Brewery.
129 W Leuda, Fort Worth, TX 76104.

Includes:
With your Pedego Electric Bike rental, you receive a short lesson on riding an electric bike, a bike helmet for your safety, a cell phone holder to use your smart phone for navigation, and bottled water.

Does not include:

Additional Information:
Confirmation will be received at time of booking
To ride a Pedego Electric Bike, you must be 16 years of age or older, weigh 250 pounds or less, and be able to confidentially ride a bike.