Park and Ride from Dallas to Winstar World Casino

Description
Park and Ride from Dallas to Winstar World Casino Photos (1)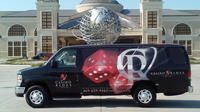 For everyone that is reading this article and interested on booking a trip to the winstar world casino here are some things to keep in mind in order to have a great experience. While preparing to go to this fun event make sure to plan ahead so you can be on time. Please make sure that before you go, see to it that you have everything that you need packed and ready to go. What I am referring to when I say that is, make sure that you plan a schedule to go to your scheduled medical appointments or any other events and get them over with in which ever order you see fit. In order to make sure that you make it on time and to not miss your start time. Whenever you arrive at the designated area in which the park and ride to the casino will take place, if you're driving a car or riding a bike, make sure that you give yourself enough time to find a spot to park. While the event starts and you and the company that you bought along with you start to gather up their belonging and get themselves ready for the day, make sure that while doing so, you don't forget to lock your car door and not forget your keys. And make sure to be friendly to the tourists and greeting staff. And also while you greet and are getting to know different people, and enjoy the lovely sights. Some additional advice that I'd like to give you would be to take lots of good quality pictures. I hope this helps, have fun.
Start the trip off with pick-up from one of our centrally located meeting points. Relax and take in the incredible views of Texas as you travel the 90 minute scenic shuttle ride through Texas to the Oklahoma border.

On arrival to the border, you will begin to cross over the Red River which separates Texas from Oklahoma. From there you can't miss the large glowing signs and monstrous structure of a building, Winstar World Casino, "you are here!"

Before going on your gaming adventure, take part in a short briefing of the casino upon which you will be provided departure time and instructions on obtaining an official players club membership card of Winstar World Casino which awards you with $25 rewards play (new club passport members only)
At your leisure, enjoy over 7,400 electronic games spread across eight gaming plazas amidst luxurious decor of historical displays and architecture of Paris, Beijing, Rome, Madrid, London, Vienna, Cairo, and New York City to table games like poker, Ultimate Texas Hold 'Em, Blackjack, Baccarat, card-based craps and roulette, Pai Gow, and the annual multi-million dollar River Poker Series, plus off-track betting and bingo. Take time to shop at Le Fleur Boutique's upscale designer brands and Bedré Fine Chocolate, and find trendy accessories and sundries at The Isle and Essentials, as you partake in five full hours of casino fun.
Upon the time of departure, head back to the Rome entrance (point of arrival) where your driver will be waiting. As you load back up on your shuttle, sit back and relax as you enjoy the incredible views and reminisce about your casino trip as you enjoy the worry-free road trip back to your original point of departure.


Pickup & Return:
Choose between one of our two centrally located meeting points:.
Returns to original departure point.
Times are subject to change due to local traffic conditions.
Includes:
Roundtrip shuttle from Dallas to Winstar
Centrally located meeting point
Scenic view of Texas by way the Oklahoma border!
Five (5) full hours of casino playing time!
$25 Rewards Play (New Players Club Passport members only when you earn 5 points at the casino)

Does not include:
Gratuities (optional)
Parking (at select meeting points)

Additional Information:
Confirmation will be received at time of booking
A maximum of 11 people per booking
Minimum age is 18 years
Adult pricing applies to all travelers