Hard Rock Cafe Dallas

Description
Hard Rock Cafe Dallas Photos (1)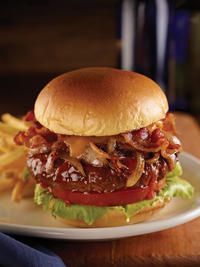 Are you a local or a tourist on Dallas, Texas.? Well if you are trying to figure out where to grab a bite to eat, why not come and join us for prix-fixe menu at the famous Hard Rock Cafe here in Dallas.
If you have never been to a Hard Rock Cafe, this is definitely your chance to enjoy a nice dinner while getting a chance to see their display of the greats collections of music memorabilia. Since the opening of the first Hard Rock Cafe in 1971 by Isaac it has expanded to over 63 different countries with cafes, casinos and hotels. For our guests who are ready to join us with our prix-fixe menu it is now available Sunday through Thursday from 11 am to 10 pm and Friday and Saturdays from 11 am to 12 am. If This can be booked ahead of time by giving us a call or booking online, just remember to keep with you a print out to have with you at the restaurant when you arrive.
This prix-fixe will let our guests choose between two versions of the menu. The Acoustic menu featuring the signature burger, or the hickory smokehouse on a sandwich or a Texan. The electric menu will be featuring the steak, chicken or shrimp fajitas, a grilled salmon, any signature burger or sandwich, a smokehouse hickory with chicken, ribs, and the twisted man and cheese with chicken. Including in the menu our guests will be able to choose between a soft drink, coffee or tea, and included will also be a piece of the Chef's Dessert.
COME AND JOIN US!!!
Back in 1971, Americans Isaac Tigrett and Peter Morton opened the first Hard Rock Cafe in London. Their landlord didn't think they could pull it off, so he granted them a three-month lease.

How wrong that landlord was. Today, the franchise - which includes cafes, casinos and hotels - can be found in more than 63 countries. The franchise owns the world's greatest collection of music memorabilia, and you can see it on display at its locations around the globe.

Enjoy a prix-fixe menu at the Hard Rock Cafe in Dallas, Texas. Each meal comes with a dessert and your choice of tea, coffee or soda. See the Sample Menu below for entrée options.

ACOUSTIC
Main entrée: Choice of any Hard Rock signature burger, hickory smokehouse sandwich or Texan, entrée salad or sandwich from the menu*
Choice of soft drink, coffee or tea
Chef's Dessert
*Restrictions apply

ELECTRIC
Choice of main course, soft drink and dessert:
Steak, chicken or shrimp fajitas
Grilled salmon
Any Hard Rock signature burger or sandwich
Smokehouse hickory chicken, ribs or duo platter
Twisted Mac, chicken and cheese
Please note: menu items are subject to change without notice.

Pickup & Return:
Hard Rock Cafe Dallas.
Departure Times: Sunday to Thursday - 11am to 10pm
Friday and Saturday - 11am to 12am
All hours are subject to change

Includes:
Preferred seating
One meal per person based on menu selected
Beverage: choice of soft drink, coffee or tea
Gratuities
All Taxes

Does not include:
Hotel pickup and drop-off
Alcoholic drinks (available to purchase)
Additional menu items outside the selected menu

Additional Information:
Confirmation will be received at time of booking
Lil Rocker menu (ages 0-10) is available for purchase direct from Hard Rock Cafe on the day
Book Now!